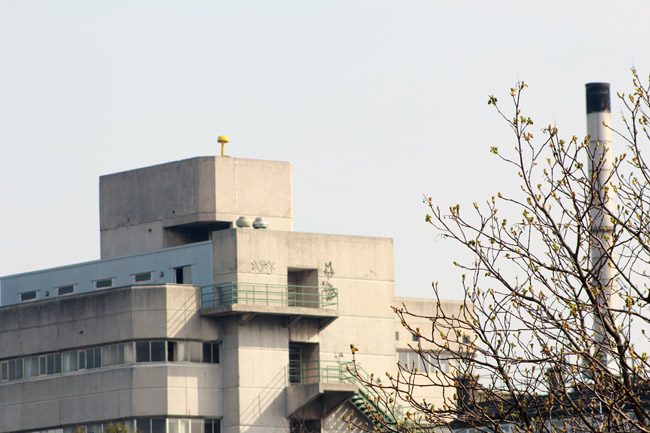 Christiaan Nagel is a South African artist, been based in London since 2007. We, at Street Art London, last featured Nagel's public artworks in this post here a couple of years after they began to appear in London. Now we take a slightly deeper dive into the artistic universe of this mysterious artist. At first glance, the sculptural works of Nagel contrast with the wider milieu of street and public art to be found in Shoreditch presented two dimensionally on walls and subsequently the artist's influences subsequently appear to be more diverse and distinct from his artistic peers in Shoreditch.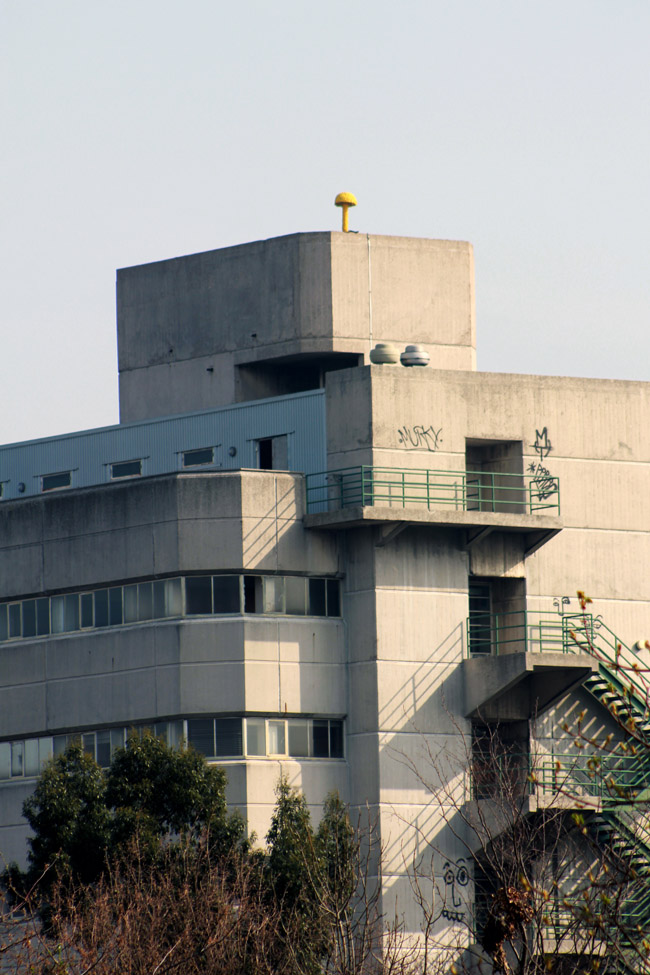 Christiaan Nagel 'Mushroom' in Hackney East London, 2010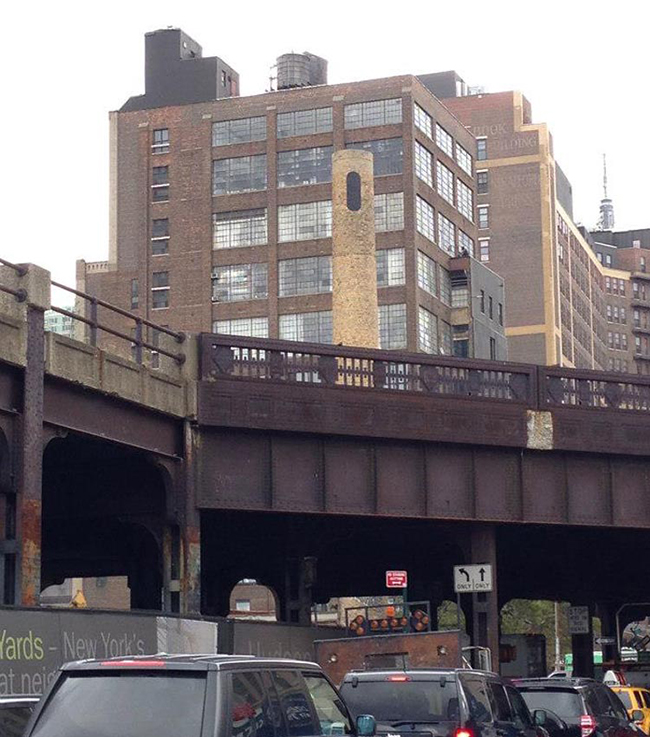 Richard Artschwager blp installation at the New York High Line (2012) as part of the public programme of Artschwager's retrospective exhibition at the Whitney Museum
When looking at the works of Christiaan Nagel it is impossible not to draw an association with the late Richard Artschwager's blps work around public space. Artschwager's blps were black or white lozenge shaped panels that when applied to surfaces in the public realm that sought to draw attention to hidden buildings and structures inviting the view to look at their lived environment in a differently. In the same way Nagel, by installing his mushrooms in high and seemingly inaccessible locales around Shoreditch continues this tradition of wonder within one's own city. The illegal and guerrilla approach that Nagel has adopted challenges established power structures around the ownership public space with Nagel also quite literally aiming to be at the top of any given structure.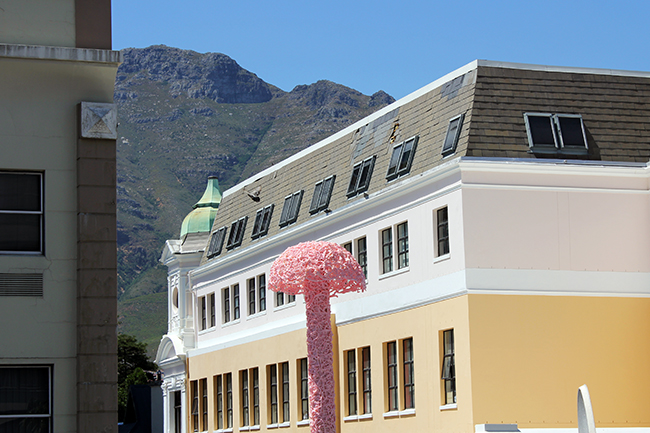 Christiaan Nagel 'Mushroom' in Cape Town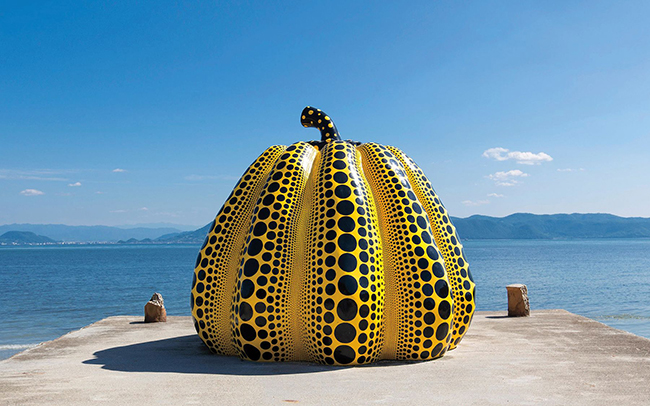 Yayoi Kusama 'Pumpkin' in Naoshima, Japan 
A marked contrast however between Artschwager and Nagel is the latter's liberal use of colour to break up the monotony of the city. The multi-coloured and botanical setting of Nagel's artworks conjure aesthetic comparisons to the Japanese artist Yayoi Kusama's  iconic pumpkin series as do the analogous subconscious origins of the work. The symbolism of the mushroom form is kept hidden by the enigmatic Nagel although some origins around its discovery are known to stem from his inner psyche. Nagel was raised in Durban, South Africa during apartheid in a highly conservative and internationally ostracised political regime.  As an escape, Nagel gravitated towards an embryonic South African surfing counter culture and it is during this time is known to have experimented regularly with psychedelics derived from indigenous African plants.  Nagel has hinted that his obsession with the mushroom form arose through open ended experimentations in his board workshop with expanding surfboard foam while experiencing strong inner hallucinations through the use of psychedelics. Shortly after this breakthrough in 2007  Nagel would leave Durban for good to settle in London.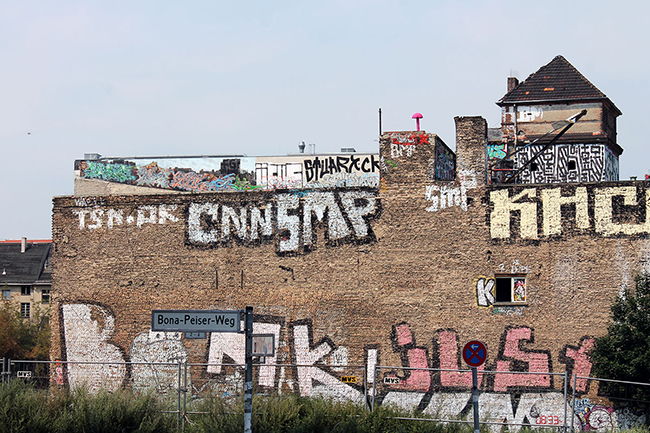 Christiaan Nagel 'Mushroom' Berlin, 2012. In dialogue with Berlin graffiti 
Upon arriving in East London in 2007 the South African transplant was immediately influenced by the artworks and buzzing art scene around him notably the early works of Banksy and Invader. Thus far Nagel's psychedelic experimentations with mushroom sculptures had been contained to his surfboard workshop in Durban but such new artistic influences prompted him to venture out and start illegally installing them atop building and structures in Shoreditch under the cover of darkness. Two decades of surfing in the Indian Ocean had conditioned his body and honed his sense of balance. Nagel translated these attributes into a skill for free climbing buildings and structures in East London. Rapidly this public practice became Nagel's obsession and he would spend days scoping out fitting locations for his mushrooms later returning at night to install them by scaling the building with a mushroom artwork affixed to his back. Over the course of 2010 and 2011 Nagel proliferated East London with mushroom sculptures and though this practice, Nagel met and formed associations with other artists such as STIK and ROA who had already developed international reputations at this point. Over time Nagel would be gradually drawn further into this nascent underground art movement, adopting its conventions, concealing his identity and joining other artists in spreading his Mushrooms internationally to cities such as Paris, Berlin, New York and Los Angeles.