There are some great 'street art' exhibitions opening around East London on 2/3 December.  Check out Street Art London's round up below:
"3"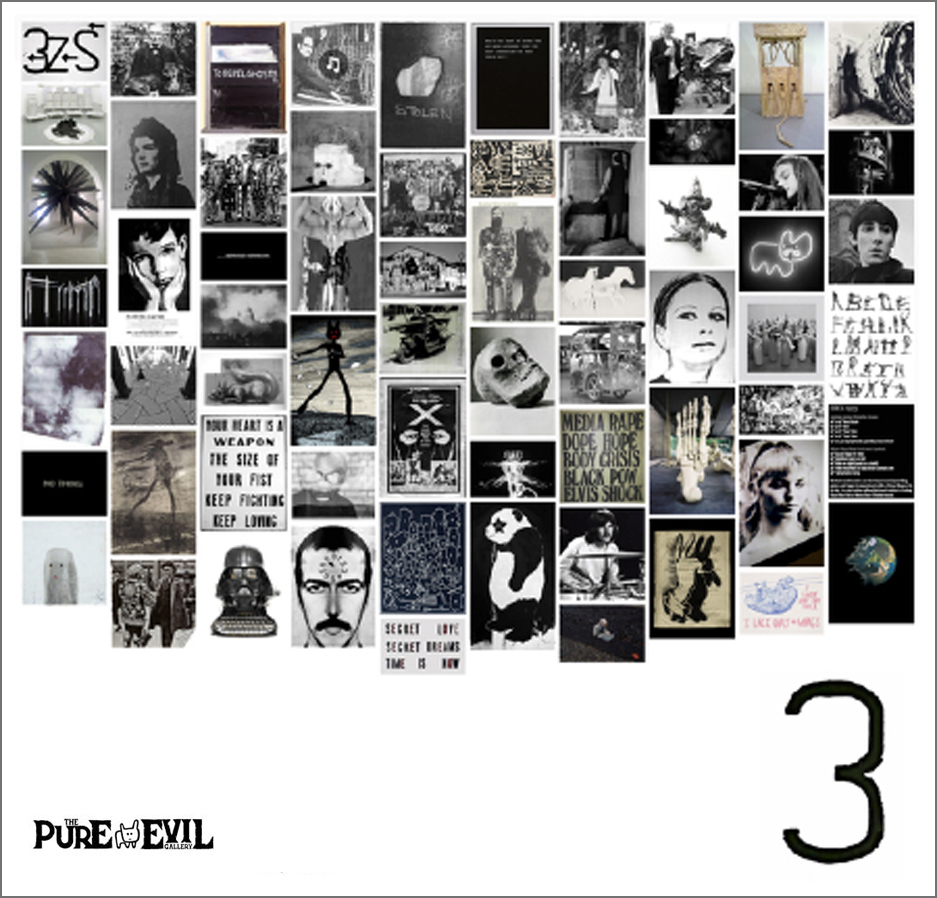 This exhibition will be happening in 3 galleries in Paris, London and Los Angeles.  In London, the exhibition is being hosted by Pure Evil Gallery at the LondonNewcastle space on Redchurch Street which is absolutley huge.  The concept is that: "Each artist brings 3 pieces for each show. There's no curation, there's no wordy intellectual press release theres just 3"
Where and When?
Pure Evil @ the LondoNewcastle space,  28 Redchurch Street, London E2 7DP.
Opening 02.12.10 from 7.30 till 10.30 pm
Runs until 31.12.10
Dran, "I Have Chalks"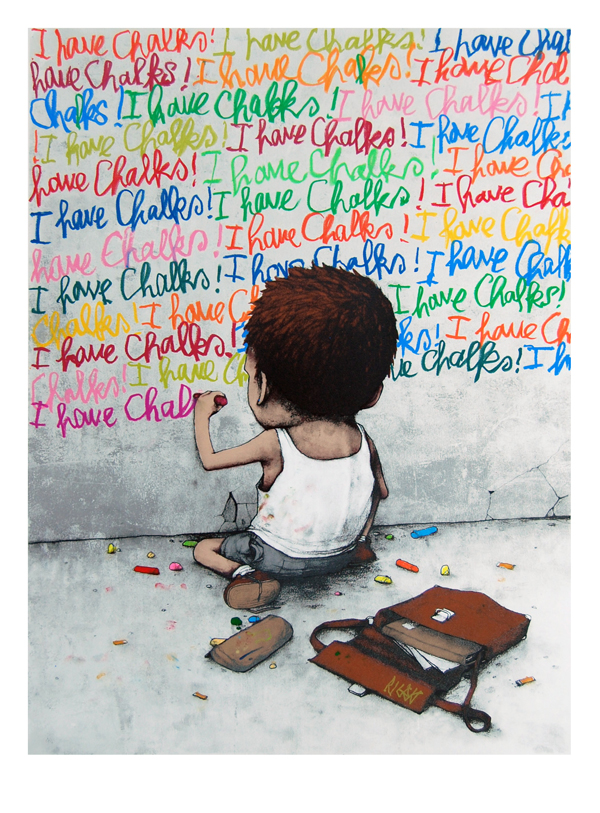 This new show from Dran runs along his other show, 'My Everyday Life' and is entitled 'I Have Chalks'.  The idea behind the show is that Dran has hand customised 100 prints of a boy drawing on a wall with paint, pens and chalk.  The results are all different, all amazing.  Check them out at POW's East London gallery.
Where and When?
02.12.10 from 6pm
POW, 46-48 Commercial St, London
"Never Judge"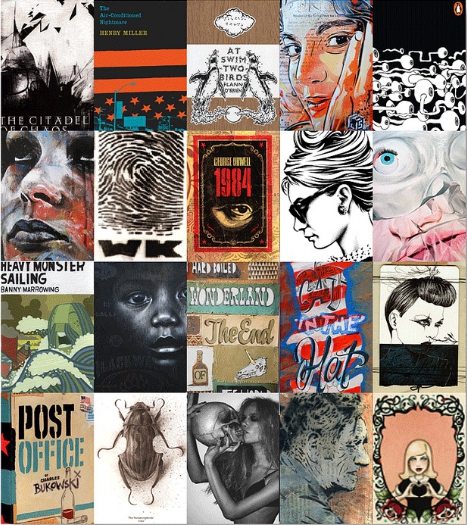 StolenSpace, in association with Penguin Books, is lining up a new show that celebrates book cover art. The whole exhibition is themed around classic Penguin fiction with each artist giving their take on the cover art.  There will be original work being shown from quite a few street artists in the show such as:
Anthony Lister, Blek Le Rat, Brad Downey, Buff Monster, C215, Cyclops, D*FACE, Eelus, EINE, Jaybo, Kid Acne, Matt Small, Michael De Feo, Mr Jago, Parra,  Ripo, ROA, Ronzo, Shepard Fairey, Sickboy,  Skull Phone, The London Police,  WK Interact, and Word To Mother.
Where and When?
Stolen Space Gallery
Dray Walk, The Old Truman Brewery
91 Brick Lane
London E1 6QL
Opens 02.12.10
Blisters Blackout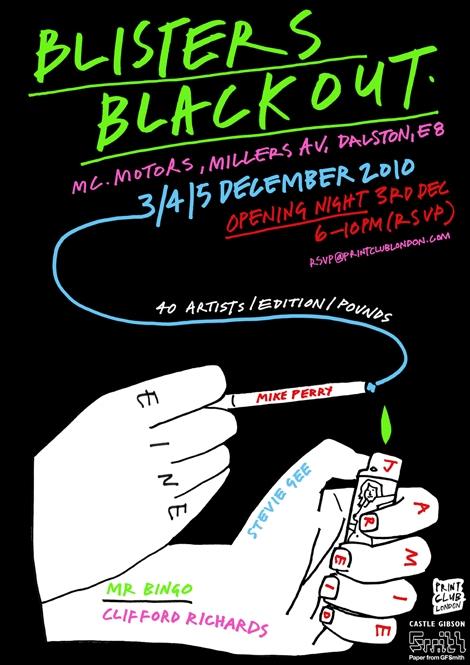 London-based screenprinting club, Print Club London opens its doors on the 3rd December for its third annual print exhibition. In a similar vein to the "3" show above, there are 40 exhibiting artists (including Eine), 40 editioned and signed prints by each artist each, selling for £40 a pop.  Entrants had to include a glow-in-the-dark element to the designs – as the exhibition venue will be plunged into darkness at various points during the opening night so the assembled can see the posters a-glowing.
Where and When?
03.12.10 from 6pm until 05.12.10
MC Motors, Millers Ave, Dalston, E8 2DS