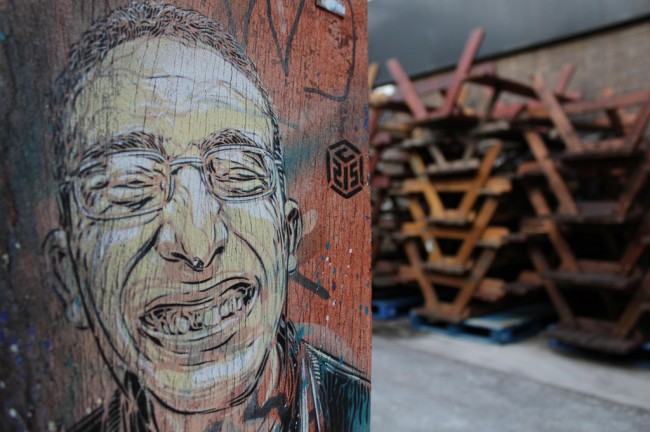 C215's street art represents an exploration of animals, architecture, freedom and those forgotten about by society all in incredible detail and against a backdrop of overlooked places.  C215's real name is Christian Guémy but he goes by his artistic identity, 'C215'.  He has put work up all over the world in India, Israel, Poland, the USA, Senegal, Russia, Morocco, his home-country of France and of course, London.
C215 talks with Street Art London about the subjects and themes that have inspired him to become a full time artist. He tells us about Nina, his daughter, who is already becoming a street artist in her own right and he lets us in on a pretty crazy Friday afternoon stunt he pulled in the middle of London.
The "C" in C215 stands for your real name – Christian – but your artistic identity also has another significance. Tell us a bit about why you chose this name and what it means to you.
This nickname was the number of a room where I decided approximately what my life has been since then. I liked the anonymous side, product like, of the sign, as an evocation of solitude and multitude at the same time. In every country people pronounce it differently. Listening to it in Turkish, in German or Italian is really cool.
You first painted the street with a spray bomb over 20 years ago. Where and when did you place your first stencil and what was it?
My first stencil was from 2006. It represented the mother of my daughter Nina, as a gift for Nina and creating souvenirs for later. I will soon re-cut this picture of Ava and we will be able to see the style evolution.
You've painted in countries all over the world?  What are the differences?  For example, in which countries did your work receive the best and worst reception?
Not all over the world, but in a lot of different places. The best reception has always been in my own city, Vitry sur-Seine, near Paris, and the worst has been in Russia, where they recently buffed a big dark pope I painted. Usually ex-communist countries have a very paranoiac culture about self expression.
"Broken people" – beggers, refugees, orphans – are your main subjects. Discuss your interest in bringing their plight to attention, how it developed and what you hope to accomplish by communicating through street art.
Often people reduce my works to excluded, but I've been painting things other than homeless or orphans. I have been doing a lot of architecture and animals.
For the homeless and street kids, I have just been representing the people that really belong to the streets, and kids who have no chance in life. I am an orphan myself and I am quite obsessed by splitting of personality and sensation of emptiness: I am supposed to have a borderline personality, and cutting stencil then painting is like a personal therapy about my own fears, my own ghosts.
Tell us about your most adventurous or challenging street art experience.
Gluing a 15-metre portrait in Rome under the rain.
Do you find that what you learned through undertaking two masters – in history and art – still influences your work today?
Culture helps to go straight to deep understanding of iconography and process. It helps not to discover America every morning. Dialoguing with art history helps for inspiration and for technique.
As one of your biggest inspirations, your daughter Nina's portrait has appeared on many different walls around the world. What is her reaction?
At the beginning she was not interested, but the more she grows the more she is involved in the process. She's a real stencil artist now and she is able to do two layers pretty well.
Favourite memory of painting the walls of London?
Painting my self portrait outside of the National Portrait gallery on a Friday afternoon at 4pm. I was crazy that day.
You say that, besides the concept of freedom, the story behind each piece is one of the most important elements of your work. Share the story behind one of your favourite pieces.
I painted my first broken homeless person the day my grandmother died. This is Art: something you can not see, invisible turned visible.
Colour and line are important elements of your work, but the most important in the end result is freedom. Talk us through your approach to a new piece and how you work with colour and line to achieve an image that will represent freedom.
Freedom is in the abstract part of my work. I like the opposition between the precise lining of the stencil, that I control, and the chaos of abstraction. It creates an interesting tension.
Your work is usually placed in "non-places" such as rusty doors or broken walls. Are there any non-places (or places for that matter) in London you currently have an eye on?
I would love to paint on roofs in brick lane. I like all urban furniture too, the beautiful red of post-boxes…
After managing an association of over 200 artists for a few years, you've gone out on your own. Do you still collaborate with other artists? If so, which of them has been your biggest artistic influence and in what way?
No more collaboration with a crowd of artists, but I do collabs sometimes as with Alice Pasquini or Orticanoodles, all my beautiful friends from Italy.
What can we expect from you in 2011? Any big plans for the streets of London?

I want 2011 to be quiet; with fewer galleries than this year… even if there will be a solo show in London planned for this summer.
Portrait of Alicé by C215 as part of the 'Never Judge' exhibition at Stolen Space Gallery:

Interview by Stephanie Sadler
C215's new book entitled Community Service
is out now.   Community Service
features photos of C215's work from all over the world from dozens of street art photographers.  Get Community Service
on Amazon for just £8.33.  Last time we checked there was just one left in stock, so be quick.