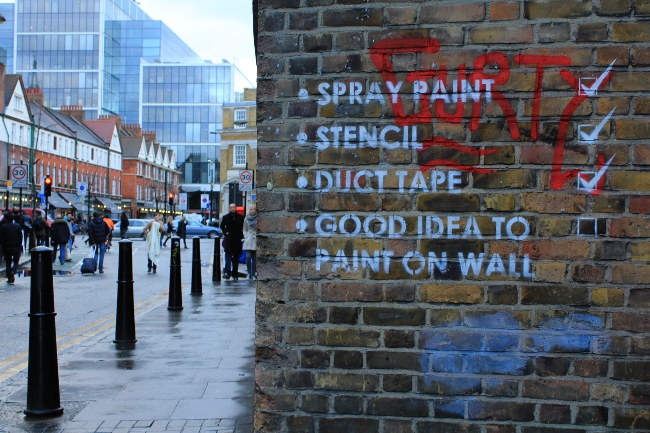 Here's a little round-up of some new, newish (and older!) street art from around London right now.  We've kicked things off with two pieces from Mobstr that can be found around Brick Lane.  Mobstr is well known for his humourous turn of phrase as anyone from Newcastle will testify!
Here is some fairly new stuff from Dscreet & Dscreet and Kid Acne over on Hanbury Street:
Oh, and we couldn't resist dropping in some classic Ben Eine shutters for you:
Following on from Ben Eine, here are some awesome old school Invaders that we came accross again while on the hunt for Michael De Feo flowers this week.  Looks like one of them is a little worse for wear, probably comes with the territory when you are placed so close to the floor….  (if you like these we have shots of loads more Invaders from all over London here).
'Game Over'
New York street artist Michael De Feo was in town last weekend in connection with his solo exhibition entitled 'Coming in from the Outside'.  Street Art London caught up with him for an interview and also scoured London for the many street pieces he nevertheless managed to put up during his brief stay.  If you haven't already, be sure to check both posts we did about Michael – they're great!
Micheal's fellow New Yorker, Élböw Töe, real name Brian Douglas, was in London last week too.  Like Michael, he also left us some great street pieces in London.  The piece below is in Hackney and you can see more of his latest stuff here.  It's not Élböw Töe's first visit to London and one or two of his older pieces are still around too, like this one. 
Bortusk Leer has been all over London again with his neon monsters!  Bortusk's associate Rots Rulebek has also been at large with a rather bizarre range of toiletries and cosmetics – check them here.
We were also lucky enough to hang out with Italian street artist RUN while he painted a new piece over at the Foundry.  We've just done a great interview with RUN that will be up next week so watch this space!  There has been lots of activity over at the Foundry recently, the piece above RUN's is by Brazilian street artist Milo Tchais.  On the other side of the wall there are also fantastic new pieces by Zezão and Gerard Gademann.  In case you didn't catch it on Street Art London, ROA recently did a huge piece at the Foundry too.  We caught up with him while he was painting there and you can see the piece as it came together and of course the finsihed piece in our post here!
RUN & Milo Tchais
Zezão and Gerard Gademann (in progress)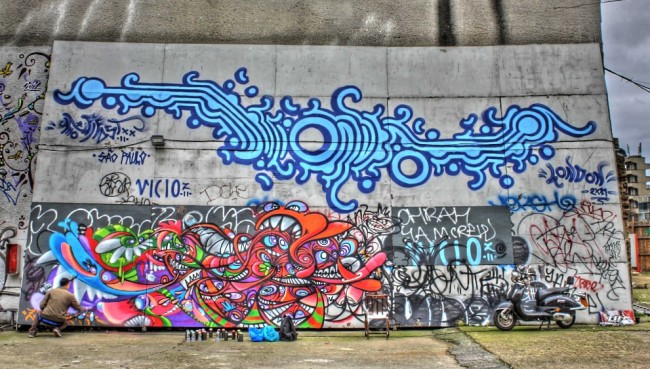 Roa at work
Lastly, we also managed to catch up with the ever elusive Dickchicken to ask him some questions.  We'll be putting up the interview next week.  In the meantime, here's a Dickchicken sticker from Brick Lane to round things off.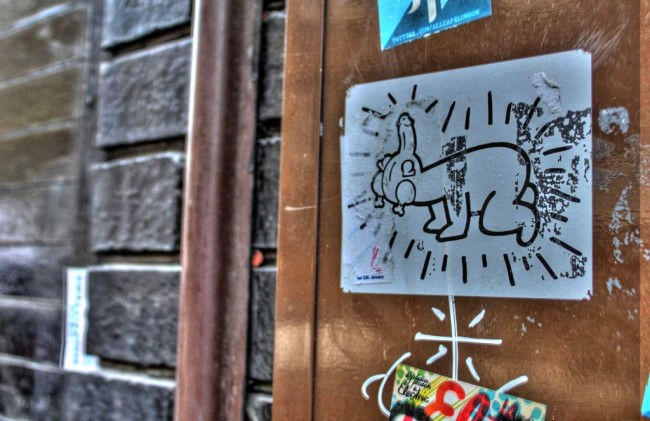 Over and out, Street Art London.