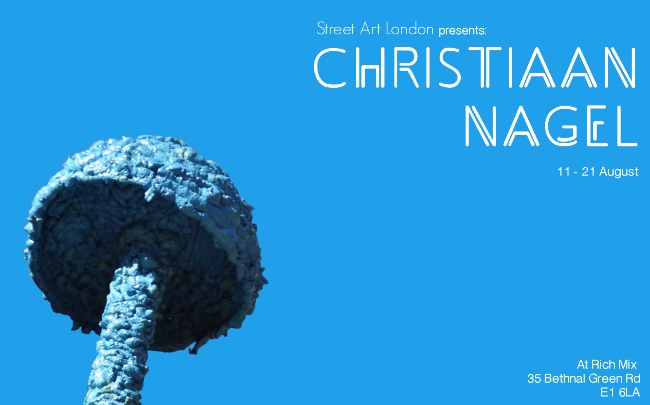 It is a great honour for Street Art London to announce Christiaan Nagel's first UK exhibition at Rich Mix on 11 August.  We've all seen Christiaan's bright mushrooms popping up all over London's rooftops for the last two years and now is your chance to get up close and personal with them.  Christiaan also has a few surprises in store with some new paintings and sculptures.
Where: Rich Mix, 35-47 Bethnal Green Road, London, E1 6LA
When: Opening night, Thursday 11 August at 7PM.  All invited. Runs until 21 August.
This is what Christiaan has to say about his show:
"Mushrooms are a metaphor for the idea.  Ideas are original thoughts.  Where do all ideas come from?  They are the culmination of the person and his environmental circumstances.  There is an element of randomness in any idea, that part we don't have a choice in.  Just like wild mushrooms, ideas 'pop-up'."
We'll be keeping you in the loop with all the build up to the show over the next month….!  Please let us know that you are attending on the show's facebook event page.