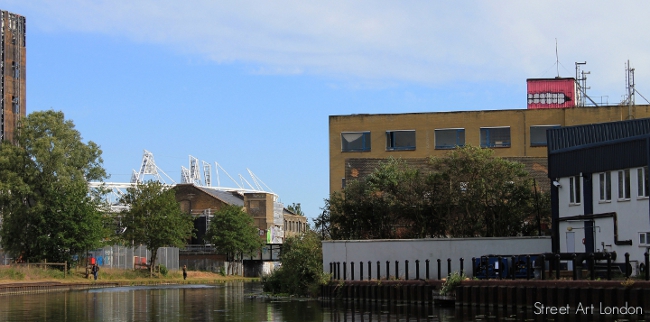 It won't have escaped anyone's attention that the Olympics are coming to (East) London next year.  Next door to the Olympic Stadium, just across the canal, is Hackney Wick, which in recent years has experienced a proliferation of street art.  Here, Street Art London presents a modest collection of some of the finest street art to be seen in Hackney Wick and also aims to provide a little background on some of the street artists at work over there.  Be sure to pay a visit to Hackney Wick soon as the future of much of this street art is perhaps uncertain as the 2012 London Olympics and it's legacy draws ever nearer.
Burning Candy Crew: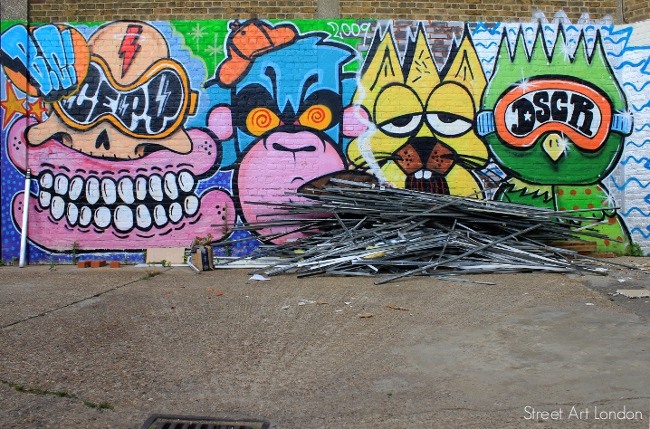 CEPT, Sweet Toof, Mighty Mo, Tek 33 & Dscreet.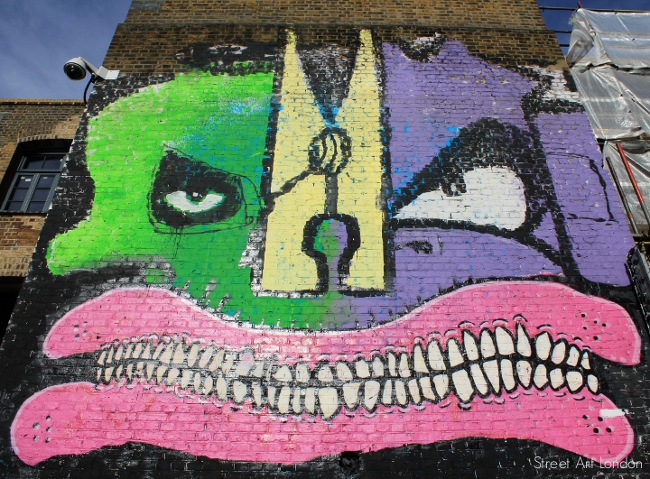 Cylops, Glod Peg, Mighty Mo & Sweet Toof.
The Burning Candy Crew can be found all over Hackney Wick both individually and collaborating together as above.
C215: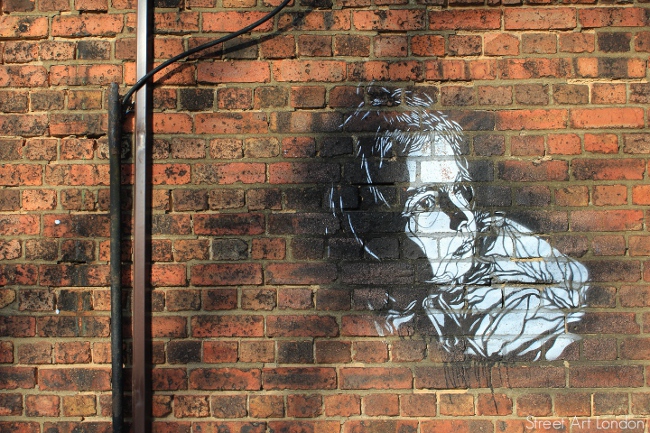 This is by C215 and this particular piece is of his daughter Nina.  For a little more background on C215 check out the interview that we did with him earlier this year – C215 interview.    C215 was last in town last month with Alicé Pasquini for a brief visit.  One Thursday afternoon during their stay, they went on a rampage across East London and put up many, many pieces – a lot of which are still around – check them out here.
Sweet Toof: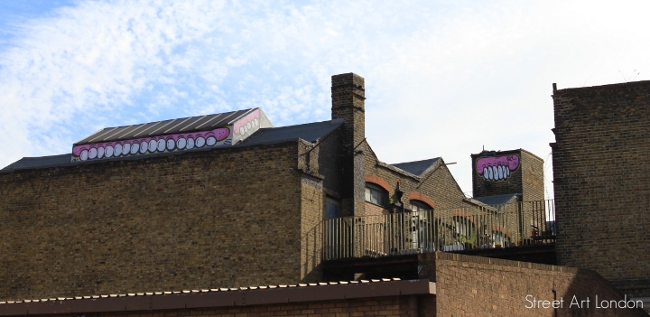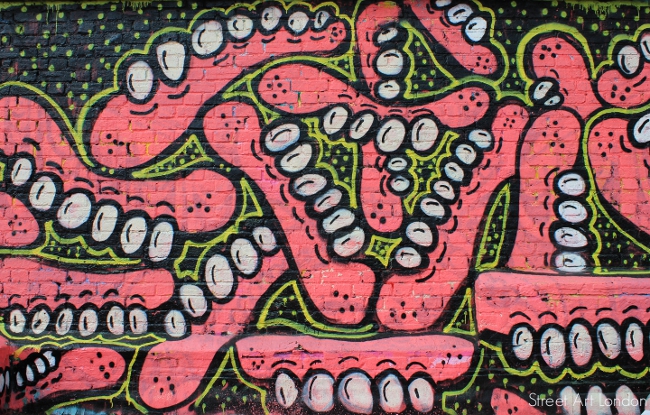 Sweet Toof, a founding member of the Burning Candy Crew, was rumoured to have left the Crew last year.  Right now, it's nearly impossible to miss Sweet Toof getting up across the roofs of the old warehouse buildings just opposite the Olympic Stadium.
Sweet Toof & Paul Insect: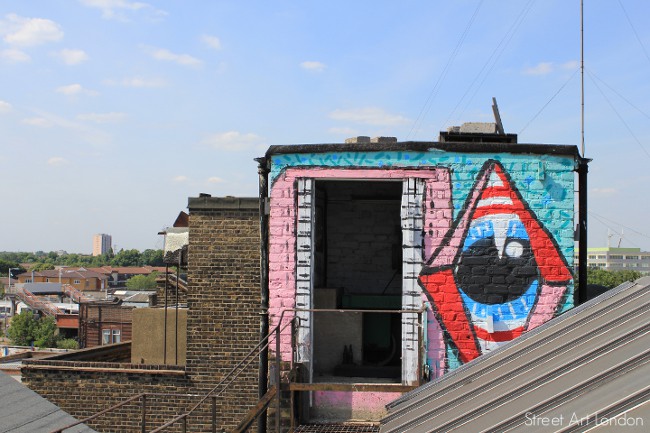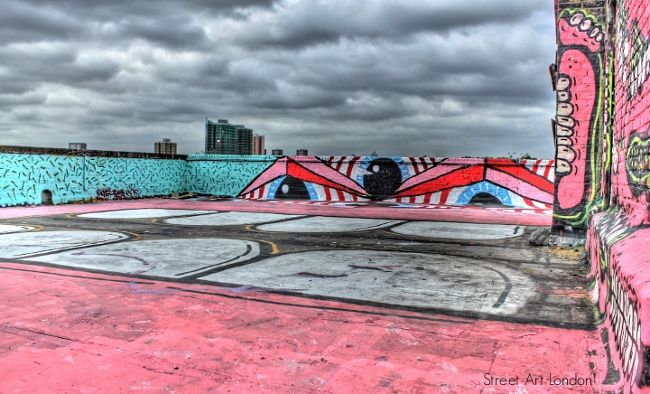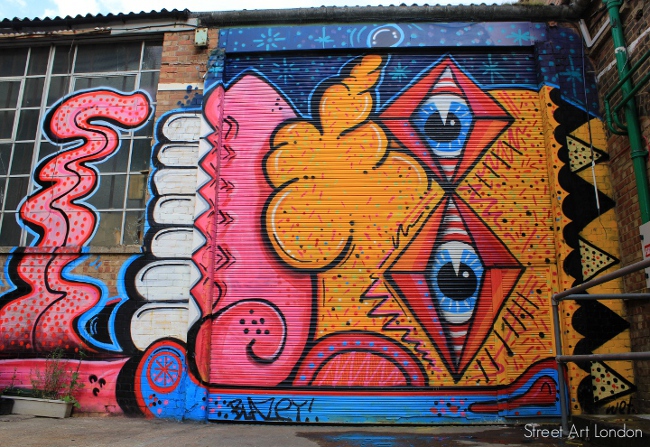 Since he left Burning Candy Sweet Toof has been doing lots of collaborations with other artists such as these stunning pieces with Paul Insect.  The second is located on the roof of the Peanut Factory on Whitepost Lane – to get the full effect however you'll need a hot air balloon!
RUN: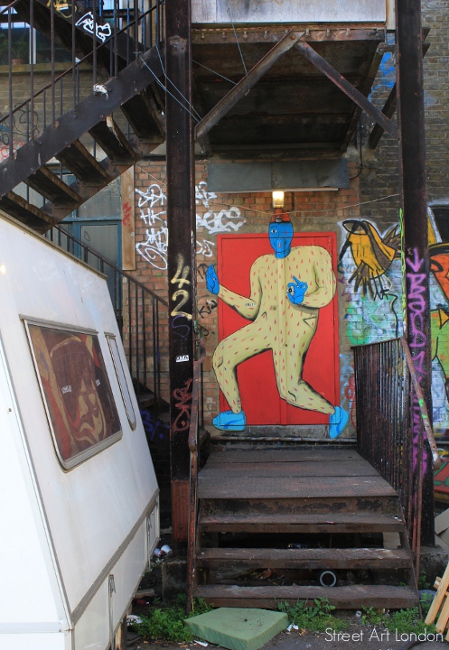 RUN is another street artist with lots of work around Hackney Wick.  Originally from Italy, but based in London, RUN's trademark is to paint hands and faces.  Find out more about him in the interview we did with him earlier this year – RUN interview.
Mobstr: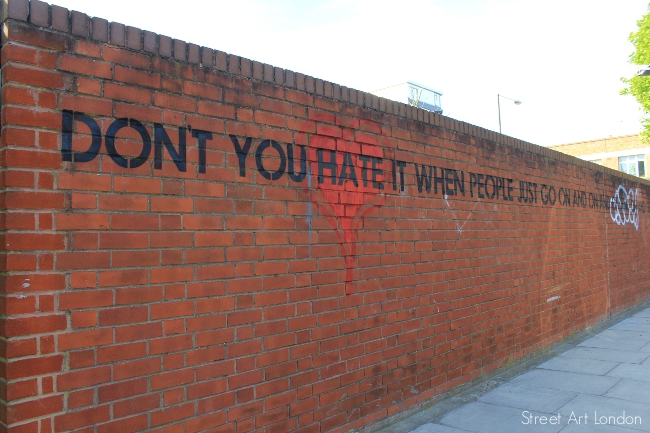 Mobstr's sardonic wit shines through in all of his work whether he is playing games with the 'Buff Man', satirising the street art 'gallery scene' or lamenting the ideas vacuum that can develop on the street (Mobstr fans will recognise all of these pieces which have popped up around the Brick Lane area in recent times).  See the rest of this piece, 'Don't you hate in when people just go on and on and on and on….', over here.
Stik, Milo Tchais & Prozak: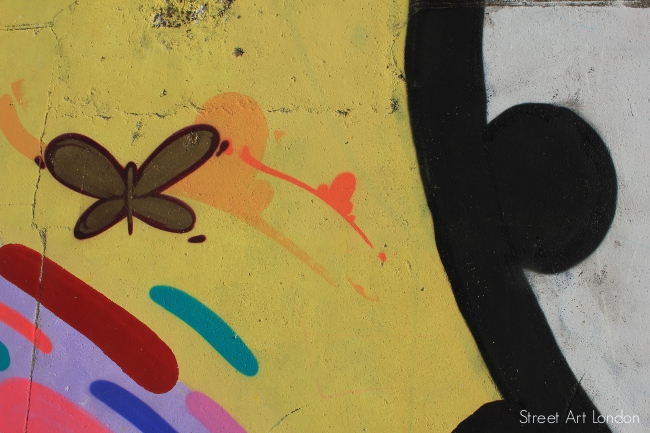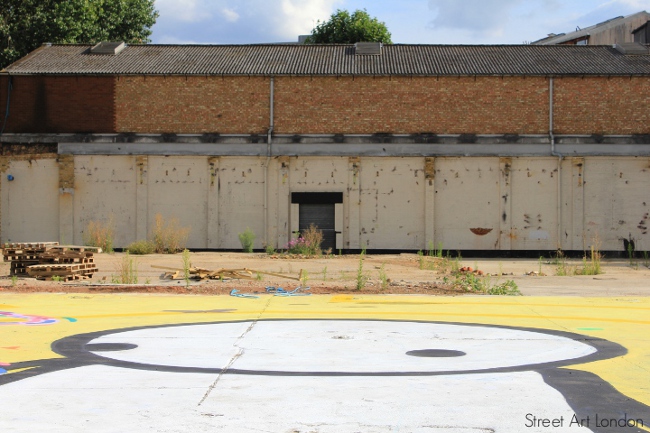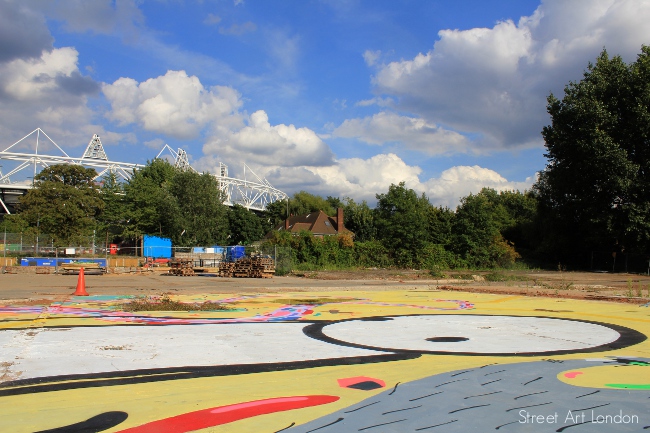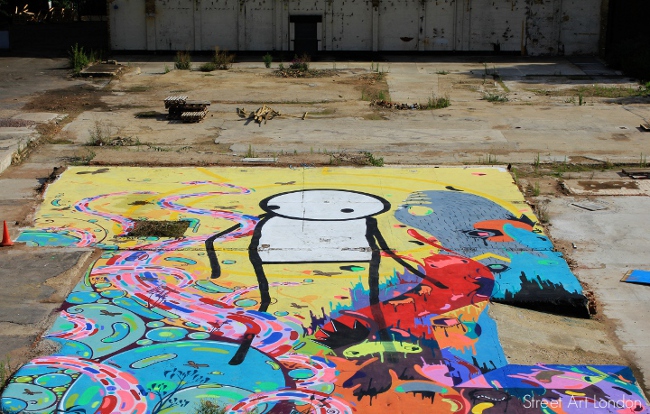 This epic collaboration between Stik, Milo Tchais and Prozak was painted for the Hackney Wicked festival in July this year. Like Sweet Toof and Paul Insect above, it's another hot air balloon job…
Christiaan Nagel:
Christiaan Nagel, originally from South Africa, has been popping up brightly coloured mushrooms all around London for the last two years – here's one of them…
Stik: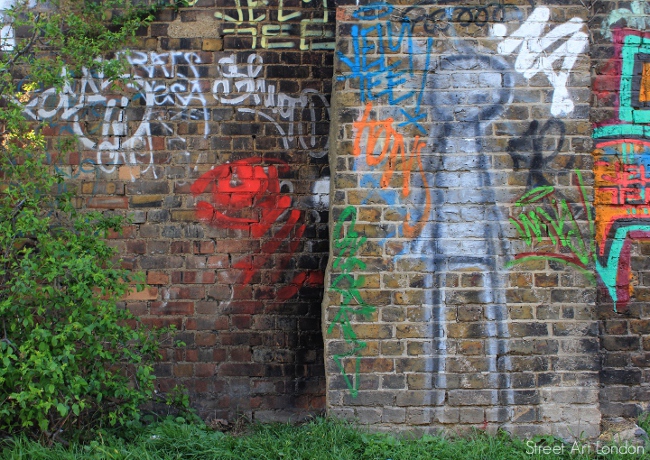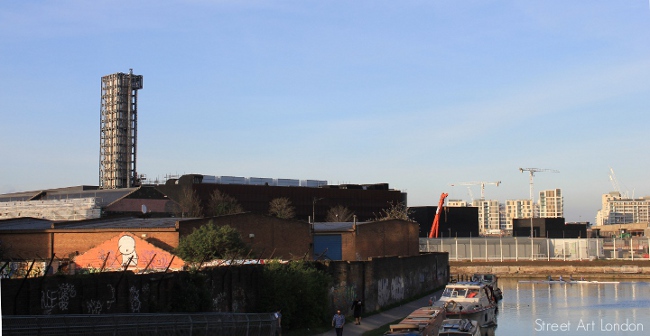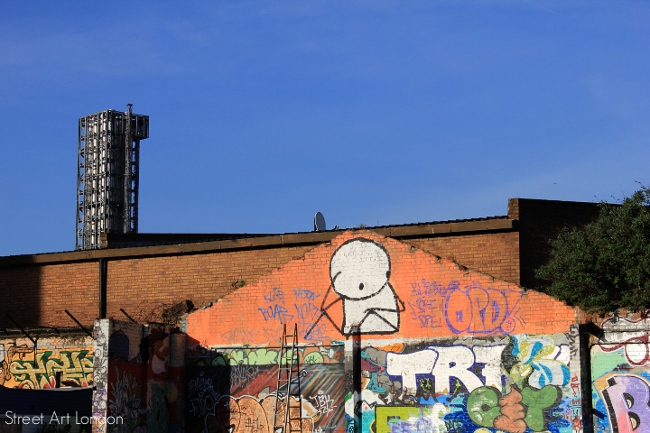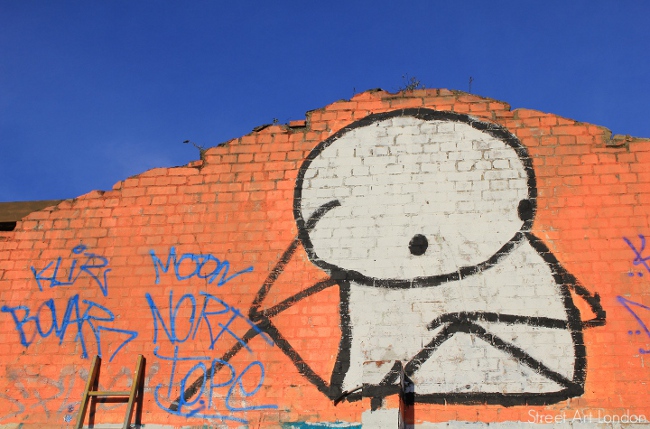 Many Londoners will be familiar with Stik's figures that can be found all across London.  See some pieces, from all over London here.  Also, please have a look at this interview in which he talks in detail about his street art.
****ADVISORY**** Some readers may find the following images disturbing. Proceed with caution.
THEN
Phlegm: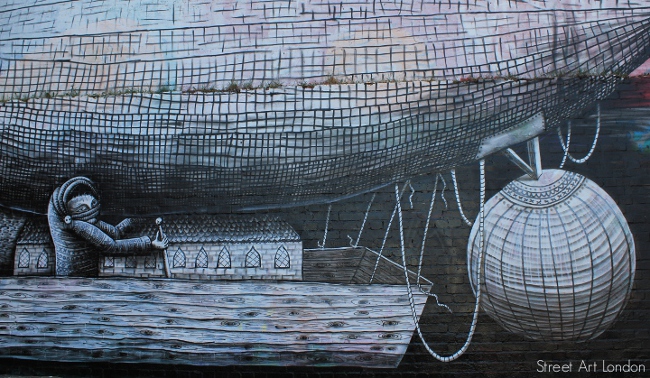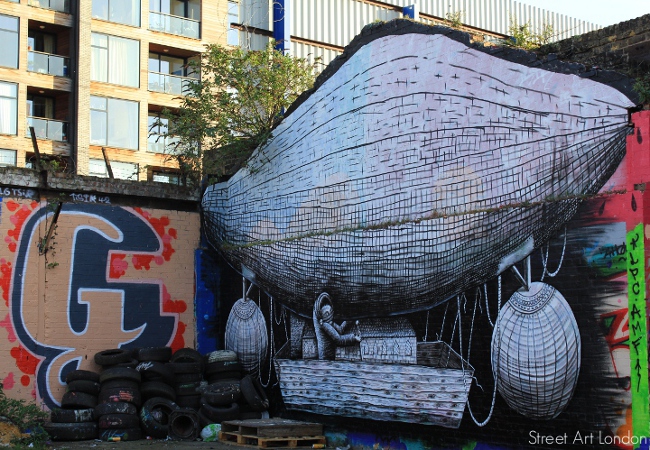 Phlegm, a street artist based in Sheffield with a striking black and white style, has two other big pieces in London, one in Peckham and the other just off Goldhawk Road.
Post Mort & Busk: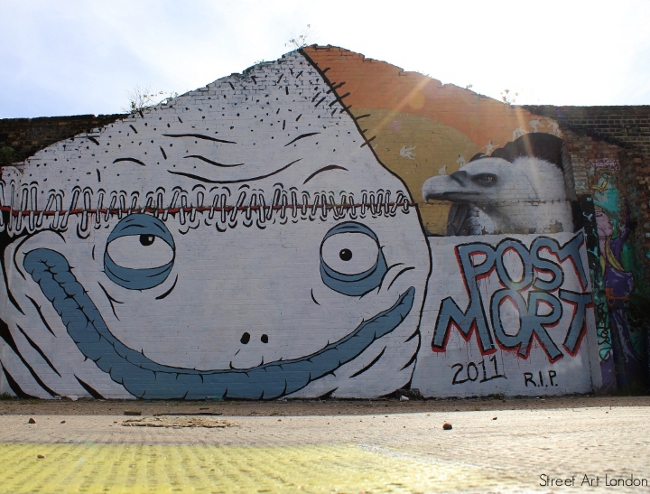 NOW
THEN
RUN & Nemo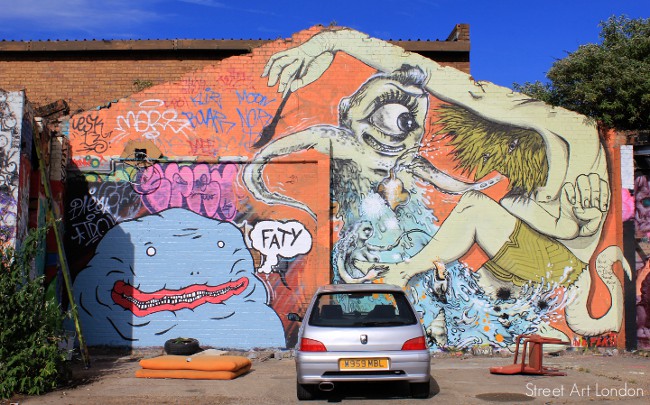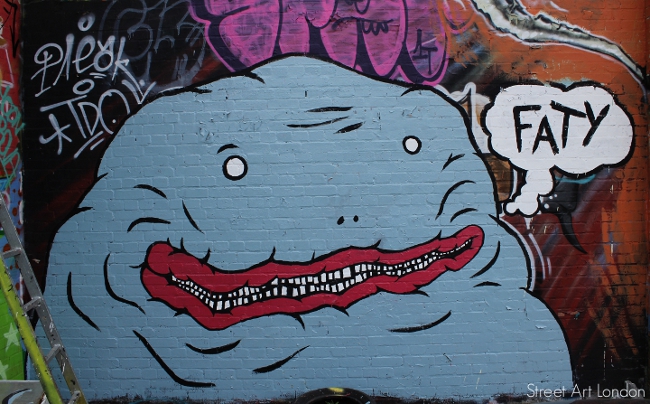 NOW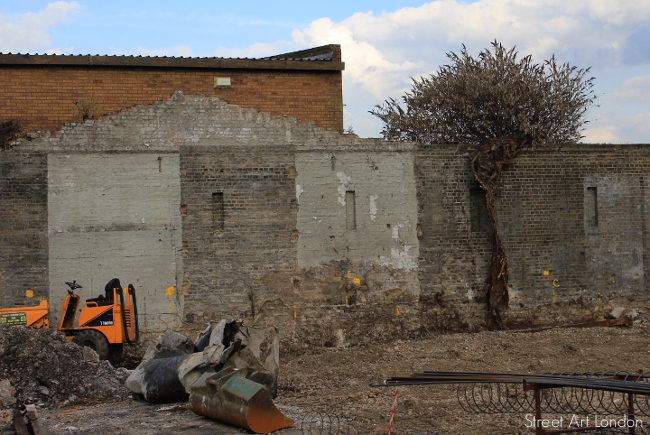 The writing on the wall?