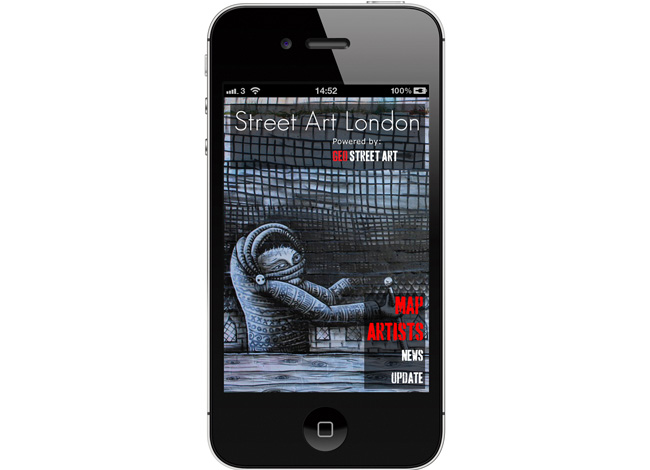 We thought it might be a good idea to tell you guys about some of the features currently in the Street Art London App.  The Street Art London App is part of the wider Geo Street Art Apps Project.   The Project's goals are to both help people locate street art within their cities but also to provide insight into the global street art scene and the artists who create these artworks all over the world.  With that in mind, please check out the features of the Street Art London App below.  There are also some interesting new features in development…
Locate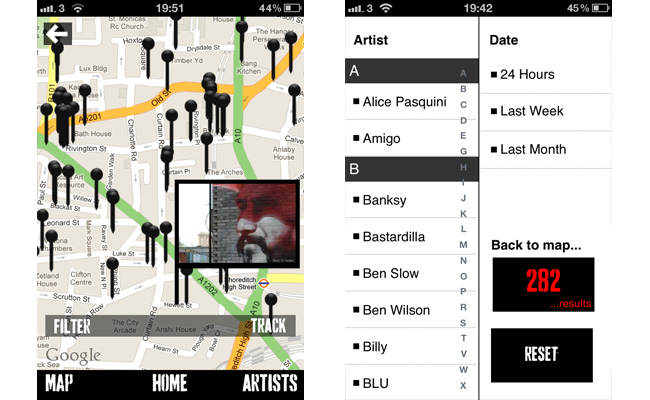 Locate –> The database currently boasts over 280 locations, all viewable on the map which lets you track your location. Above you will see a piece by El Mac in Shoreditch close to Street Art London HQ!
Filter –> Easily filter the map by artist and date. Only want to see work by Banksy or Eine? Or just the latest pieces? Not a problem! You can use any combination of filters that you like and the filters are easily reset.
Track –> In 'Map Mode', you can track your position relative to the street art locations displayed on the map by activating the tracking functionality. Tracking makes it easier to zero in on the pieces that you want to see. It is easy to turn tracking on and off.
Stay up to date –> We will constantly update the databases to reflect the appearance of the new and the loss of the old.  To update the Street Art London App just press the update button on the Home Screen and any new images and/or locations will sync with the app.
Discover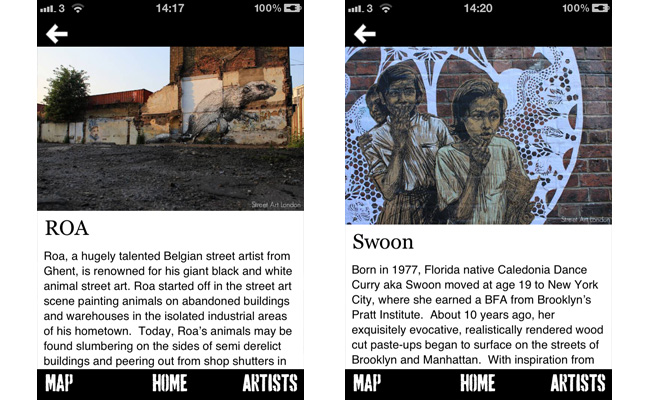 Bios –> The App currently features the work of 90 street artists all with fully researched bios. Above you will see the bios for ROA and Swoon.
Document –> Through the App we will be continually documentting and recording London's Street Art.  The App will comprise an encyclopedic reference point for street art in London. Past and present pieces will be browsable. Below is Pablo Delgado's work in London.  These pieces can be browsed, shared and where they are still riding on the streets located on the Map.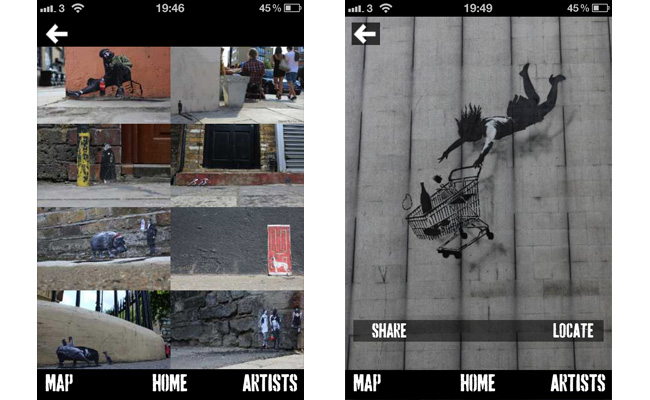 Locate–> To locate the above piece by Banksy (to be found on Bruton Lane near Bond Street), all you have to do is hit the locate button.
 Share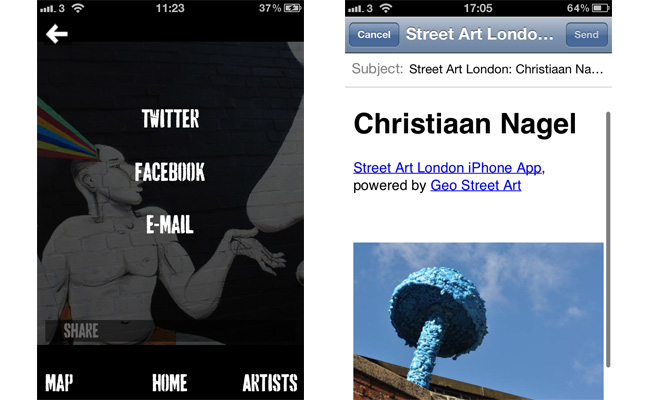 It is easy to share street art images directly from our Apps on facebook and twitter… Images will appear on your facebook profile or in your twitter timeline via clickable links to the image!
 News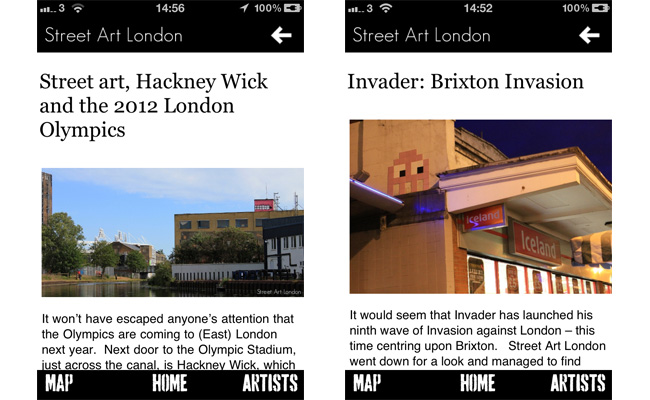 You can also read our blog straight from the App to stay abreast of the London street art scene.  Above is our feature on street art, Hackney Wick and the 2012 Olympics and Invader's recent invasion of Brixton.
The best feature of all is perhaps that this App is put together by people immersed in the street art scene at Street Art London and Geo Street Art.  As a result, the App is always up to date with the latest information…  So that's about it for now…  What are you waiting for?  Get the App in the App Store!