The hype has been building over the past week for the Marks and Stencils pop up street art show on Berwick Street in Soho. The show is curated by the Pictures on Walls gallery (POW) which organises an event each year in the run up to Christmas.  The show is being hyped because Bansky will be exhibiting work in the show alongside exciting french street artist Dran.
Last week this was briefly seen in Soho, which looks like a typical Banksy installation:
The exhibition has been picked up by the media. The primary focus however has been on one piece of work by Mark Sinckler. Street art fan, Kristian Guru Murthy, had the following to say on his blog:
This is the image designed to provoke, intrigue and shock people – and get them to spend money on street art –  in this year's Christmas show curated by Banksy called "Marks and Stencils" in London's Soho. It is by a young artist called Mark Sinckler who will hopefully be doing an interview with our reporter Stephanie West for tonight's programme about his motivations and thoughts behind the image. Obviously it is potentially offensive to some people. Others will find it thought provoking and even beautiful. It will certainly stir a debate about using such an image from an horrific tragedy like the 7/7 bombings for what is essentially a commercial project.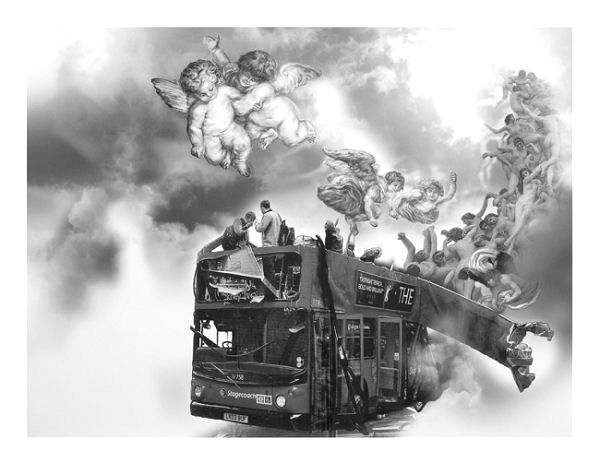 The pop up show is the successor to the Santa's Ghettos that sold affordable street art in past years and opens to the public on Friday November 26th – the Sinckler image is huge and will be unveiled in the window tonight to identify the show. It also features the French street artist Dran and there will apparently be some new pieces by Banksy unveiled as well. What do you think?  Beautiful?  Thought provoking? Tasteless?
More news on this show to follow.
Where and when?
Corner of Berwick Street and Peter Street in Soho, London.
Opens to public 26 November 2010