Although this site is about street art in London we couldn't resist taking a look at Keith Baugh's new book, 'Early New York Subway Graffiti 1973-1975'. In any event, there is a London connection because Keith himself hails from Notting Hill, although he now lives in Gloucestershire.
Early New York Subway Graffiti 1973-1975 captures the golden era of New York subway grafiti in the 1970s, a period in which graffiti was first emerging as an artform and exhisted then, perhaps, in it's purest form.  Through documenting this emerging scene, the book suceeds as an important historical chronical.  The primary reason for this is because of the extreme rarity of the images contained in the book. In the 1970's digital cameras and Flickr didn't exist, street art and graffiti weren't as mainstream as today and people simply weren't documenting these artisitic mediums. As a result, there has always been scant historical documentation of the New York graffiti scene in the 1970s – until now.
Indeed, Sami Montague, editor-in-cheif of Graphotism, in the introduction to the book recalls his amazement and delight at being contacted by Keith and presented with a host of previously unpublished photos that brought the old New York graffiti legends back to life. Sam acknowledges that what Keith did was amazing in that he simply "took photos what very other people bother or cared to do" and succeded where others didn't because he "recognised that he was seeing something exceptional".
Keith reflecting on his arrival in New York in 1973 says:
"The New York subway graffiti just knocked me for six and I can still recall the thrill of seeing the trains in sunlight from the elevated tracks up in the South Bronx. I still can't believe that NY based photographers didn't document every piece on every train. It was either just seeing that stuff with a fresh London/English/European eye or just being totally unaware that you step into the territory of the Savage Skulls and the Ebony Dukes, with a Nikon camera in your hand, at your own peril..haha."
The book is essentially a picture book, although it does contain an excellent foreword by Keith that succeeds in putting the pictures displayed therewith in context. What follows is a superb collection of images that captures many elaborate old school tags and artistic masterpieces. The book is of course an absolutely essential purchase for fans of New York graffiti, but deserves wider attention than this.  This is because anyone with an interest in street art of graffiti, upon picking up the book, instantly feels priveledged that Keith has given them a chance to see how a new artistic form burst onto the scene.  Check out some of our pictures of the book below: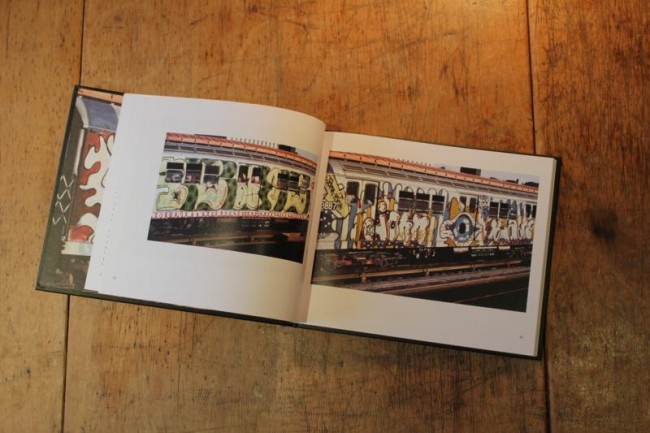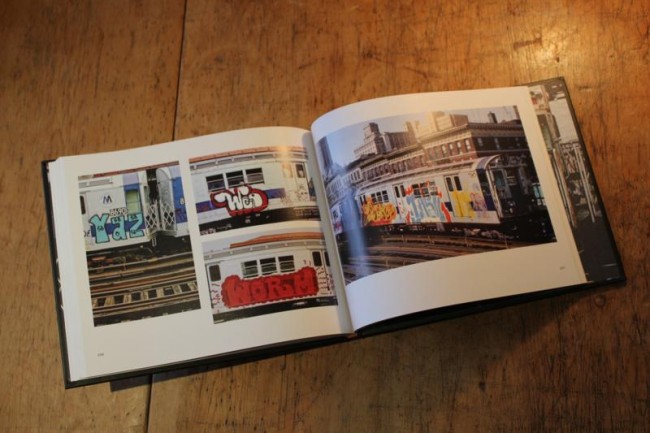 Early New York Subway Graffiti 1973-1975 is only available from Keith's personal website. Each copy is signed and costs £25.95. Get it HERE.
We also asked Keith about his memory of street art in London during the same era:
" I do remember the graffiti around Notting Hill in the late 60s. The couple of black and white London shots in the book from 40+ years ago reflected that era for sure…. 'the times they certainly was a'changing'…..from 'Peace and Love' to 'Kill the Peacocks' messages on the walls around Holland Park and 'Burn it Down' to 'Dymamite is Freedom'. Graffiti writing was certainly a powerful medium to get your message across"
Finally, here's a great video about the book: