This is guest post from the folks over at Bristol Graffiti & Street Art, catch up with them over at their facebook page and at their blog.
A review of 2010, by Bristol Graffiti & Street Art
The Bristol graffiti & street art scene is internationally known.  It all kicked off with the likes of 3D, FLX, Inkie and Deed, Shab, Cheo, Turo, Jody then came along the second generation of writers & artists from Lokey, Sickboy, Banksy, Kato, Soker, Rowdy and Acerone just to name a few.  After these guys we have what we could call the 3rd generation, 3Dom, Haka and Sepr, amongst others.
You cannot forget the music, which has played a big part, and  continues to do so today. Bristol is known both for its Graffiti and Music and some of the most famous Graffiti & Street Artist's, DJ's and Bands have all come from Bristol.  One of the events that can't be forgotten is Operation Anderson, which took place on 20 March 1989. In Operation Anderson, the homes of 72 suspected Graffiti writers were raided including that of the Barton Hill youth worker John Nation. The raids took place in Bristol, Bath, Exeter and Cardiff and at the time it was the biggest anti-graffiti operation in the history of British policing.  Many of the Graffiti Writers & Artist's were arrested, most of whom had their Blackbooks, photo's, paint etc. taken by the Police.  Most were lucky enough to get a slap on the wrist's, whereas others received harsher punishments. All of this for their love of self expression…  However, this has just made the scene in Bristol even stronger, we have Writers from all over the UK and abroad who come to Bristol, just to paint.
Boswell, Pen and 3rdEye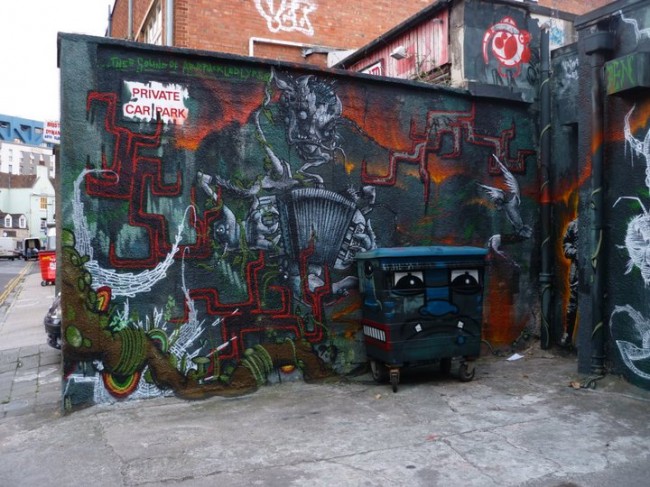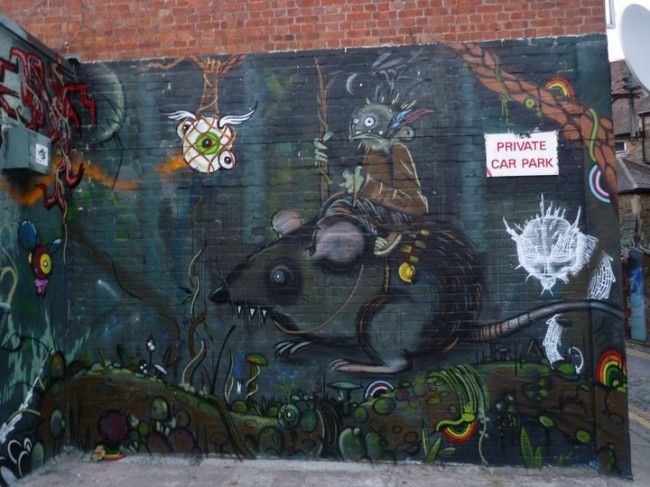 Boswell, Pen and 3rdEye painted an alley, just off of Stokes Croft.  The best way to describe their work is dark, mutated, warped and very unique; they have been painting for nigh on 20 years, and have all collaborated with many of the Bristol Writers and Crews.
FLX, 3Dom, Sepr, Ewok and Soker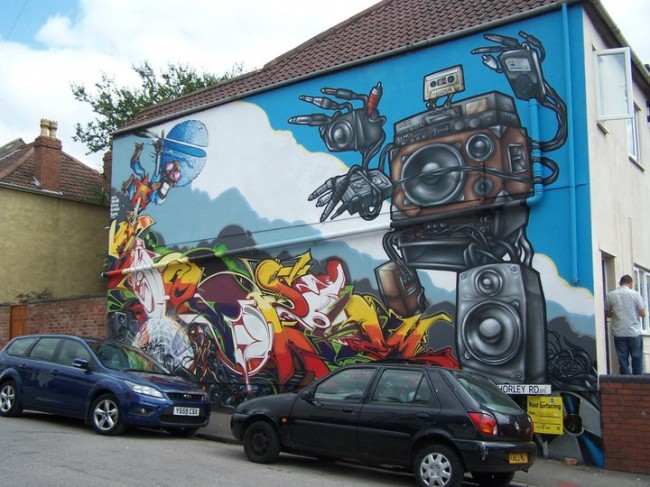 FLX, 3Dom, Sepr, Epok, Soker painted the side of a house, which took them a fair few days.  They have worked on a fair few large scale productions together, one of the best examples would be Lakota Night Club in Bristol, where Lokey, Jody and Haka joined them.
Tom Hine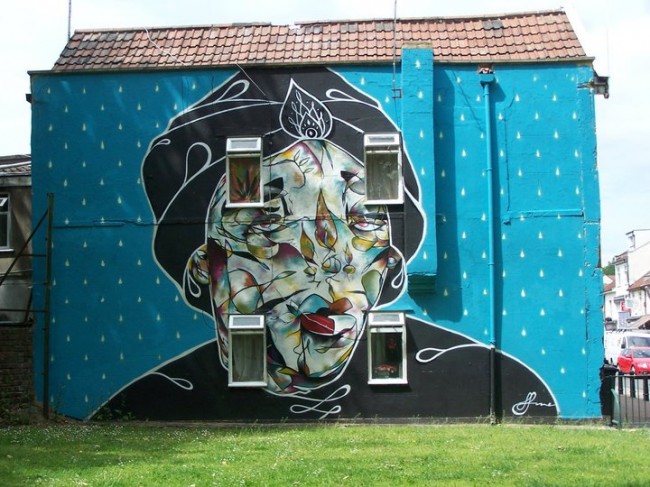 Another house painted in the same area, this time by Tom Hine, who was born in London and grew up in the industrial city of Sheffield, Tom is now based in Bristol, where he's painting big characters all over concrete walls or working away in his studio.
Vermin & Mr Jago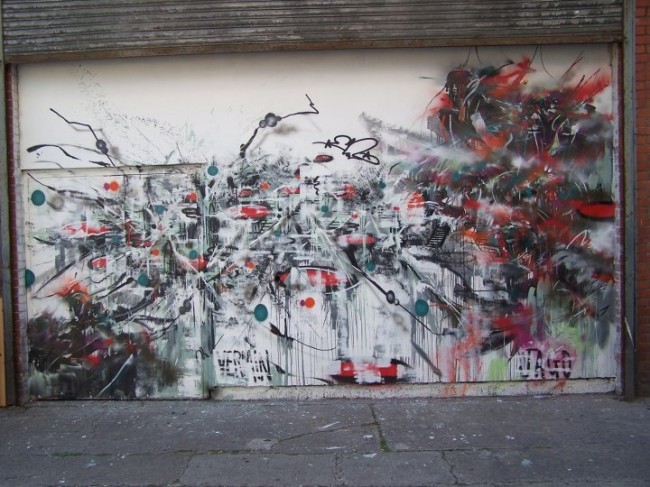 Vermin and Mr Jago, this was the first time that they had painted together. Vermin, illustrates the fine art of Graffiti, his work can be very dark and it will most certainly make you think, where as Mr Jago's unique freehand style, detail and wonderful eye for colour, seems to work very well with Vermin.
3dom, Soker, Feek, Epok, Poer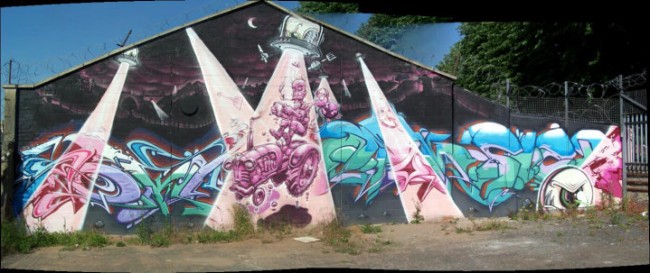 Alien Abduction, painted by 3dom, Soker, Feek, Epok and Poer, who are a small part of the ASK and KTF Crews
Zesk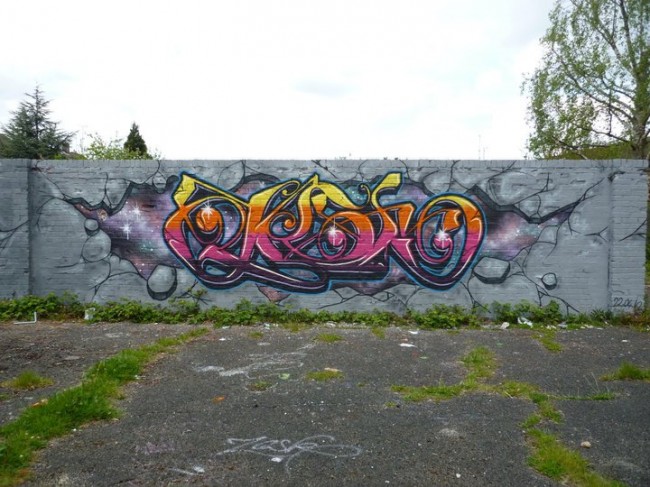 Bristol Writer Zesk, is known for his script/typography and painting in some of the less known spots, it's a case of keeping your eyes peeled!
Nick Walker
Nick Walker started out in the early 80's in the same crew as Inkie.  His instantly recognisable style and humour often makes the headlines!
Stae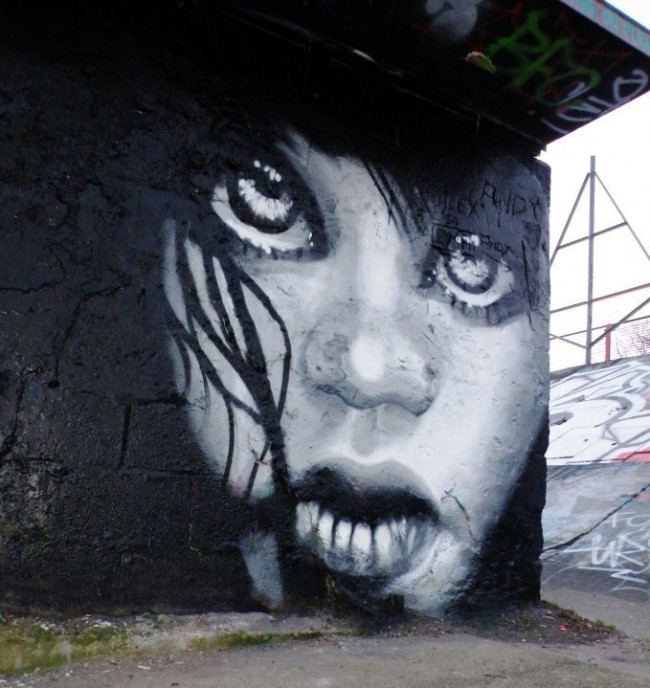 Stae is one time out with a can. Stae is Bristol born Tattooist who has turned his hand to the can and one of the newest artists's to hit the scene in Bristol, this was his second piece painted!
3Dom, Hemper, Epok, Soker, Piro, Cheo
3Dom, Hemper, Epok, Soker, Piro, Cheo. Another production from some of the ASK and KTF Crews.
Acerone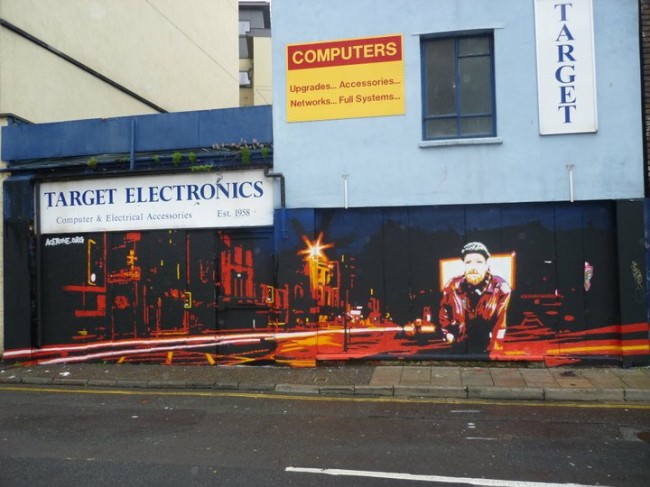 Acerone uses his photographic images for the blueprint of his artwork and shows us the simplicity and detail, that's above all vibrant.  This is a memorial piece for Bear who was well known on Stokes Croft.
Feek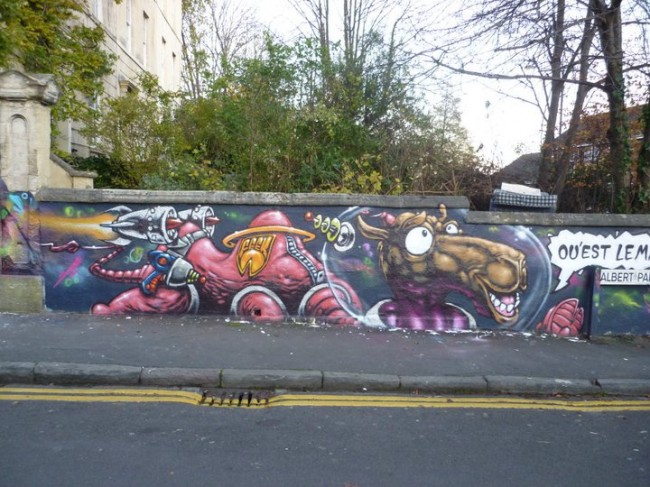 Rework of the 'Mecam-ikal?' wall, this is the third time Feek has painted a Camel on this spot 'Ou-est LeMac?', the first one would have been around 2000/1, which the council kindly buffed, then the second camel was painted not long after, which became a Bristol landmark for many years 'Bling, Bling Me Baber?' The other photo's can be found on here http://www.flickr.com/photos/feekertron.
Lokey and Cheba
(click for larger image)

Painted by Lokey and Cheba, on the side wall of Lakota Night Club, this piece was inspired by Ciphers. For Lokey this is something very different to his normal 3D writing style, then again he can turn his hand to anything.
Deamz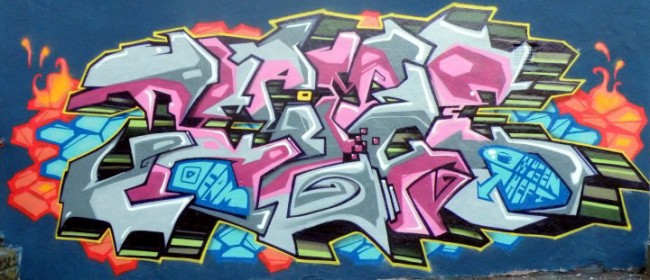 We've spoken to Deamz recently and this is what he had to say "I've been painting since around 1988 and have been inspired by all kinds of artists and situations over time…currently Im into painting either really mechanised/complicated/detail wildstyles which vaguely represent my name 'Deamze'…possibly inspired by the sculptures of Joe Rush from the 'Mutoid Waste Co' and Scrap Heap Challenge (building structures from other objects) also 'NASA' crew from Los Angeles circa 1992…"
Lokey & FLX
(click for larger image)
Lokey & FLX, this was painted at the Brisfest.  FLX is the author of 'Children of the Can
' a book that has documented Bristol Graffiti over the past 25 years. When FLX interviewed Lokey for the book, they spent a few hours sat in café in Bristol, chatting about the scene in Bristol and how Lokey is the youngest of the veterans…..