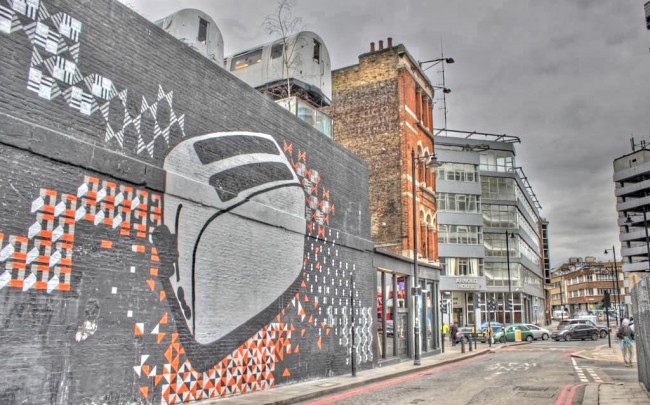 You've inevitably spotted the ubiquitous orange toasters, stuck to the escalators in the tube, on pub toilet doors, massive paintings on walls in the East End…The Toaster is an icon that is as well recognised as the logos of major corporations. The Toaster works with the same mentality as advertising, only it's a bit more subtle and a lot more intriguing.
Read on to meet the crew who have been dedicated to sticking their favourite kitchen appliance all over the streets of London and around the world for the past 12 years. They share the story behind the reason they chose the toaster, tell us some tales from a few of their more adventurous toastering experiences and give us a sneak peak at what to expect from their first film to be released this spring.  Images below courtesy of The Toasters.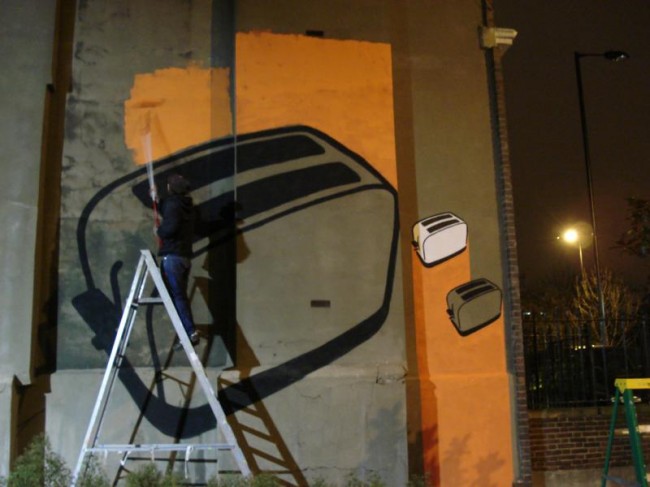 Toasters have been appearing on streets around the world since 1999. Tell us what the Toaster Crew is all about and how it started.
Three people, one image and a mission to get it as big as possible starting from New Year's Day 1999. At first we thought we'd paint one stencil a day for a year and clock where we were at. In hindsight, that quickly became an unrealistic New Year's resolution. The project rapidly turned into putting a multitude of stickers and stencils up every week.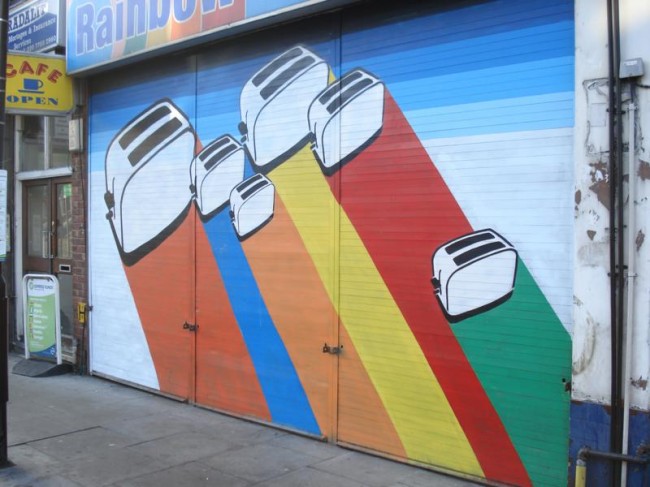 The question on everyone's lips…. what is the deal with toasters?
We aren't obsessed with toast, which appears to be the obvious urban myth presumption. We wanted to steer away from the usual acronym of a graffiti crew and adopt an internationally recognisable image. If the idea was to 'get it up' as massively as possible then we were going to go all over the globe with it. We chose a toaster as we'd always find ourselves detached from others at house parties, hanging out in the kitchen debating the past, present and excitingly the future of the graffiti scene. So we thought 'that's it, a toaster, the classic kitchen appliance'. Also we were going to be putting it up on the street so a domestic appliance in the public domain had that air of 'displacement' about it. The notion of the absurd will always turns heads a little more sharply.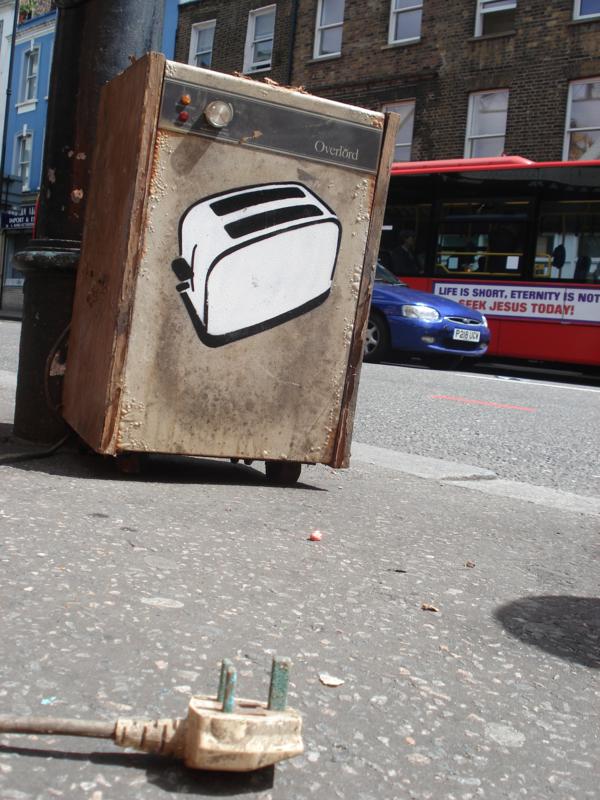 Where did the first Toaster appear and in what form?
It first appeared in Wolverhampton printed on small address labels. No doubt each of us will claim to have been the first to do it. We'll settle it out of court one day. After a week or two we cut the first small stencils and sprayed them on larger stickers.
The toaster is very versatile. You've done billboards, stickers, stencils, nesting boxes… what's your favourite way to spread the toaster love?
The sticker is the most basic way and it's so quick and easy. It can be done at any time of the day, walking from A to B, popping to a pub toilet, walking up an escalator. We love all of our means of putting the toaster up but we're sentimental about stickers. When we were kids, the Wolverhampton sticker scene was massive, way ahead of its time.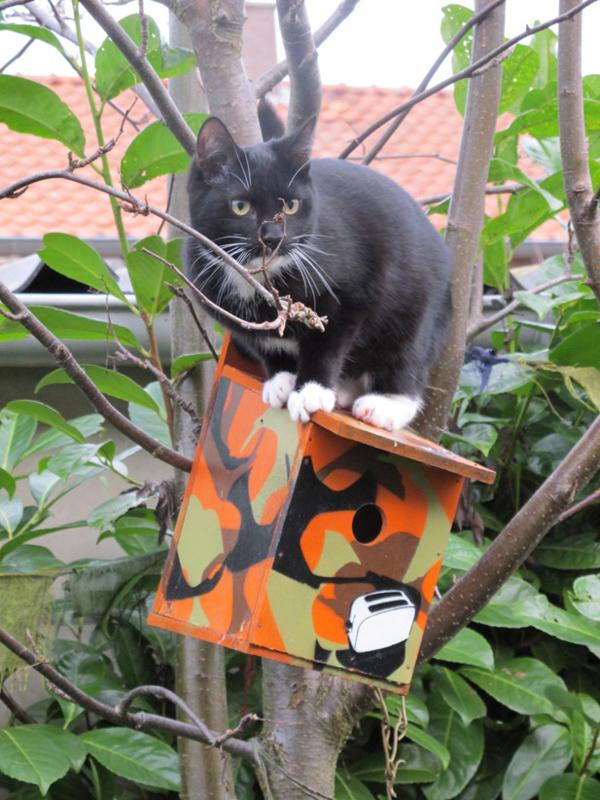 The Toaster currently residing in Holywell Lane is surely the biggest ever! Was it a challenge putting up such a big piece?
Yes, it's the biggest. Norris McWhirter came from beyond the grave and gave it the Record Breakers seal of approval (anyone under the age of 25 won't get that). Yeah, painting that was a mission. We thought let's do it in January when the weather is atrocious just for a good old laugh. Torrential rain, wind and that bloody 135 bus to Crossharbour whizzing past every five minutes – an interesting combination when you are 40ft up a scissor lift on a narrow pavement. It was worth it though. Lots of people naturally mention the size of the toaster, but we also like the subtleties within that piece. Only a few heads clocked it, but the background patterns are different tube line seat fabric designs. We have always been fascinated by graphic design and British graphic design in particular. The London Underground moquettes are simply classics. They work in a similar way to our toaster image. They are repetitive designs that form the backdrop of our everyday. We thought it was a great opportunity to incorporate these on the Holywell Lane wall with the tube trains sitting above. We recreated the Victoria, Central, District and Northern line moquette designs, but using our signature toaster colours of orange, black, white and grey.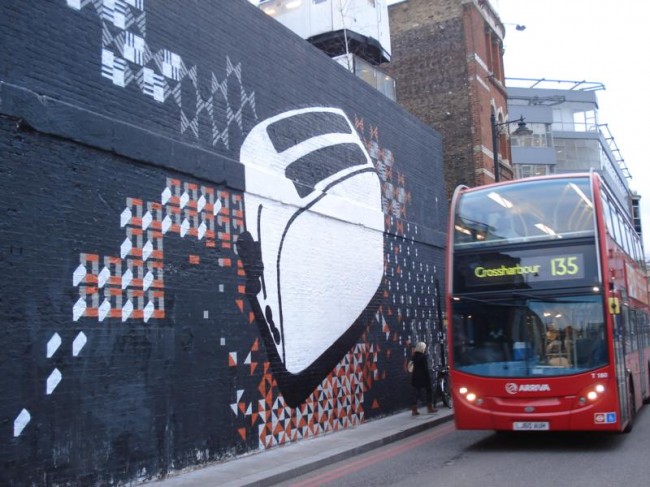 We've seen a lot of your recent 'bluff the buff' pieces around town. What's the inspiration behind this?
The pathetic attempts of the councils to cover graffiti with the wrong colour paint. Intriguingly they unintentionally produce interesting Rothko-esque compositions. We wanted to mimic these; to point out the ridiculousness of the buff and to add to this accidental 'art'. It's like 'we've seen your buff and we've Bluff Buffed it, checkmate'! It is also a great way to cunningly get our image up and for it not to be buffed as it looks like buff. As it is simply the silhouette of the toaster, we like to think it also reinforces how recognisable we've made the image. The public can still tell instantly it's our toaster.
So, how many circa 1999 Toasters are still left on the streets twelve years later?
Well we are obsessive about the project, but we don't know for sure. I know there is still a sticker from 1999 on a street sign opposite Coventry station and also remnants of a 'Ghoaster' on the ring road in Wolverhampton from the same year. There were kids not even born then who are doing street art now.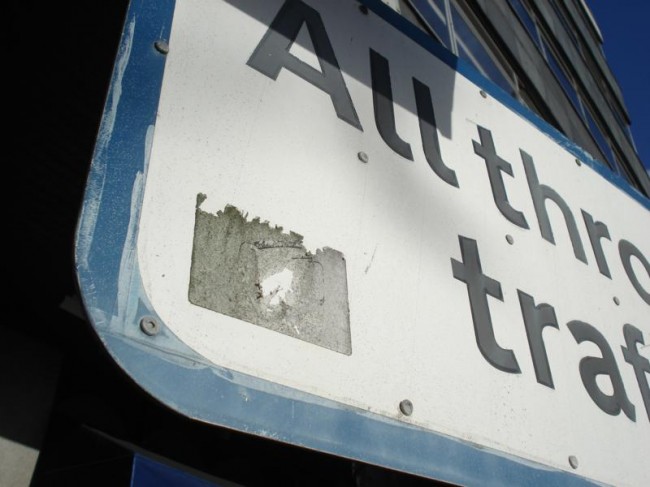 Your Toasters have appeared on the streets of Berlin, Stockholm, LA, San Francisco, Tokyo, Rio, Sao Paulo, Buenos Aires, Montevideo, Sydney, New York and Amsterdam to name a few. What have been your favourite and least favourite toastering experience abroad?
Displaying toaster banners at a Brazilian football match in Rio was a coup. The local Ultras took us under their wing and we ended up in a Hell's Angels drinking den in a favela. Also, taking toaster St. George's flags on tour with the Barmy Army at the Ashes in Australia made for a lot of press coverage while we sat in the sun, drinking beer and watching cricket! Painting huge, old, disused warehouses in Rotterdam with Influenza, Erosie, Stak, Honet and Betamaxxx was a crazy laugh with some seriously talented artists. Painting a hall of fame in Barcelona with local hero Pez, next to the sea with a cold beer and the sun setting was one of those 'it's good to be alive' moments. Hopefully the best mission is yet to come. On the negative side Warsaw was 'bring me a noose' desperate. I lost count how many people said 'you should have gone to Krakow'.
Copacabana Beach: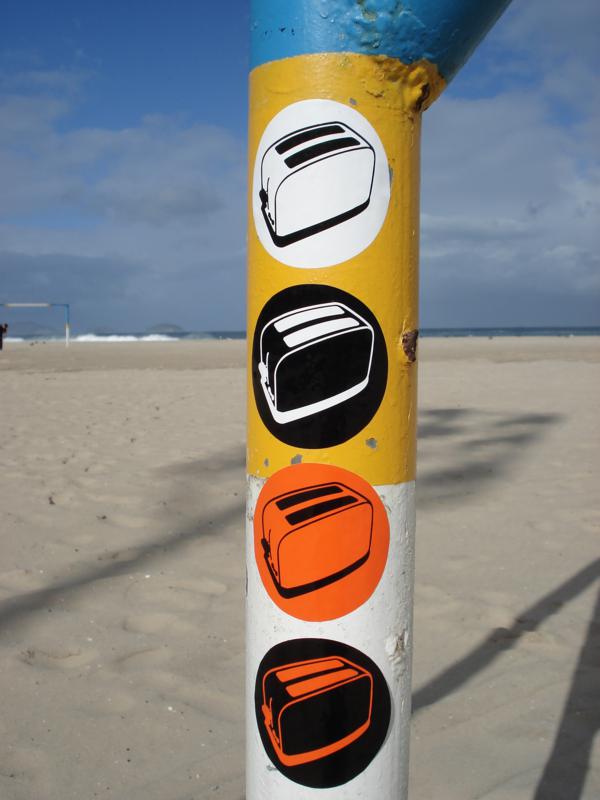 What do you hope to accomplish or communicate through creating your art in public spaces?
We want to leave a legacy. We want the toaster image to be remembered long after we've gone.
The toasters have been around since before "street art" became part of our everyday language. It seems to go beyond what we think of as street art today. Is that true and how so?
Just as we were different to others at house parties, I think we are a little different to most 'street artists'. We bring our passions outside of art into the project. Going to football, cricket, to festivals, bird-watching (yes it's true!) and cycling. Along with the idea that we put the image everywhere, we started to place it in the remote countryside, in dense woodlands where maybe no one would see it. If just one person did spot it they'd be like 'man these are simply everywhere'. We call it 'Town and Country' as in 'everywhere' and not just in the street. Someone once posted a comment on our Fotolog page in response to a toaster we placed on a tree in a woodland. It read 'That's not street art'. Who gives a fuck, mate. There is more to art than street art. As you say, we started the toaster project before this phrase was created so we'll sometimes set our own rules, thank you very much.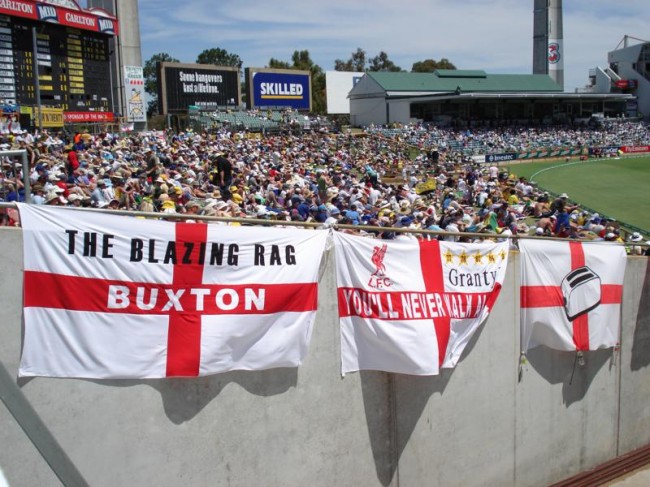 Which other street artists give you inspiration?
I would not necessarily call these 'street artists', but Influenza, SOL Crew, space3, Stak, Honet, CBS crew, Jago, Barras, Dicy, Tact, Tape, Tops, Taz Roc, Vandal 178, Jasper Johns and William Morris to name but a few.
ed. A rare glimpse at The Toasters/Roa collab on Parkland Walk which only lasted a day: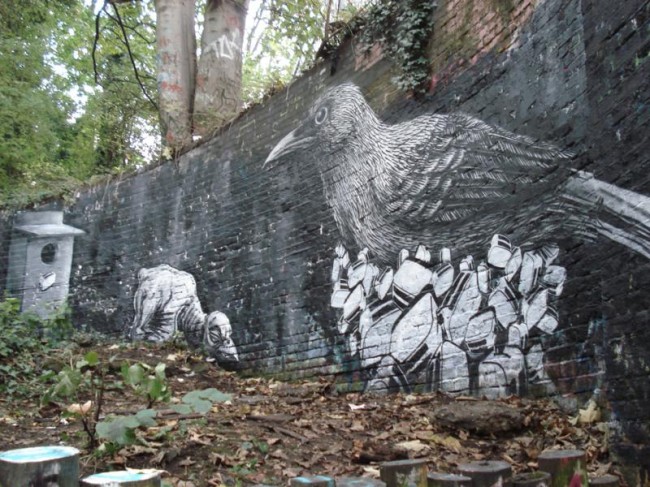 We hear there's a Toaster's film entitled "Everywhere" being released in the Spring. Tell us more.
We are really excited by it. We just felt there is a story that needs to be told. We did so much in so many places with just one image that a film seemed appropriate. We have old footage that we hope others will find interesting and it gives us a great reason to produce some new work on a bold scale in new places.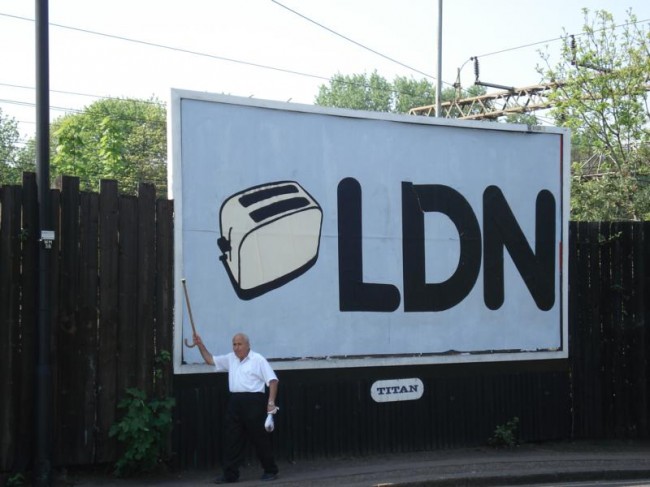 What else can we expect from The Toasters in 2011? Any big plans or walls we should keep an eye on?
We've got one mission up our sleeve that if we can pull it off to the level we want, we'll be buzzing. All we'll say is it's not in this country and will hopefully be in the film. Other than that, we'll be sourcing more London walls. We are also painting plenty of shop shutters. We love that they are nocturnal, hiding away in the day, unveiling themselves at night.
Interview by Stephanie Sadler
Check out the trailer for "Everywhere" below: