Street Art London has a very international flavour this week and we are delighted and priveleged to bring you this guest post from Jessica at RomePhotoBlog.  Here, Jessica gives us the lowdown on the street art scene in Rome:
Though Rome isn't the first city that comes to people's mind while thinking about street art, that is slowly changing as the city's artists continue to grow and become recognized on an international level. While plenty of international artists have hit up Rome over the past few years – Invader, C215, Above, and Zilda to name a few – I'm going to focus on the local artists whose work I've seen up on a consistent basis since I started photographing street art in 2009.
Before I get to the artist's, however, I want to break down some of the peculiarities of Rome street art. People often ask me where they can see stuff while in town and though it's found everywhere if you keep an eye out, some key areas to focus on are San Lorenzo, Pigneto, Ostiense, Trastevere (though less and less it seems). If you're really adventurous and can figure out public transit, hit up Strike off the via Portonaccio, as its walls are covered with works by writers and street artists and a revolving doors of shows happen in the Pub, normally open Thursday nights.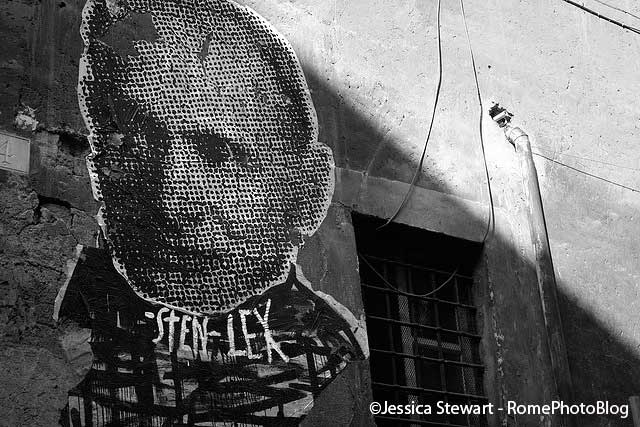 Sten + Lex – Both started their artistic careers separately, but now form one of the most recognized duos in Rome with an international career. Their work mainly focuses on portraiture, increasingly of anonymous figures. Sten's invention of the "hole school" technique for stenciling created their distinctive style, which they continue to evolve, most recently into the stencil poster. Here's an old school photo from a poster they hung outside the Rialto centro sociale in 2009.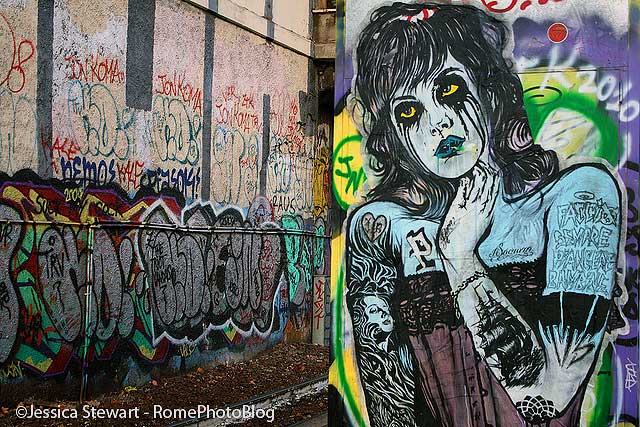 JB Rock – JB Rock is one of the most recognizable names on the Rome street art scene and continually pastes hand painted posters out on the street. His work is normally figurative and especially favors the depiction of women. His more recent works depict "suicide girls" painted with blue hued skin and brightly colored hair. They are covered with tattoos and have a sort of primal energy that screams out to the viewer. There is a shock value to the image that intrigues and then forces you to look closer, where intricately patterned tattoos and lettering bring a further meaning to the piece. For a real treat, do to via dei Magazzini Generali and check out his huge "Wall of Fame" where he used portraits to represent the alphabet.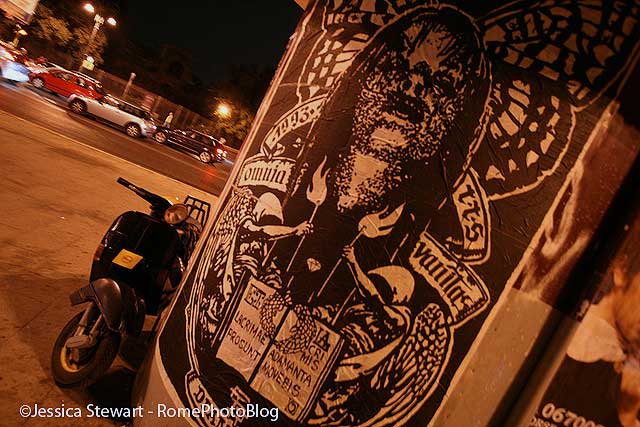 Diamond – Part of TTS with JBRock, with whom he also shares a studio, he too works on posters, very often depicting women. These women often harken bark to pin up girls of the Betty Paige era. His pieces are mainly in black and white and the use of line reflects his interest in drawing. You can often find classical themes hidden in the tattoos on the bodies of his women, paying homage to his Roman heritage. This poster was hung close to the Lateran Palace and is filled with the lettering and symbolism that make him unique.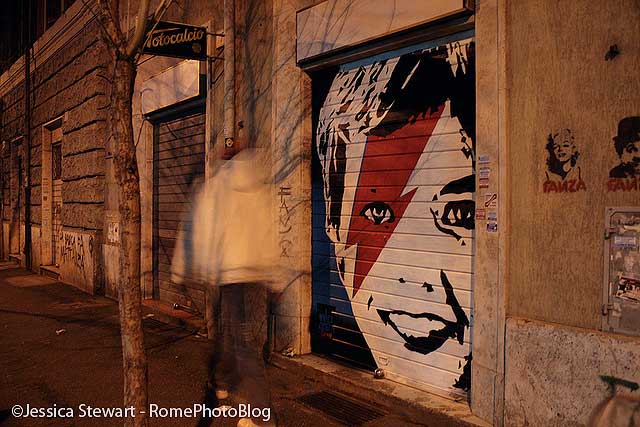 UNO – Working with the singular iconic image of the former Kinder model, UNO's work brings a nostalgia to whomever views his posters and stickers. His use of this image asks viewers to think about how advertising has integrated into our cultural subconscious. Though UNO normally works with posters, this image shows a stencil on the front of a new art gallery in Pigneto. It might seem easy that he's only working with one image, but he's constantly transforming it and putting it together in new ways to make fresh pieces from the same starting point.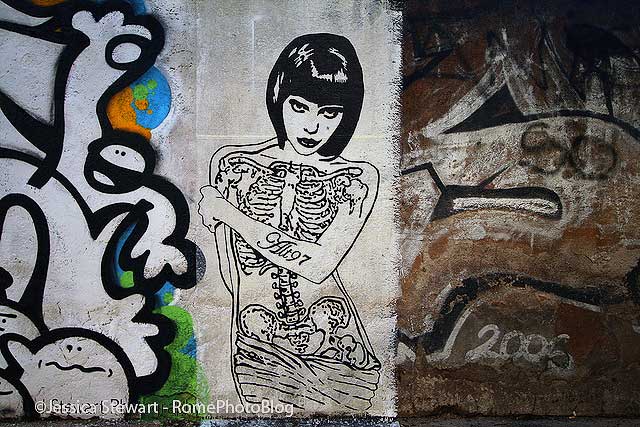 Alt97 – Alt97's most recognizable pieces are the printed posters of matroiskas that vary with the images found in their bodies. The image here, found in Pigneto, shows a typical mastroiska with flowers filling the body. Aside from the matroiskas, her work her work often exudes a sensuous femininity, exemplified by posters a woman's skeleton on via degli Ausoni and Angelina Jolie in ecstasy, from a David LaChapelle photograph.
# – Cancelletto's hand painted posters have in the past been tied to a Japanese influence, most likely due to the proliferation of posters depicting carps, as show in the photograph here. Delicate washes of color and the undulating form of the fish create a distinct sense of movement. More recently # has been moving away from the carp and creating portraits with transposed body parts – a mouth used as a nose, an eye used as a mouth, etc. or images of fanciful half human/half animal creatures.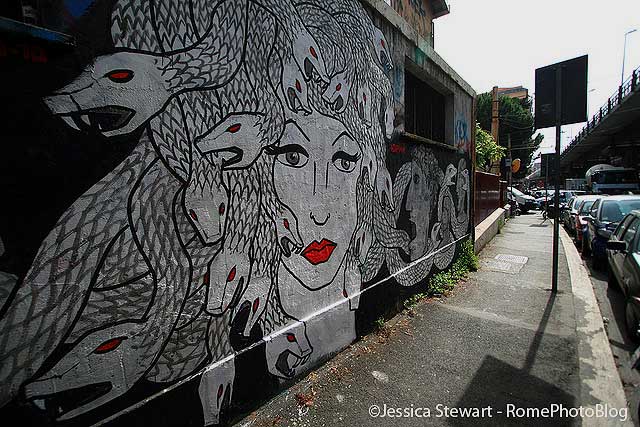 Hopnn – Hopnn's style is very much based on the use of line, lines that often flow together and morph into different shapes. He works both by painting directly on the wall and with posters. This incredibly ornate image of the Medusa is located on a free wall on the via Prenestina. The bold lines which interlock make it unmistakably Hopnn.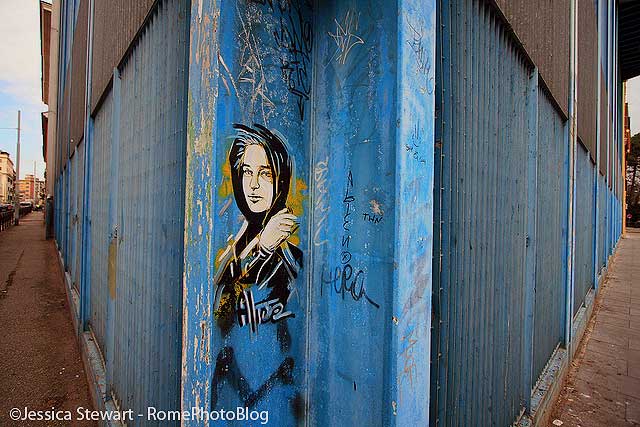 Alice' – Also a favorite of Street Art London, Alice' has made a big splash this yeawr during her travels. Using her background as an illustrator, Alice' creates quite painterly images of strong, powerful women. She has more recently moved away from posters to painting directly on the surface of spaces. Her work is also distinct for the pastel yellows and blues color palette used and the sweeping brushstrokes that create a sense of the ephemeral.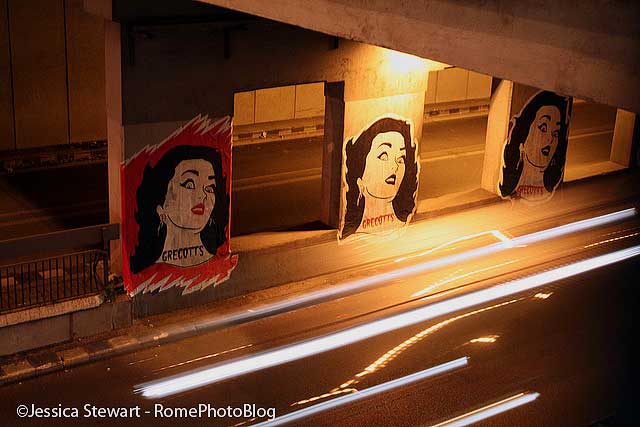 Greco – Greco works in the same studio as JB Rock and Diamond, but, as the quietest of the bunch, is harder to find online. Though slightly similar to Diamond, they are sometimes mistaken for each other, he has his own distinct style that celebrates the femme fatale. He's also a bit of a dare devil when it comes to placement – these posters were pasted in one of the busiest tunnels in the city.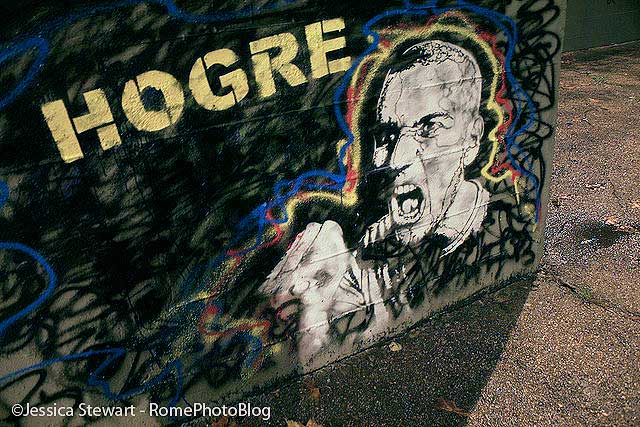 Hogre – Hogre's stencils, stickers, and posters can be found on virtually every corner of the city. His style has developed from one-layer stencils with ironic phrases next to them to more complex and colorful multi-layer stencils. His use of color is also notable, one can find figures with green skin or portraits offset with borders in fluorescent greens and pinks. His more recent project in conjunction with Psycholab, Nelle Capitale delle Meraviglie, shows a willingness to push boundaries and integrate larger themes and different media into his work.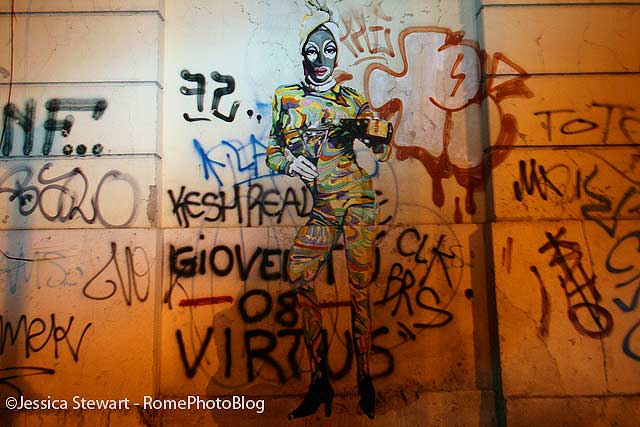 Aloha Oe – A new artist on the scene, his works are pushing boundaries, exploring themes of gender and sexuality. These painterly posters have been causing quite a stir and some are getting ripped down fast, but I'm excited about this new entry and what he'll bring to the scene.
Omino071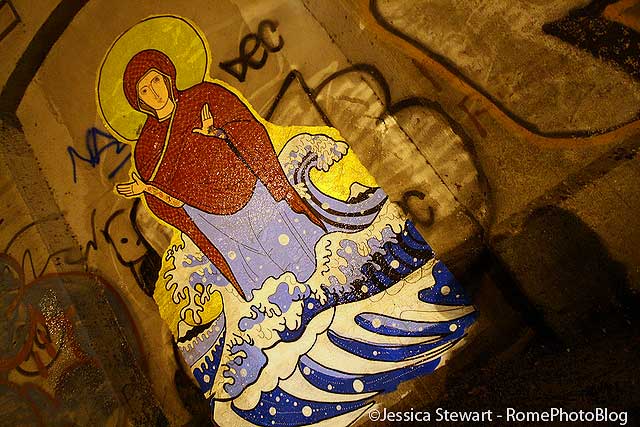 Mr. Klevra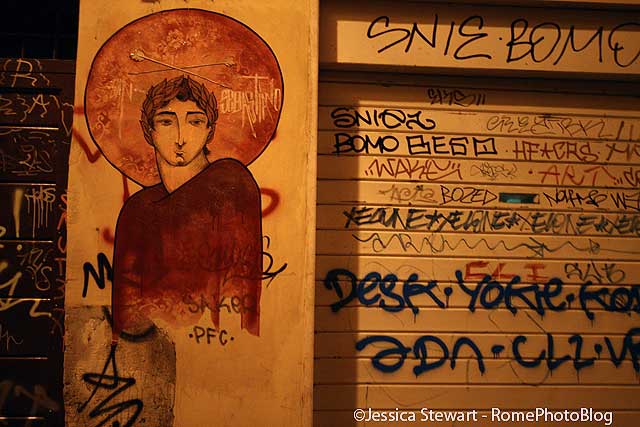 Omino71 + Mr. Klevra – Two artists with their own unique styles, Omino71 and Mr. Klevra have been working on Eikonprojekt, which brings a twist on Byzantine iconography. Both work on hand painted posters, but bring their own style. Mr. Klevra's being a more traditionally rendered icon. His works are full of detail and can be appreciated fully only by looking up close, as one discovers new hidden symbols each time. Omino71 works in a vibrant pop style with a debt of Keith Haring. Use of bold color and pop culture symbols turn the idea of a traditional religious icon on its head. These two images are from their last pasteup around the city.
Once again thanks to Jessica at RomePhotoBlog.