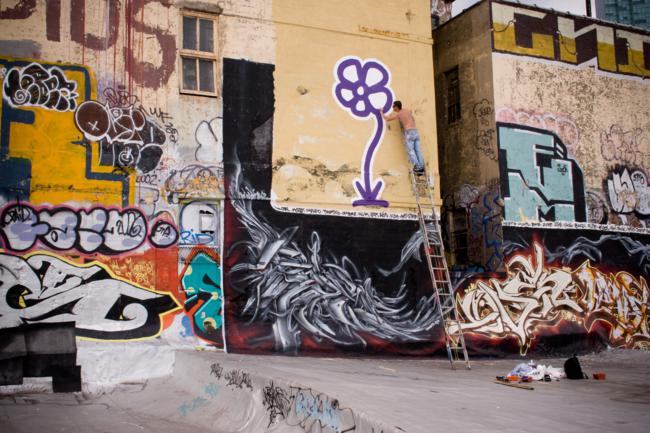 NYC 2007 (photo by Gavin Thomas)
Legendary street artist Micheal De Feo, aka, The Flower Guy is "Coming in from the Outside", an appropriate title for this New Yorker's first solo show in London. Michael De Feo's street art career spans nearly two decades. His iconic flower – in simple rainbow hues – has been spotted on brick walls in NYC, gritty stairways in Hong Kong and statues in Buenos Aires. A few years ago, life changes led his work into an outward exploration and public display of his inner thoughts in the form of scribble-style self-portraits.
Michael took a bit of time away from exhibition preparations to chat with Street Art London about the cycle of life, some insight into award-winning children's book that incorporates his street art and his bond with daughter Mariana who once went on a pasting spree with him in the South of France.
Micheal will be in London this week and hopefully we will get to see some of his street art in London's streets.   He is also exhibiting some of his latest work at The Orange Dot Gallery (details of the show which runs from 9 to 15 March are over here).  Head over early to Orange Dot on Saturday 12 March to snap up one of 50 free prints that Michael will be giving away (more details below). (All photos are the artist's own except where indicated otherwise.)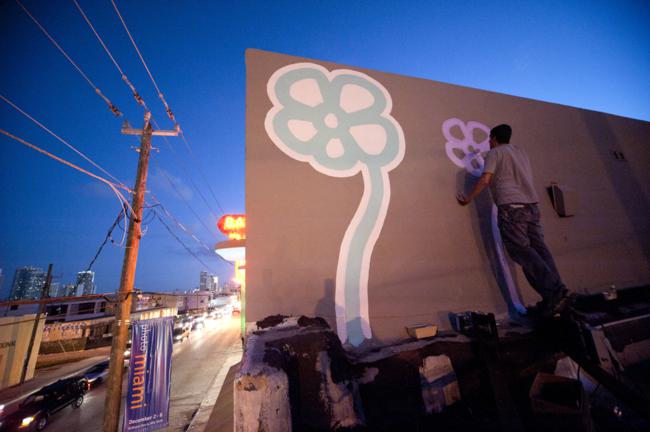 Miami 2009 (photo by Geoff Hargadon)
It all started with the first flower mural on East 23rd Street, NY in 1994. What prompted you to put art up on the street?
It actually started about a year earlier; that piece was the first time I painted one that size; remarkably, it's still riding high on East 23rd Street. Back then, the idea of putting my work up on the streets came rather naturally. Having grown up here, I've always loved New York and wanted to be a part of the fabric of this great city. Street art was a way that I could literally do just that. Also, I realized that I could show my work to the widest global audience with no barriers by side-stepping the gallery system. I felt why wait for their approval to share my work with a narrow few when I can put my work up anywhere I like and share it with everyone?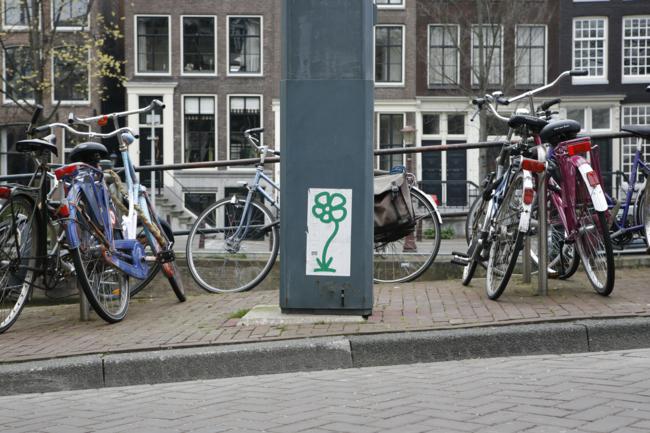 Amsterdam 2008
Why did you choose a flower and what are you trying to achieve by placing flowers into the urban environment?
I've always had an affinity for imagery that touches upon the innocence of childhood mixed with the more universal truths we all experience. The image came out of a brainstorming drawing session with paint and it just seemed like the perfect thing to share with others via the street. It was a happy accident, really.
As the project progressed I realized that it was much more than just pretty flowers in a huge city of concrete, glass and steel. It symbolized the cycle of life where things are born, live their existence for however long, and then wither away and die only to reappear again elsewhere. It's happy and sad.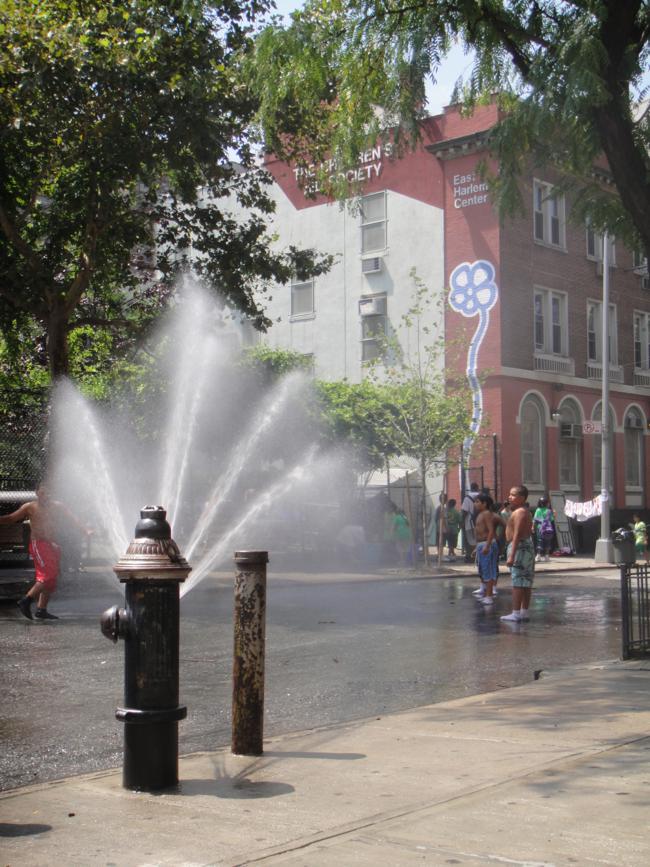 Harlem, NYC, 2009
We recently interviewed The Toasters who have turned a simple image of a toaster into a global icon. How did your street art develop into the global project it has become today?
I suspect my stubborn persistence for over eighteen years has something to do with it. I've always tried to make work from my heart; perhaps people pick up on that as well.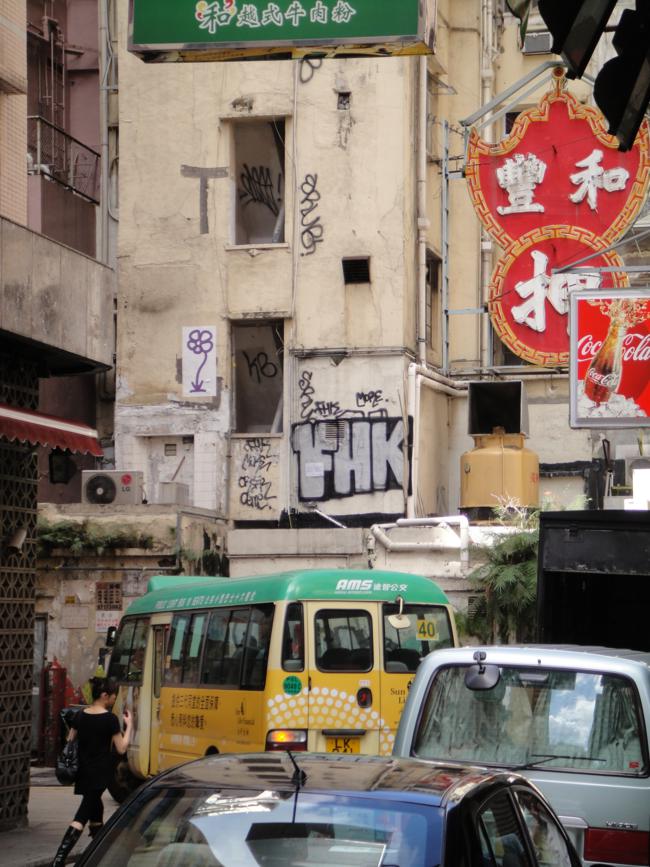 Hong Kong 2009
You once said: "One of the most important aspects of working in the streets for me is allowing the work to wither away and disappear". Why is this aspect of street art important? Is it different when your street work is painted over very quickly by the authorities or even stolen?
Aside from the connection to the cycle of life as I mentioned earlier, it's also aesthetically beautiful to me. It shows that it's been there some time; it's living its life. It's a recognition that the works are fleeting… they have a limited life span. They're one of a kind and the viewer encountering it sometimes recognizes this, which creates a moment of magic. Hopefully it spreads some smiles. It's different when the works are buffed or stolen. Their disappearance is immediate but still an important part of the process.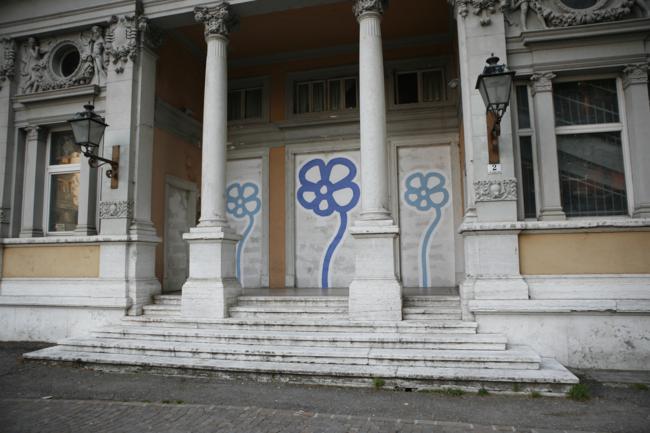 Trento, Italy 2008
While most of your work consists of your flowers, you've also contributed quite a few self portraits to the streets of different cities around the world like Hong Kong and Toronto and other work much darker than the flowers. How did the transition from light to dark come about?
I've always done self portraits, however, not with the frequency and dedication of the past bunch of years. In the Spring of 2006, my wife and I parted ways and it was a very difficult time for me. I decided to invest more in my self portraits and for the first time, share them in the streets. My street works were never this personal… I was truly putting my insides outside.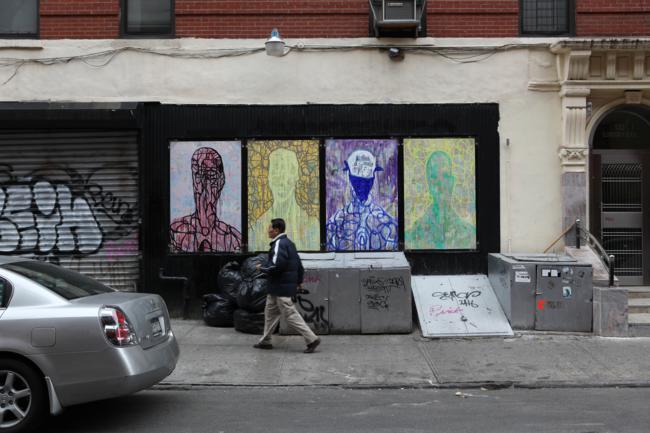 Woodward Gallery Project Space, NYC, 2009
Maps feature as a background to a lot of your painted self-portraits. Where does your fascination with maps stem from and where do you find all of them?
I've been drawing and painting on maps for over ten years. They were the natural next step from working on blueprints. Like most artists that share their work on the streets, I'm interested in travel and spreading my street works far and wide. By doing work on maps, I can metaphorically paint the entire world.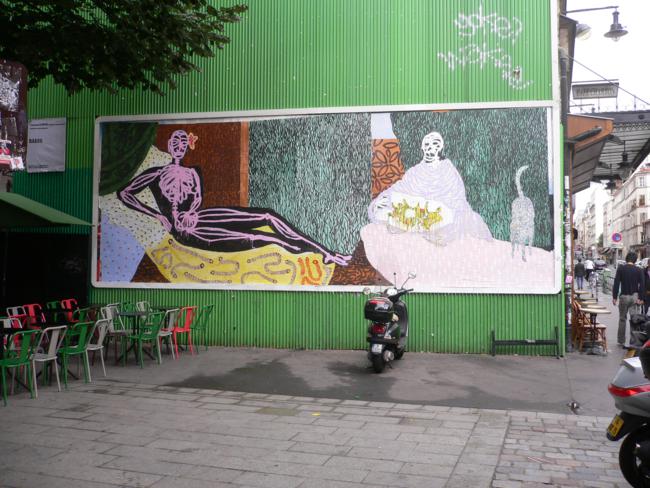 Olympia, Homage to Édouard Manet, Paris Billboard, 2007
Your street art started in New York City but rapidly spread all over the world to Buenos Aires, Amsterdam, Paris, Toronto and Barcelona to name a few. What have been your favourite and least favourite street art experiences abroad?
Last summer I was in the South of France for Festival D'Art Contemporain, a huge project of public works by invited artists throughout many of the small villages and towns in and around St. Remy-de-Provence. I was there with my then six year old daughter, Marianna, and my mother. Aside from my thrill to share the experience with my family, I also took the opportunity to have Marianna join me on a street art mission. The mayor of St. Remy had granted me full permission to wheat paste freely so I was comfortable having her with me. Marianna and I headed out from our apartment in St. Remy late one evening and installed flowers together along our journey around the entire perimeter of the town. It is the one street art experience that I hold closest to my heart and will never forget. It was incredible and had me smiling for days.
As for my least favorite, to be honest, I'm not sure that I have one. Each and every experience comes with its own triumphs and challenges but no matter what difficulty I incur, they all have their rewards.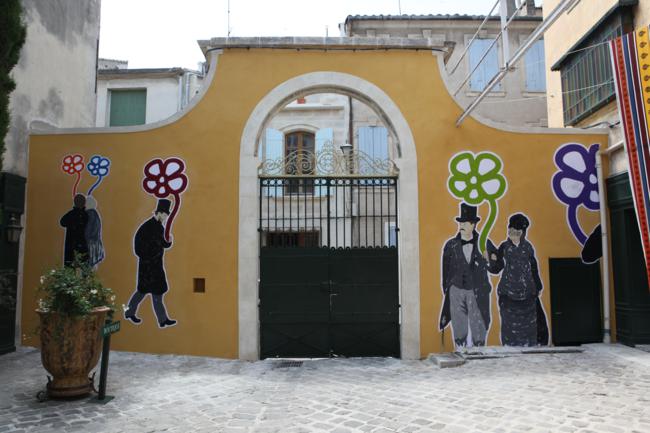 Homage to Gustave Caillebotte, Tarascon, France, 2010
Over here in London we have Ben Eine who has painted the entire alphabet along the shop shutters of a London street. Your children's book project Alphabet City: Out on the Streets is similar. What inspired you to initiate this project?
I've always wanted to create a book for children and have come up with many ideas over the years, none of which I felt worthy of executing. When it finally dawned on me that I should take this desire and marry it with my passion for street art, Alphabet City was born. It made perfect sense as children were typically the only people that noticed me while I was doing daytime installations. Adults are too busy getting from point A to point B while their kids have the luxury of really looking.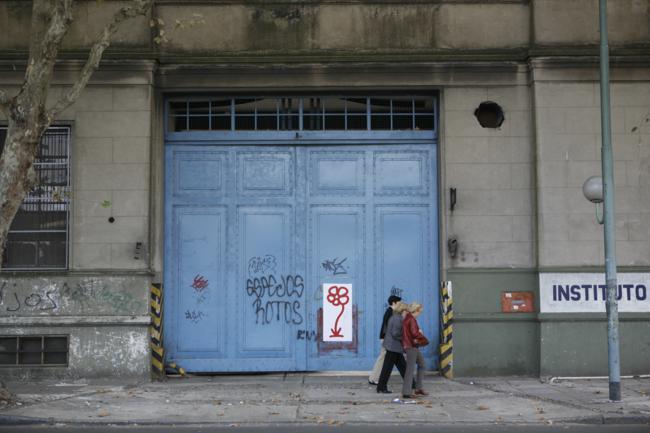 Buenos Aires 2009
Why is street art important?
Because art is for everyone and by anyone. It levels the playing field and gives a voice to those who want to participate.
You have been involved with the 'street art' scene for a long time now, how has it changed over the years?
The scene has grown in so many ways, namely in its reach and popularity. When I began creating works on the streets of New York back in 1992, the internet was still an infant. The few of us that did street art didn't really have a way to get in touch with each other or a place to share and view each other's work. Once the internet became a household standard, everything changed. It really fueled the fire.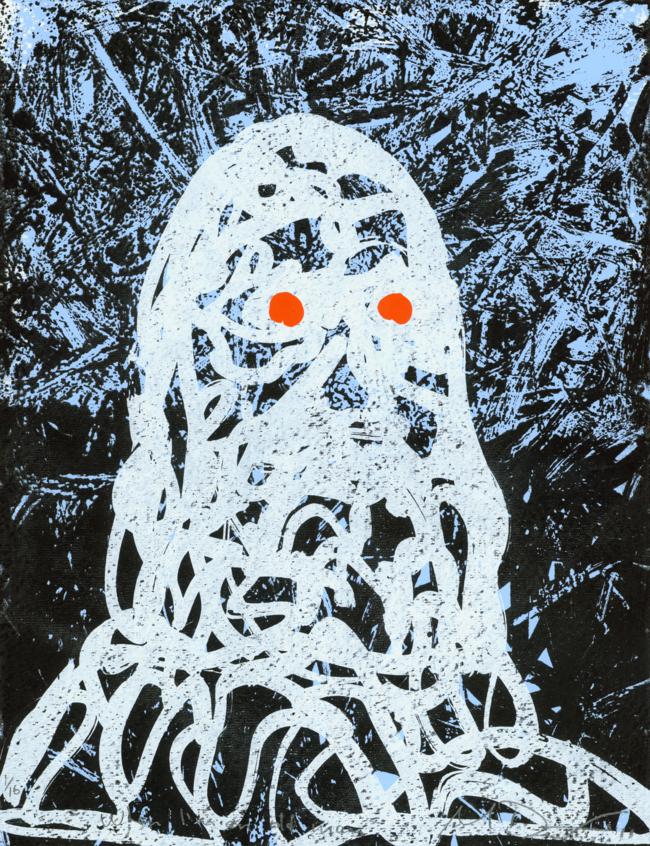 'When I'm an old man'  (2011)

As one of your biggest inspirations, your daughter Mariana's portrait has appeared in a few of your pieces. She even got into the action helping you paint a wall on Spring Street in NYC. What is her reaction to your work? Does she have similar aspirations?
Marianna loves to spend time in the studio with me. She's a dedicated artist always preferring to draw and paint over doing anything else. She can create for hours. She's truly inspiring. As for her reactions to my work? She's probably one of my biggest fans.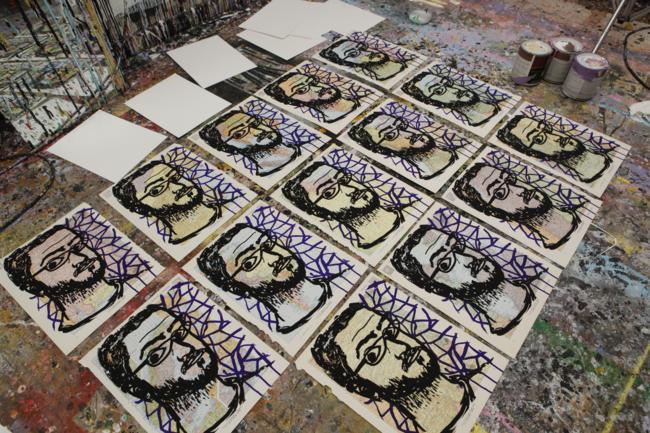 "Self Portrait (with glasses)" (2011)

You're at the Orange Dot Gallery in London this month with your first UK solo show Coming in from the Outside. Tell us a little about this exhibition. Should we keep an eye on the streets of London as well?
I'm very excited for my very first solo exhibition in London at Orange Dot Gallery. I'm showing ten new prints, all signed and numbered editions in low numbers and many with hand painted embellishments. I've created a special signed and numbered, eleventh edition, Broken Sunshine, to be given away to the first fifty visitors of the gallery on Saturday, March 12.
Some of the prints in the show are based on my drawings and some are re-interpretations of my flower image. This is the first time I've redone the flower. The prints are a result of my collaboration with master printmaker, Gary Lichtenstein. He's absolutely amazing to work with. We first met when we collaborated on special editions for the Aldrich Contemporary Art Museum back in 2008. He's presently working with Robert Indiana on his HOPE series of prints and canvases.
And yes, please keep your eyes open.
What's on the calendar for you in 2011 in terms of street art? Where are you headed after London?
I'll leave that as a surprise for now.
Street Art London: Thanks Michael.  For more photos head over to Michael's website here.  Interview by Stephanie Sadler.
Michael De Feo, "Coming in from the Outside"
Where, When:
Orange Dot Gallery – 15 Tavistock Place, London WC1H 9RG
9 – 15 March