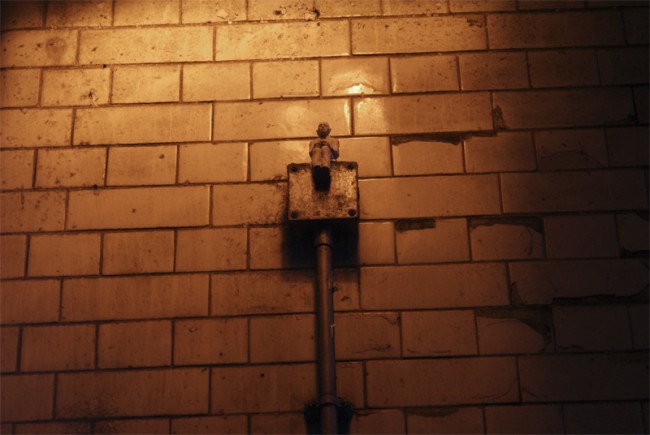 Creator of a tiny community of cement sculptures hidden and isolated around the city, Isaac Cordal invites us to reflect on the sad state of the world through his art. It holds a mirror up to society by recreating scenes of our everyday modern life reminding us of the numb passage of time, the overwhelming influence of consumerism and elimination of nature. Keep your eyes open!
Busy with his first solo book and ongoing projects, Isaac has taken a bit of time to answer some of our questions. Read on as he explains why he uses cement and on such a small scale, discusses the importance of placement of his sculptures and tells us a story about one of his installations created in a puddle in Dalston. All photos are Isaac Cordal's unless otherwise indicated.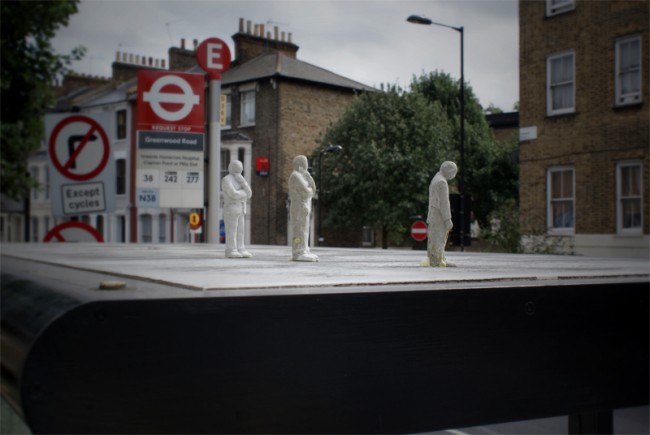 You come from a traditional fine art university background. Why and when did you decide to take your art into the streets?
The street is the perfect scenery for my sculptures. I could not imagine having to make big holes, carry water to fill pools; the city comes with all of this by default and it´s still free. Sometimes it's difficult to find suitable sites and other days the city seems to be calling me.
My primary idea was to make models with rapid cement and manipulate tiny portions of urban areas but it dried too quickly. After a while I started to make silicone molds to multiply the sculptures. My first pieces in the streets were in 2006.
Tell us a little about your Cement Eclipses project.
Cement eclipses is a project related to both sculpture and photography in the urban space. I'm interested in representing prototypes that represent human beings in modernity. I´ve created scenes that summarize recognizable behavior patterns. These installations are my way of interpreting the social system we´ve created around us.
It's a critique of our behavior as a social mass. The series of pictures and sculptures attempt to reflect on the absurdity of many of our actions.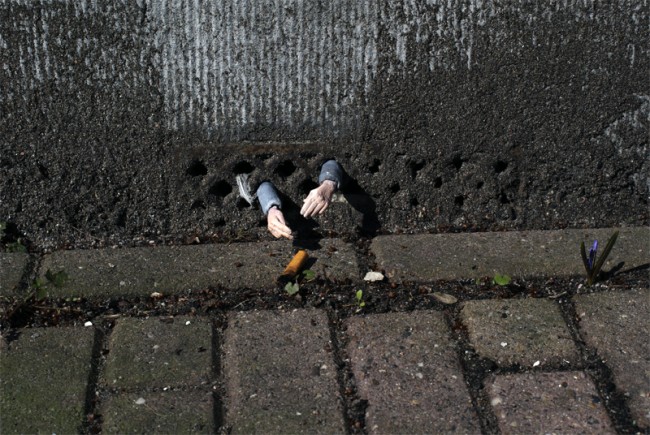 The Spanish city of Vigo had the privilege of first being graced with your street sculptures. Where exactly did you place the first one and what did it look like?
I placed the first one in the window of the place where we lived and work that time. I made small installations with sculptures representing a citizen's everyday moments: a social group carrying shopping bags, talking on the phone, businessmen with their briefcases…
A very old cement eclipse: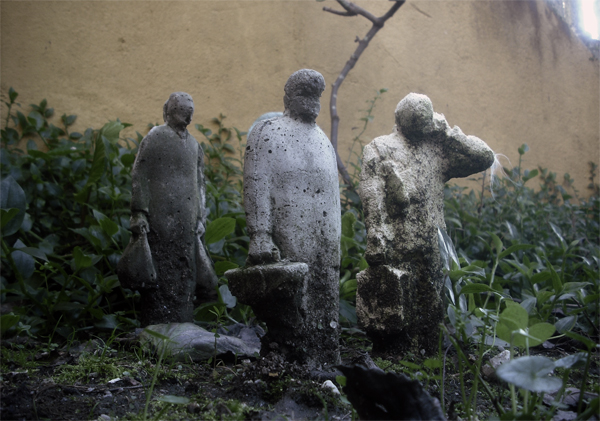 Why did you choose cement as a medium and what is it like to work with? Tell us about the process of creating a typical piece and how long it takes.
Cement is our footprint in nature. In Spain, its massive use in construction has devastated the coast as well as so many beautiful places in the countryside, converting the land in a kind of board game for speculation. It is a very curious parallel between the destructive capacity of termites devouring cellulose and our activity destroying the nature in order to expand our cities.
The actual process of making a piece is quite long. Firstly, I create the model in clay form, then I make a silicone mold which is used to produce multiple copies.
Isaac putting a piece up in Amsterdam this year (pictures by Valérie Mouton):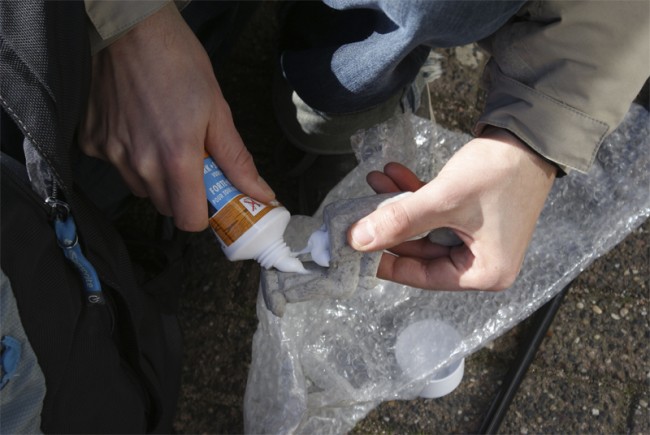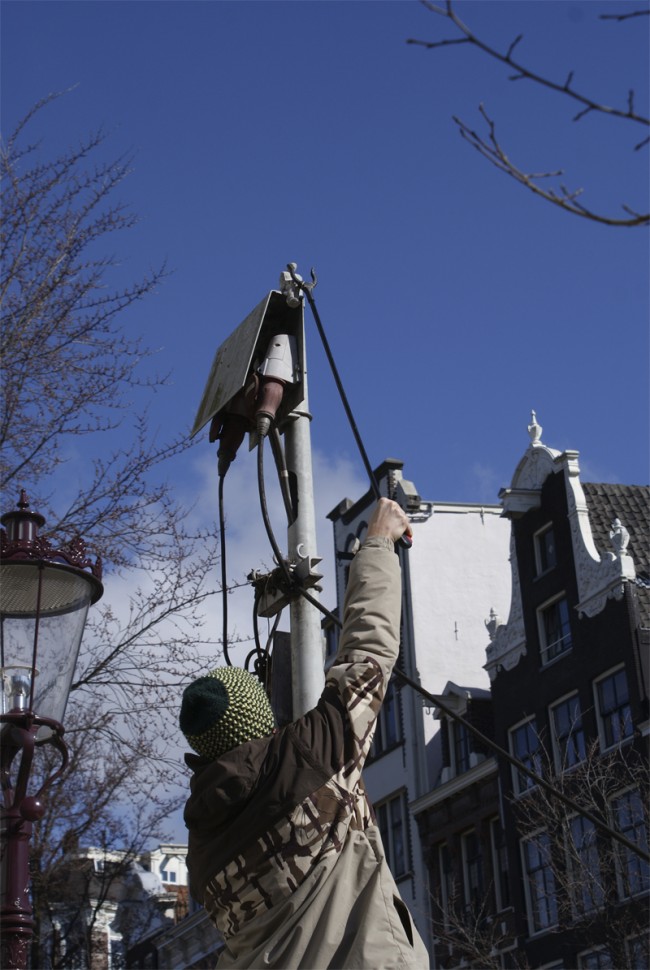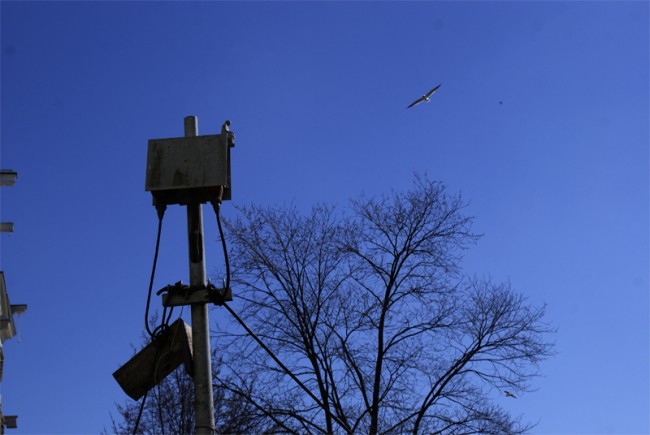 You've called your work an "exploration, an itinerant experiment that hopes to reveal something to us about our relationship with the built environment and our bodies." Have you seen evidence that you're getting the message across?
I believe that creativity is a form of combat. The problem is that the enemy is volatilized all the time.
The placement of your sculptures is particularly important as it adds another layer of depth. Discuss.
The placement is very important, in fact, almost more important than my work. Many of the scenes I have represented are suggested by the city. Sometimes I see a place that makes me think of a composition or vice versa. I find places that could have potential and I create the sculpture from scratch just for that particular location.
At work (photo by Milos Bokovic):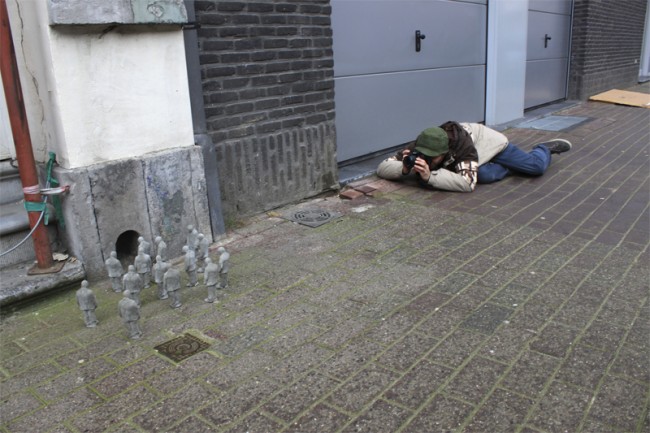 At around 15cm high, your street pieces seem vulnerable and it takes some work to find them. Why so small?
I think it's very useful to have a small portable studio that allows me to work anywhere. The small scale allows me more mobility. It doesn´t means that I don´t envy those huge artists' studios where the ego has more space.
I have worked with cement since 2001 with large sculptures that were very difficult to move. So, in this project, they are smaller in scale and greater in mobility. In this sense, I can travel and place them on the street very easily.
Which piece has been the most meaningful for you so far and why?
One of my favorite images could be Follow the Leader. I remember when I was making that installation in a puddle in Dalston and a guy getting into his car was waiting anxiously for me to pick up everything and allow him to continue on his way. I´m not sure, but maybe I picked it all up too fast…some of our leaders drowned that day.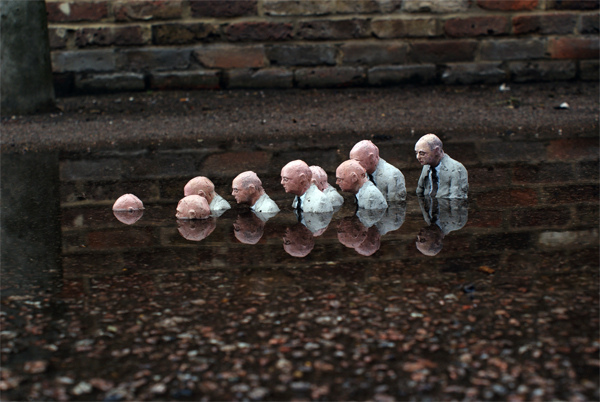 How do you feel when your street pieces are taken very quickly after being placed on the street?
Many of my sculptures I leave on the street, usually stuck on walls.  I don´t leave the sculptures on the street for people to take home. Street art is for everyone, not for just one person.  But ok, those people which have sculptures at home could at least send me a picture so I can see that the boys are well.
Anyway, when you work in the street you should assume that this is an ephemeral process in which art become part of the public domain.
How many Cement Eclipse sculptures do you think are currently around on London streets?
I'm not sure how many, maybe 100, 150; I really don´t know. During the past two years, I´ve left many sculptures abandoned on bus stops so that bus passengers in the upper deck could see them. I used 300 kg of cement. It´s not enough to build a house, but it isn´t so bad for my little community of small persons. In Hackney there are still many of them attached to traffic signs, walls, etc. In general though, I think most of them have passed away.
We've also seen your Cement Bleak project. Could you tell us a little about this?
Cement Bleak is a project in which I use public lighting to cast shadows on the surface below. I model metal grids with human forms and the light passes through it projecting a shadow. The shadows become a kind of drawing, a replica of the modeled object. For Cement Bleak, I modeled several colanders –a grid that came by default- with different human faces. My intention is to create large scale projections with public lighting.
Photo by Alexis Matilla: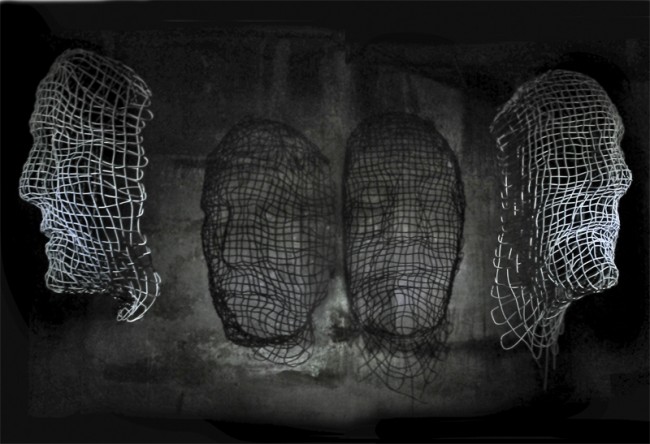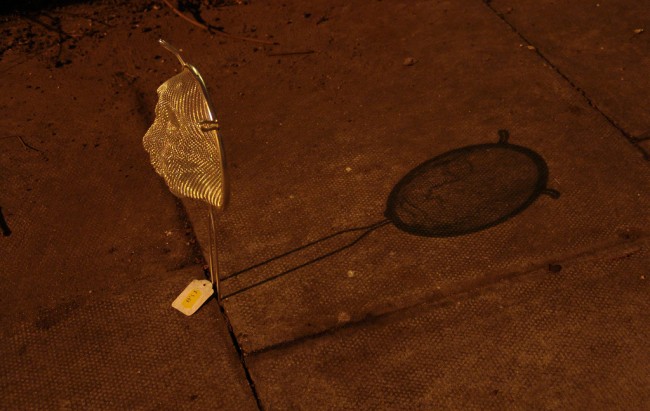 More info: here, here and here.
Which other street artists inspire you right now?
Some of the artists I like are Oscar Brahim, Harmen de Hoop, Evol, Liqen, Blu, Slinkachu, Boxi, Mentalgassi, Dan Witz, and many more.
You'll be publishing your first solo book in the next few months. Can you give us a heads up on what to expect?
It will be released in May under the Carpet Bombing Culture imprint. Collecting all of the images has been a rather complicated task, especially because I´ve got about 5,000 pictures to choose from. Seeing all of these images finally together in one place has meant that work of recent years has started to make more sense.
The book will come out with a special edition that includes a sculpture and the book. On Thursday, May 26th at the Pure Evil Gallery in London I will make a presentation of the book – entitled 'Cement Eclipses, Small Interventions in the Big City'. The exhibition is only for three days. Stay tuned! Everyone is more than welcome!  This book collects works I have done in Galicia, London, Barcelona, Berlin, Brussels … all of the places where I developed the project in recent years.
You can read more about the special edition and the book here.
Here are some new pieces from Isaac over in Amsterdam (hopefully we'll see some new stuff in London soon!):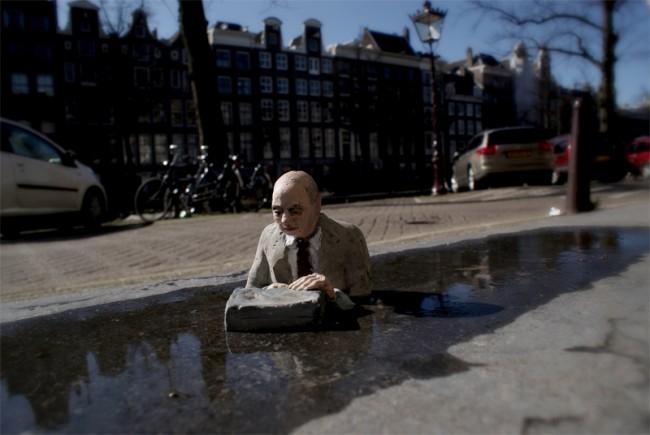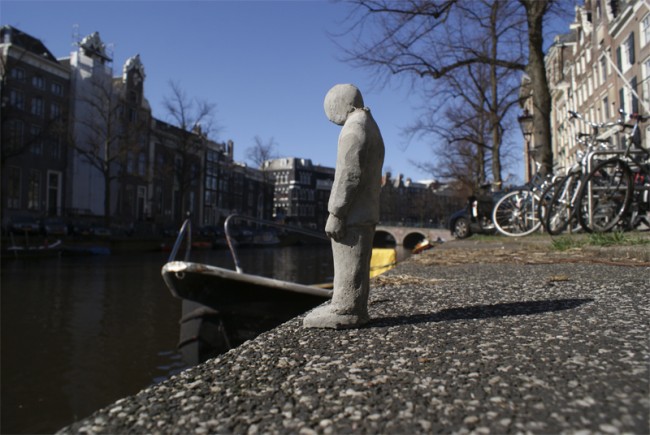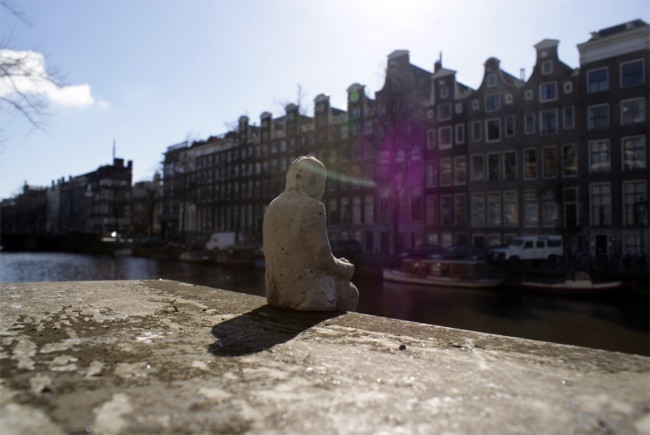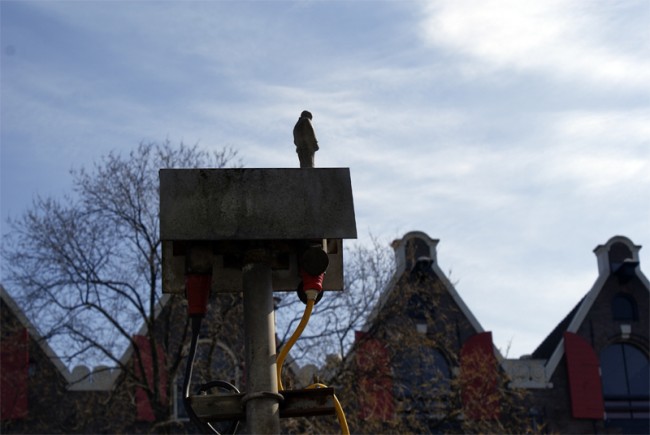 Thanks Isaac.  Isaac's book, released on 1 May, is available to buy from Amazon
and also direct from Carpet Bombing Culture.