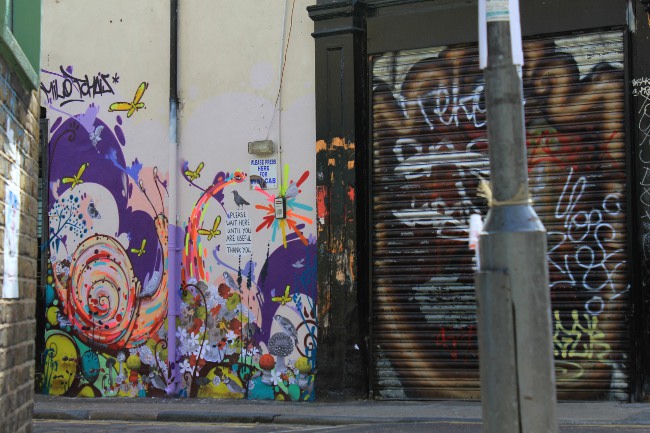 With Macay
Tell us a little about how you got into street art and graffiti?
The very distinctive hardcore tagging scene in Sao Paulo, pichação, was what turned my attention to urban street writing, and a love of letter styling in the first place. I have enjoyed drawing and messing around with paint ever since I can remember, but the urge to go out and paint on the streets was to do pichação in the very beginning. Pichaçao was what I saw at first, since a little kid around the streets, but I quickly moved into doing thick bubble and piece letters once I started spraying as well as character designs. That was a time of the first generation and a second was emerging, of writers influenced by the hip-hop graffiti painting in São Paulo, and with little visual information around, not yet with the wonders of the virtual world established. More influences and magazines came about, seeing more pieces and murals, I quickly got hooked and saw myself doing panels almost every day around the city, which developed into murals and big productions.
Your style is very bright and distinctive, especially on the sometimes grey streets of London. How did you develop it?
I'm still developing it, it's what my lifetime experiences and researches brought me into, it's not something I planned or set out to do as such. Style, it's a lot to do with your personality, inner thoughts, feelings, emotions and intuitions. It's about looking within your own self and letting out the uniqueness you find, being your true self without forcing it by trying to copy or fake it trough something that you just like. Painting has always been an escape and search for and of myself, I guess, and nature has always played a big part in my life and is a big influence in my work.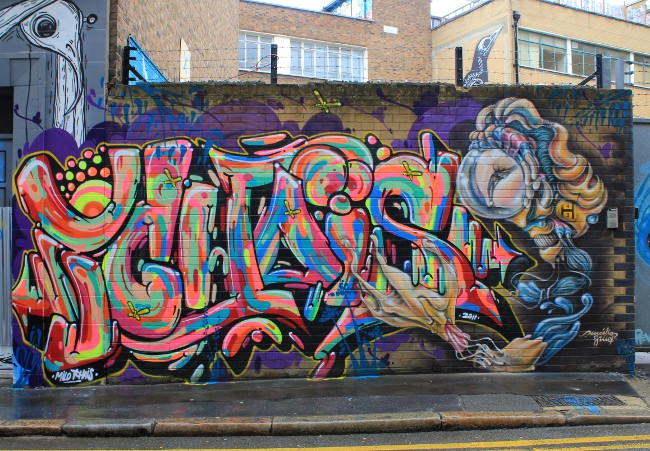 With Narcelio Grud

How do the street art scenes in London and Sao Paulo differ?
Every city has it's own particularities, flavours and routes I guess. It's difficult to point out the differences, it's a whole total different cultural social and political reality, the possibilities and people's mindset are directly related to how society is organised, or disorganised. Sao Paulo has a strong 'pichaçao' scene which I've mentioned before and it always seems to have taken most of the blame as vandalism and removing the pejorative sense of 'graffiti' for society. In a way, the sense that the term 'street art' carries in the world now days, or at least seems too, is that it is kind of acceptable and justifiable to paint or have a painting in a public space, 'graffiti' has carried the sort of same sense in Brazil since the beginning, and 'pichaçao' the kind of sense that the term 'graffiti' carries for society in London and Europe as whole in a way, an act of vandalism and a social behaviour problem. So street art and graffiti are a lot more blended together than here and both much more widely seen as a "true" artistic expression as well, by society and even traditional academics and many of Brazil's most established museums and arts institutions I would say. There is a project going on right now for instance, MAAU, Museu Aberto de Arte Urbana (urban art open air museum), where 50 graffiti artists were invited and sponsored by the council to create pieces in a series of pillars under a flyover which has been painted illegally for decades and not long ago about 12 artist got arrested but the case was dropped after talks with the arts council and Sao Paulo culture departments, and so the project came about. Whereas here for instance I'm still hearing from many landlords about threats from councils to issue penalty charges if you've got a painted graffiti on your property seen in public, specially high visibility spots, a power they don't carry, and at the same time protecting murals, clearly, only and just because of the artist market value.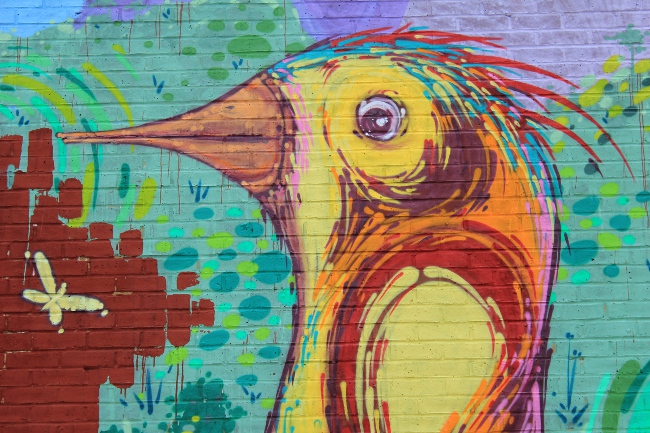 Tell us a little more about the huge wall you did at The Foundry earlier in the year entitled 'Beyond the Cage'.
It's was an opportunity that happened suddenly without much planning, the way I most like it, creating on the spot and making use of the surroundings as part of the piece composition. I was after any small space and I happened to be talking with the guys at RED, thanks for all the support! The gallery and venue at the back of the former Foundry, who offered that wall and sponsored the paint for such a big mural. I don't really like to talk much about the meanings and ideas behind my work, as I believe most of it, is to the viewer, to understand subjectively, through the very particular way that imagery is processed and understood by each of us. A lot of it is not rational and can never be, it's a very universal way to explore and share inner thoughts and feelings, but the final meaning of a piece of art is within the viewer, and therefore different for each of us. Something which has a direct influence in the way I create, sometimes finding and making shapes and out lines which forms different creatures, faces and things simultaneously, trying to make people see their on way and sometimes seeing things I even haven't painted intentionally or rationally, exploring the repressed spontaneity and instinctual centre within all of us. But in a few words, it started with the very tall metal beams which are in front of the wall no matter what view, looking like bars, or a cage. Then putting a bird, animals, a landscape, and mother nature. But there's no real reference to where is the inside of the cage that was created, what's or who's being caged? But I believe we surely need to see beyond this barrier, in the way we look into the world, ourselves and as a civilised society as a whole. I also see a sort of cage that is very much inside us as well as projected outside, filtering thoughts, emotions and intuitions, repressing and tricking true love to blossom.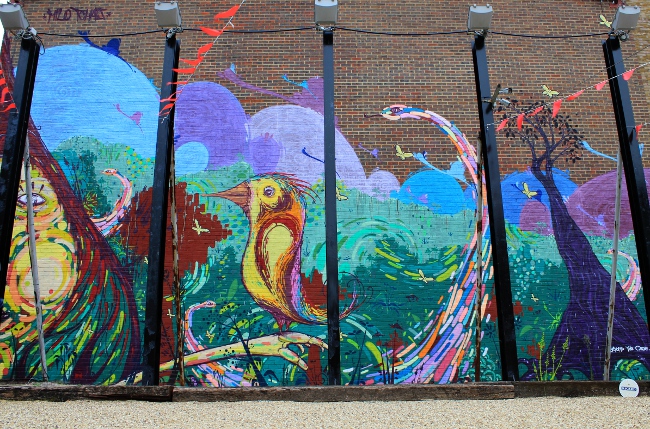 You recently painted a huge piece on the floor in Hackney Wick, near the Olympic Stadium, with Stik and Prozak. What is it that you like about collaborating in this way?
For me, and in my journey, that's a very big part of doing graffiti, painting panels, public murals and big productions on the streets, interactions on all levels. You learn a lot about yourself through others and vice versa, challenging ideas, exchanging, getting to a consensus or not on what's being created and what you want to achieve. It is the magic of making something together, processing and interacting on the present, on the moment. Sharing thoughts and energy, making us wiser and multiplying strengths, and in a piece that size on the floor it was a challenge in itself. It's completely different when you work together so that the piece ties up as a whole, and it's always fun to be with someone else painting!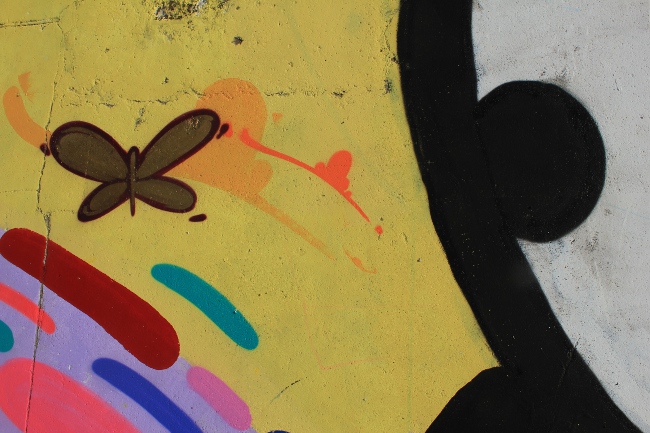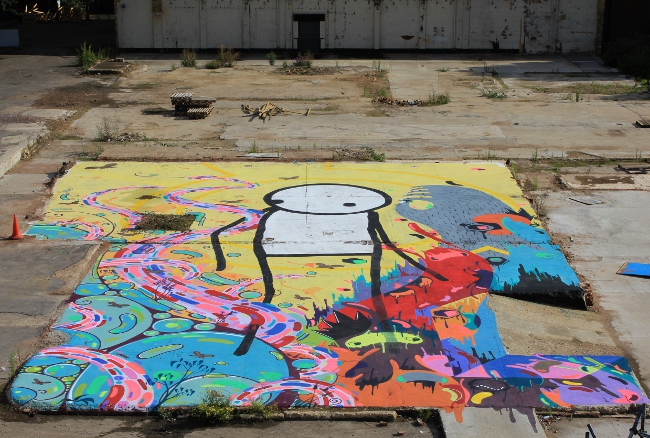 With Stik & Prozak

You once remarked to us that you had more pieces in Sao Paulo than London (despite having lived in London for 10 years). Why is this?
Did I? Hehehe, I'm not so sure if that's the case to be honest, but the thing is that Sao Paulo has got plenty more public walls and structures, there are more possibilities of surfaces which also tends to last longer. I have a piece from 1999 which is still up and not touched, for instance, in an area resembling Shoreditch in London, bohemian and full of graffiti, here this rarely is the case.
Where else in the world would you like to go and paint?
All over!!! I'm an open minded, knowledge and wisdom seeker… Although my compass is pointing east very strongly recently, cultures that I haven't seen and exchanged with yet up close, but fascinate me and resonates deeply within and with my work. Wouldn't mind a sponsorship to go to Japan or China! Any one?!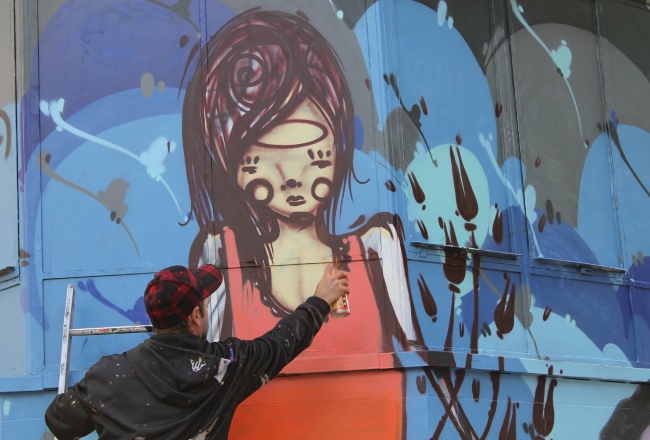 What do you think the importance of street art is?
Any truthful art or illuminating process comes through and or for the awakening and expansion of consciousness I believe. It is the exploration and understanding of emotions and feelings, intuitions and logics, knowing where you stand. Be in the moment and the present, overcome what holds you back and let it all flow out. The essence is within and all over, knowing the ego, breaking the obstacles and bars of it's cage like forms of tricks and overpowering repression over true being, whenever you would like, free to come and go as you please making hell good use of it is surely my ultimate goal in life. And I feel art has a lot to offer in that respect. Knowing yourself and others better, when and how to make a move in what direction in any situation in life to keep growing and expanding together. And specifically graffiti in it's essence and also what's being called street art today I think differs from most artistic expression movements in that what defines them is not their aesthetics or intellectual content, but primarily where and how they were created. Leaving the content and style entirely to the artist, and potentially eliminating most labelling to what it is or should be in terms of it's looks and meaning, anyone leaving a mark with any material, on any surface, in any style or looks and with any meaning, through it's own will and which is seen in a public domain. Do graffiti I would say, or street art if you like, but street art could be any artistic expression for me, not just visual, in a public domain. All of this gives a chance to turn the focus a lot more inwards and the possibilities are endless, I feel as if it's just gaining it's space in western culture, and as if there is a lot more that could be done using it's potential in awakening people for a better life. There are more artists in the world right now than ever, the tools, information and techniques are all there, what really matters is what you make out of it, with which true intentions.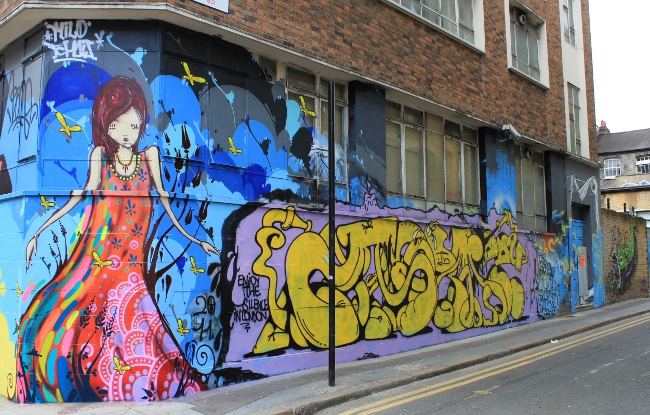 Which other street artists do you currently admire?
I don't tend to look up to people as some kind of fanaticism but there are some big influences of artists throughout my journey, and many that the admiration is always present no matter what, Alexandre Niggaz RIP, miss you mate! So much you gave and shared in such a remarkable moment in our journey, still alive within all of us who you taught and influenced so deeply, many blessings! But most names from the 80's and 90's in Europe and Brazil had some kind of influence in my work, and I'm always looking through photos of pieces around the world from as many people as I can, but some artists I've been looking into their work recently that resonate a lot with me for instance, are Iemza, Amose and Aryz. But people who I have seen their pieces up close when I started and the ones who I've painted together so many times are probably the ones I most admire and who are still pushing me. Mazu Prozak, glad he came down to London after over a year since we've done something together, is always moving his style forward in a way I really like, another fellow artist that amazes me all the time and shares a lot in common  is  Highraff. Herbert Baglione has been doing what I very much connect to as well, so is Daniel Boleta, Zézão and so many others to mention here who relate closely to my own journey, resonating in my creations! Bless all!!!
What can we expect to see from Milo Tchais in 2011?
In this last quarter I'm working on a few canvases commissions, and on negotiations for a project in Brazil. I'm also getting some new material finished for a solo show towards the end of the year, but still confirming where and exactly when, and of course carrying on doing murals around whenever possible. I'll keep the online world posted for sure, and any proposals, specially with budget; please do get in touch! Hehehe Thanks for the interest in reading… Roll safe, be wise!
Thanks Milo.