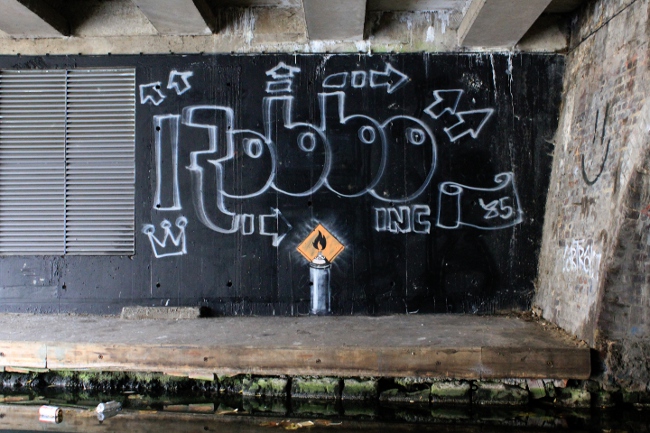 King Robbo's iconic 'Robbo inc' piece has returned to Regents Canal, Camden, albeit in a slightly difference guise.  This wall is where the Banksy v King Robbo feud was spectacularly ignited nearly two years ago with Banky's notorious  'modification' of King Robbo's iconic Robbo inc piece which was, at the time, 25 years old.  In the intervening period this feud has been much scrutinised within both the street art and graffiti scenes as well as the mainstream media.
This wall was at the very centre of the feud as Banksy and King Robbo hit back at each other again and again.  After Banksy's wallpaper piece, King Robbo came back with a 'King Robbo' chrome and black piece.  Banksy in turn modified this to read 'F**Cking Robbo' and so on and so forth…  The most recent piece to reside on the wall was Banksy's depiction of a living room here.   The battle over this wall all came to and end however this year when Robbo suffered an accident and was admitted to hospital in a coma.
This new piece which appeared on Wednesday night is effectively a carbon copy of Robbo's original tag with the notable addition of a crown.  The piece carries all the hallmarks of Banksy and with Robbo widely reported to still be gravely ill in hospital could therefore represent Banksy reaching out and 'lighting a candle' for King Robbo, effectively appealing for the feud to be put to rest.