The street art scene in Buenos Aires is immense and boasts some of the most exciting street artists in the world right now.  Here BA Street Art give us a small introduction to the Argentine capital…
BLU

It's certainly been a busy and exciting last few months for street art in Argentina. In November, BA hosted Meeting of Styles, the first ever international graffiti festival to be held in the country. Some 130 street artists were painting at more than half a dozen sites around the city. Vhils from Portugal dropped by to destroy a wall in Palermo and Blu decided to spend the summer in the city. The Italian master ended 2011 in fine style by painting his last four murals of the year here in BA.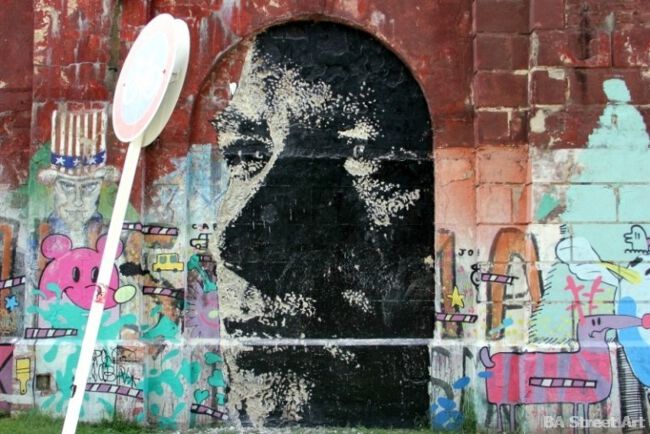 Vhils
Over the last six months or so there's been a considerable rise in interest and press coverage about street art in Buenos Aires with the photos of artworks by more and more local artists being picked up by international graffiti websites and online arts magazines. And artists like Jaz, Ever and Chu have also been attending festivals abroad like Art Basel Miami and Living Walls in Atlanta and helping spread the word that BA is the place where it's all happening in the street.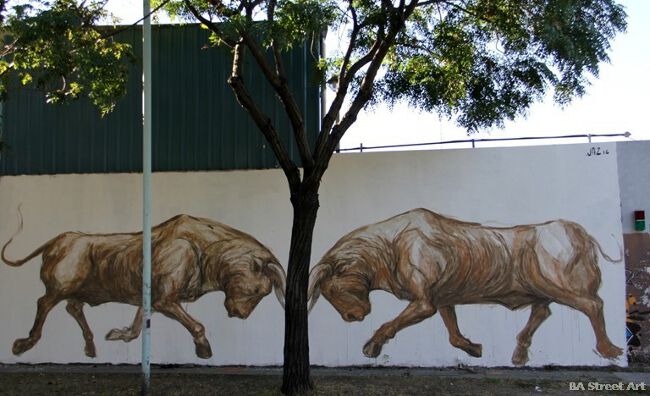 Jaz
Jaz's first two murals of 2012 are incredible. Not just because they look stunning visually but that he has made them from nothing more than mud, coal, brick dust and dirt that he found on site. Talk about improvisation and environmentally friendly street art!
Last year was election year in Argentina and there was a large increase in urban art projects designed to regenerate and clean up public spaces, squares and parks. It coincided with the city government launching a clean-up campaign to rid its public buildings of graffiti. If that sounds confusing, the authorities were trying to make a clear distinction between unsightly scrawl, tagging and bombing and what is now more commonly referred to here as 'arte urbano'.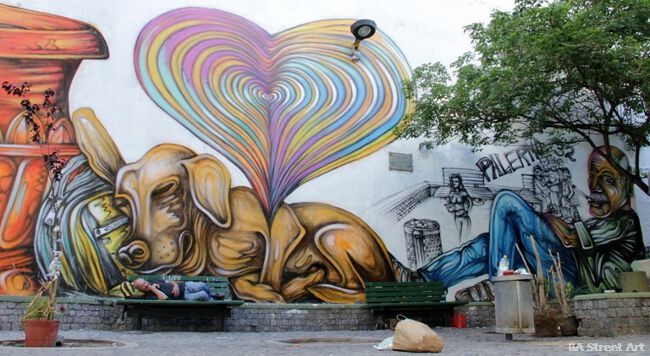 One of BA's oldest working muralists Alfredo Segatori, more commonly known as Pelado (the Bald One), has been working on one such project in Plaza del Arbol, Palermo, for the last month. He has been brightening up the square with portraits of real people and animals that frequent it.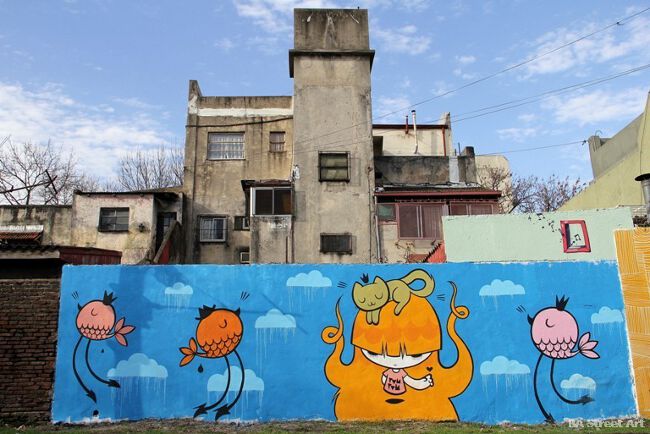 Pum Pum
Street art is seen as a force for good by many porteños and also a way of revitalizing run down areas and poor communities. One such 'barrio' is La Boca where an urban art project has helped transform Pasaje Garibaldi, a pathway that runs along a railway line between El Caminito and La Bombonera football stadium.
Another neighbourhood desperately in need of regeneration is Constitución – a rough area full of immigrants and transients who come and go via its huge railway station.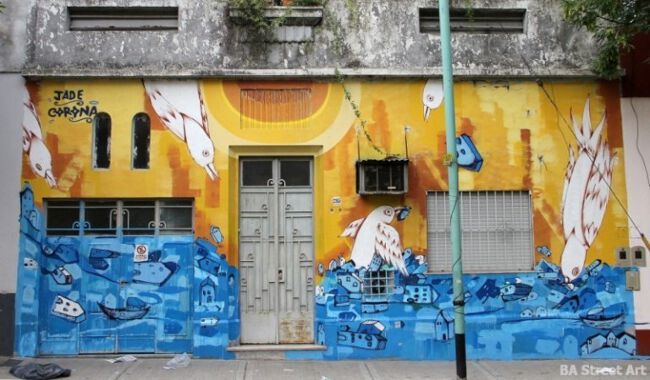 Corona
French-born street artist Corona is trying to improve the 'barrio' of Constitución and has invited a number of well-known foreign artists to decorate the facades of some of the old buildings and abandoned houses near to where he lives. With Peruvian artist Jade, Corona has painted a piece depicting birds carrying houses in their beaks to highlight the problem of homelessness and squatters in the area.
Let's introduce you briefly to a few more street artists to look out for who are not only painting in the capital but in the Province of Buenos Aires and are doing great things for the communities where they live.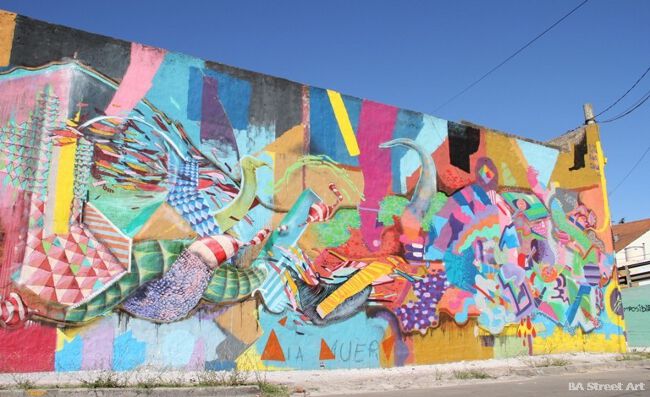 Roma, Sam & Poeta
Roma, Sam and Poeta grew up in Villa Ballester, San Martin – one of the counties with the highest number of slums. They have transformed numerous buildings, houses and even a whole street with their brightly coloured and striking compositions containing organic shapes and conical forms. Roma believes that their interventions can change the feel of a place from one that "generates fear and insecurity" to one with "a positive energy".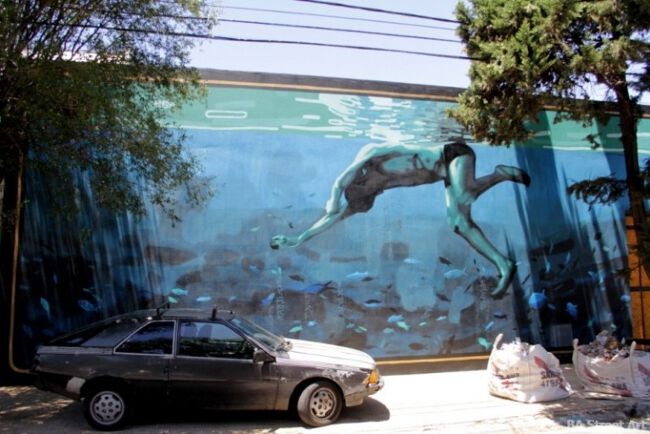 Triángulo Dorado
Triángulo Dorado have painted dozens of glittering murals in Vicente López. The trio are now well known locally and their neighbours invite them to paint their houses and walls with their thoughtful designs inspired by realist painters such as Egon Schiele and Gustav Klimt. Their murals often depict anonymous people and touch on sensitive subjects such as peace, humanity, compassion and introspection and are often accompanied by lines from poems. One of their recent designs in Olivos depicts an underwater scene and is entitled: 'The Voice of Silence' with the line from a proverb: "There is nothing outside that you cannot find within".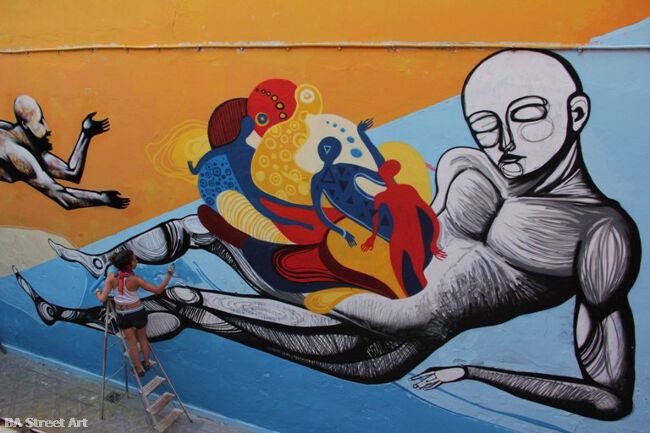 Cuore
Cuore only started painting in the street in 2009 and has already made a name for herself in Boulogne with her fantastic and magical figures decorating houses, roof terraces and shops. In an age where families spend more and more time in the safety of their homes, Cuore is motivated to get people outdoors and she sees her art as a way of doing that by reclaiming public spaces.
Grolou
French artist Grolou moved to Quilmes two years ago and he has brought an amazing positivity to the streets with his distorted faces of monsters and animals. He began a project with girlfriend Blu Shei Wei called "Pinta tu barrio" (Paint your neighborhood) and he has now completed more than 50 murals in the county. To Grolou the most important people are the kids, and he aims to inspire a younger generation to get involved in art. One of his most impressive pieces features a giant cyclops panther that stretches half a block.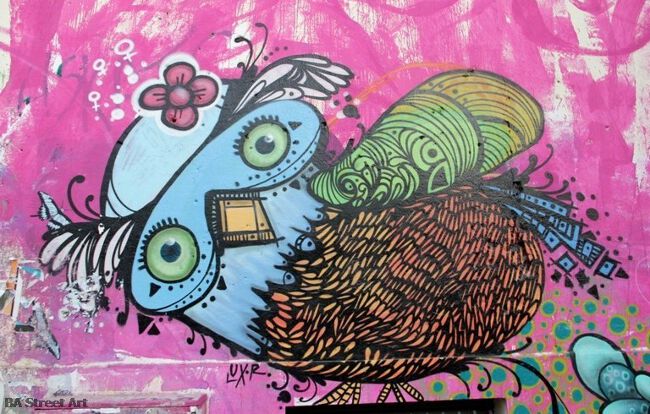 Luxor
In La Plata, the capital of the Province of Buenos Aires – a 45 minute coach ride from BA – there is no shortage of street art either. Luxor and Acra launched a project in 2010 called Proyecto Kalle (Street Project) to help combat fear and crime in the city through street art. The duo have organised projects for artists to paint local schools and educate the pupils about painting. Through their art, the pair hopes to inspire the youth and girls in particular to get involved in art and hence create a more open and fairer society.

Head over to BA Street Art to stay up to date with developments over there.  You can check them on facebook too.  If you are ever in BA, be sure to to hook up with them to take a Buenos Aires street art tour!