The Rolling People collaboration on Hassard Street, just off Hackney Road is surely a contender for one of the best pieces of the year in London. We talk to The Rolling People who are SCARCE, SEKS, CEPT, BRK, SNOE, EGOE and AZIS.
First of all, can you tell us a little about this work and the inspiration behind it?
Snoe: This piece was designed as a mural celebrating the genius of 1980s Marvel comic book artists such as the master, Stan Lee. When I read these comics as a child, the quality of the artwork added so much to the drama and the intense action which allowed you to be in the story where your imagination became the story's final author. This took you inside the Earth's core or to a parallel dimension on the other side of the universe/microverse. Cept has been remixing comic imagery and lichtenstienesque stuff for years and in his recent galactic murals and cosmic collages he & our other members of TRP have used Marvel comics to provide background themes for graffiti productions for a long time.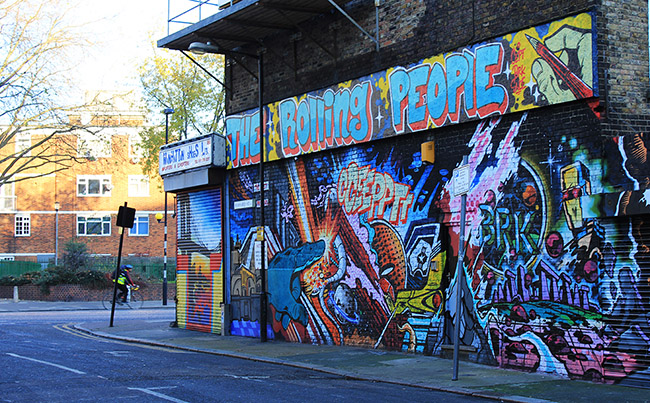 Cept: Yeah we have all been pulling bits from comics for years, and it's a staple thing within graff to lift stuff from popular culture, so on this piece we dug into our favorites and rocked them together, we each came with our own bits then worked out how it could flow and connect. Which was easy coz we're all on the same page when it comes to style and influences. I love all the Dr Strange shit, propper trippy, space funk, master of the forbidden arts mystic stuff. and the way old comics are printed, the style of the line..
Snoe: In the case of this mural, we wanted the background artwork to play the bigger role and the lettering pieces to be secondary like comic sound effects. Which is the reverse order of most graffiti productions. (Letters first, background second.)
Cept: And to scale it right up, from comic book size to larger than life, where it feels like you could step inside.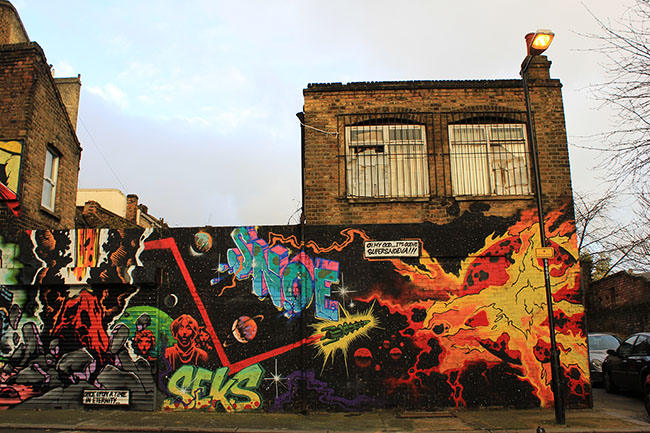 How do you normally collaborate on a big piece like this. Do you plan it all out in advance or can it be more spontaneous and fluid?
Cept: Normally we don't really plan that much at all, we turn up with our separate outlines and then work it out as we go. Which works well, because we have all chosen to paint with each other, because our styles compliment each other and we come from the same school of thought and style. but this time coz it's such a fresh big wall to paint in a high vis place, we decided we needed to give it a bit more thought and time, and it was good to really think about hows it's gonna work together.
Snoe: Its a combination of those processes: the planning stage is the most important where we make a Photoshop collage to establish the layout and composition. When painting the piece, spontaneity plays a part in making the artwork fit to the dimensions of the wall and spraying itself puts the imagery through another filter. As the mural progresses, you start to see the potential for adding elements that you would never be able to plan for as this is where creativity really starts to flow as you work as a crew.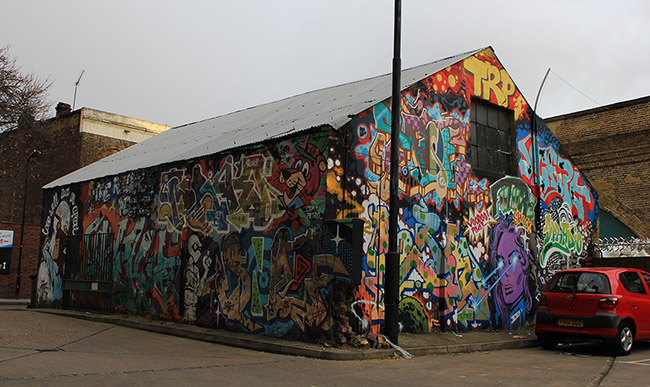 Cremer St. 
We've also seen the new piece at the mechanics garage on Cremer Street. There's a fair amount of history at this spot but this latest piece is probably the most ambitious yet….
Snoe: We took the opportunity to take this spot to another level as the first time we did it, we painted freestyle and didn't plan ahead. We didn't have a plan as such this time, but brought reference artwork with us and spent longer in front of the wall. Credit has to go BRK – his involvement made us work harder not accept a result of "…oh, its just another lazy graffiti wall with letters and some characters slapped on as an afterthought once you can't be bothered to paint any more and wanna get down the pub." The hare and the tortoise…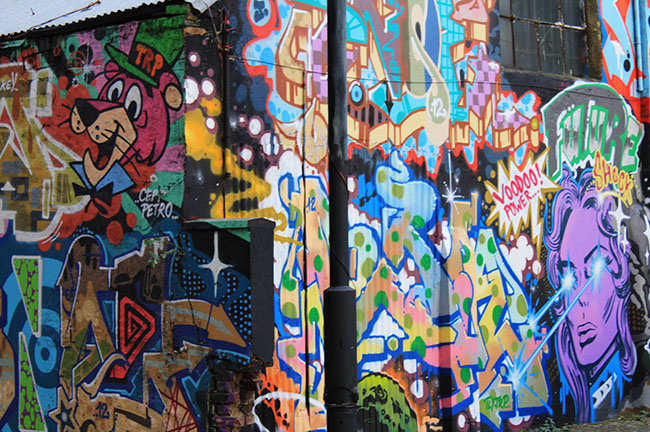 Cremer St. 
Cept: This is an old spot, which i first painted with Eine years back, and didn't bother painting there again for a few years, then I went back and chatted to the owner and he is a super safe guy and said 'it's all yours', do what you like, and now we painted the whole building. Yeah a lot of people have painted with us there and it's now like the TRP house.  Yeah, when we first met BRK this year, we knew straight away he was one of us, his pieces are sick, he has crazy fresh styles and we're all on the same wave length. He definitely gave the crew a boost, some new blood, and always up for painting. So now we start to bring the super galactik funk pieces,. it's like we were waiting for him to arrive…now it's time to really show a lot of people out there what TRP is about, we've smashed it for years, but that was just the warm up. Now we go next level.
How did TRP come together as a crew?
Snoe: THE ROLLING PEOPLE are a graffiti crew, not street artists.  TRP are: SCARCE, SEKS, CEPT, BRK, SNOE, EGOE, AZIS.  In 1998 we were listening to The Verve album 'Urban Hymns' a lot  while hanging out as friends. One night we decided the track 'The Rolling People' had a ring to it and would make a good crew name.
Cept: yeah it already sounded like a crew name, i remember the very night, we were all zoooted and pissed and Scarce kept singing the chorus to the song…The Verve were an amazing band, Ashcroft knows…he's on a another level, so we took the title and made it ours..  It made sense, especially seeing trains rolling past with pieces on, which is where this whole movement all came from.  We were all mates anyway and were writing in different Crews, such as The Fresh Worms and The Aerosol Slags, Great Western Rockers, so it made sense to form a new crew as an almagamation of our styles. so we became TRP, The Rolling People, Tottenham Rocket Patrol, The Rest Pretend..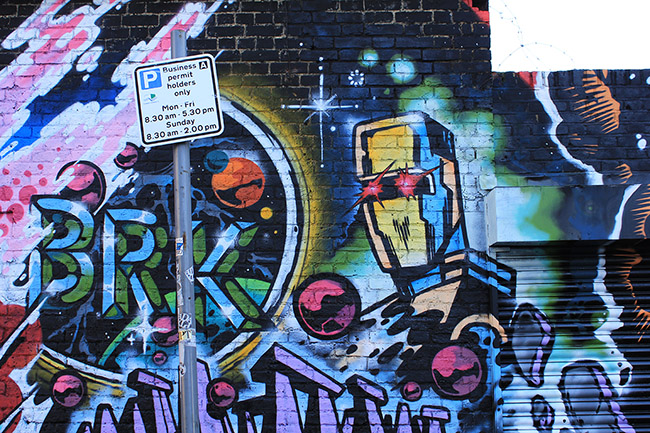 Snoe: In the late 90s we were one of the first to paint in the Shoreditch and Hackney we all now know alongside Eine and a few others; it was there that we really blew up and gelled as a crew.
Any plans to go even bigger next year?
Cept & Snoe: Always bigger and better. Fresh surprises in store.