Gallery
Here is a just a selection of the artists and their work which you will see on a tour with us.  In total we will cover the work of over 100 artists.  Have a look at some of our street art photography. Street Art London regularly work alongside many of the below artists on projects, festivals, mural projects and exhibitions in London.
Alexis Diaz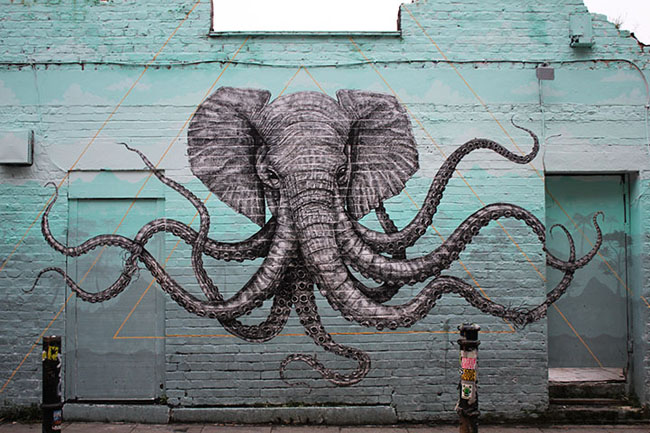 Puerto Rican artist Alexis Diaz and Juan Fernandez, form the globe trotting La Pandilla mural collective. Both artists paint fantastically detailed murals depicting morphing and combined animal imagery. Alexis Diaz's best known London piece was the elephant-octopus hybrid mural along Hanbury Street. Executed in the indicative style of La Pandilla it took the artist a full week to paint with thousands of tiny brushstrokes.
Banksy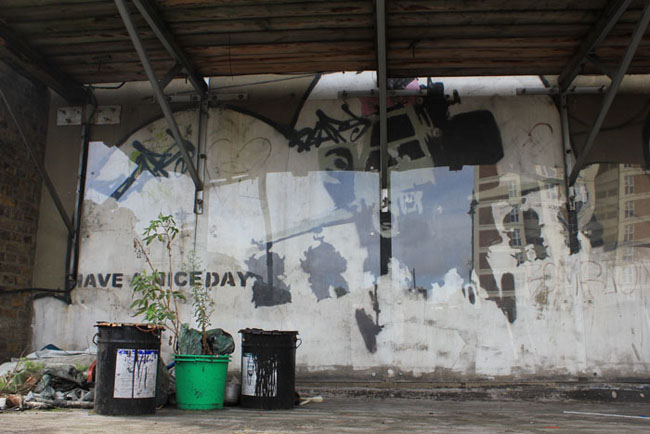 We will see a handful of works from Banksy who has established himself as one of the most famous and renowned contemporary artists in the world even if he may not be the most universally loved within the worlds of street art and graffiti. Banksy's street work in the 2000's throughout London came to define a whole genre and still weighs heavy today in informing the attitudes of the public, the media and art collectors towards street art. We will look at some of those themes on the tour. Here is an old hidden 2002 work located on Old Street and which we will see on the tour. Like many Banksy works today, it has been perspexed.
Bastardilla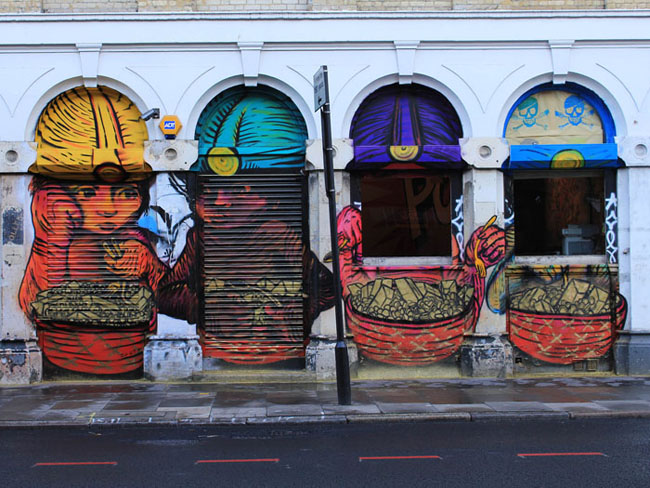 Colombian street artist Bastardilla ('Italics' in Spanish) is known for her sparkling street art as she often incorporates glitter into her pieces. A regular traveller Bastardilla has visited London a few times. Bastardilla's tag is a tiny hummingbird which she leaves wherever she travels.
Ben Wilson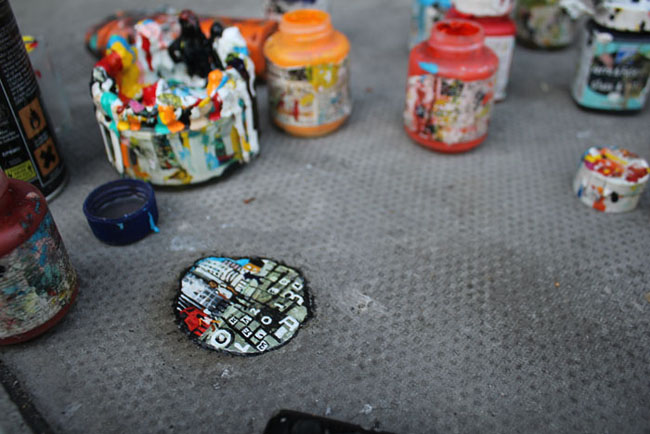 Ben Wilson, born in Cambridge in 1963, has been painstakingly painting upon discarded chewing gum in London full time since 2004. Wilson's technique involves super-heating the gum with a blow torch, spraying it with lacquer, applying enamel and then, using tiny brushes, creating a tiny image before sealing the gum with a final layer of clear lacquer. Wilson estimates that he has painted thousands of pieces of gum around London. Notably, Wilson has painted many pieces along the Millennium Bridge across the Thames. The highest concentration of his work may be found in Muswell Hill where he lives. The piece above is one that Ben did for us of one of our guides! 
Broken Fingaz Crew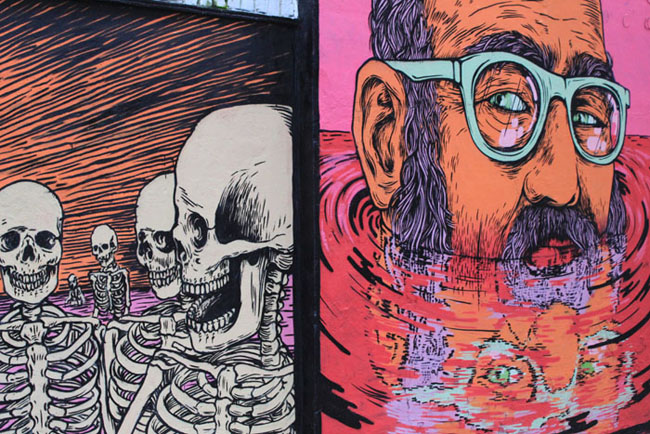 Broken Fingaz Crew were formed in 2001 and are perhaps Israel's best known graffiti crew. The crew hail from Haifa in Northern Israel and consist of four members who are Deso, Kip, Tant and Unga. Originally Broken Fingaz crew started out in graffiti but have since moved into illustration, muralism, animation and a whole range of other disciplines. After conquering Israel with their distinctive styles Broken Fingaz Crew have moved on to paint all over the world, London being no exception.
C215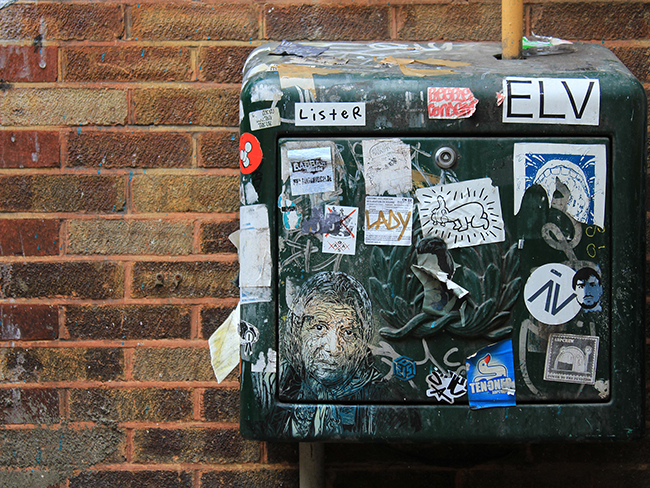 Born Christian Guemy in 1973 and based in France, C215 holds advanced degrees in both history and art. Motivated to artistically portray his young daughter, he started spray-painting outdoors utilizing stencils in 2005. Since, his arresting, multi-layered stencils have graced the charred walls, rusty doors and forsaken bins all over the world from London to New York and Morocco to Barcelona. The highest concentration of his work may be found in Vitry sur Seine, France which is virtually an open air museum dedicated to the work of C215. C215 has visited London on many occasions.
Christiaan Nagel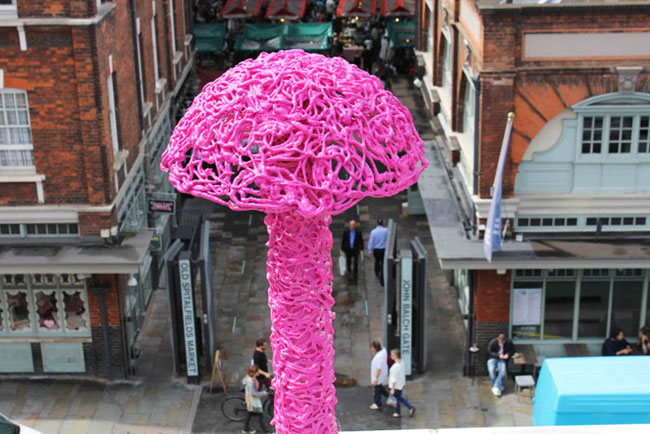 South African born Christiaan Nagel's mushrooms are an iconic fixture of East London's landscape. Drawing inspiration from the Surrealist and Pop-Art movements, Nagel seeks to juxtapose his bright palette with the surrounding city context. Within his work he seeks to reference the notion of art as something ultimately unattainable as he seeks to place his luminous fungi at ever greater heights and in more unexpected and challenging places. Although patently not a graffiti writer, Nagel's pursuit of ever more dangerous and illegal locations and his continued desire to install his works throughout the entire city are analogous to the mindset of many graffiti writers.
Cityzen Kane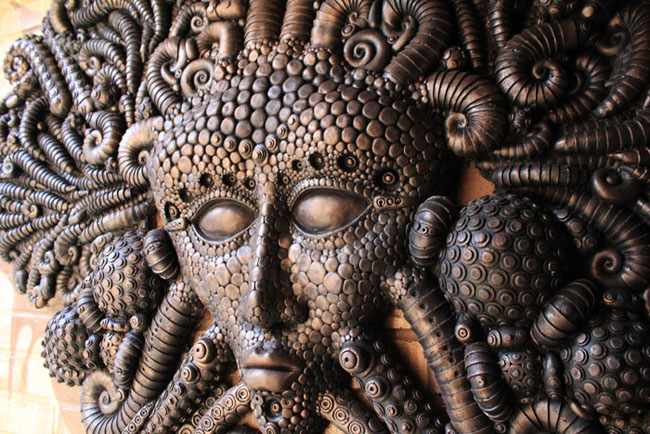 Cityzen Kane has a diverse range of influences that draw from the 80's house music and the ancient Sanskrit writing of India. These themes are reflected in the sculptures which he installs around the streets of East London. Symmetry is a guiding force behind his work and his pieces often have an organic feel to them. Another thread in his street art is light and he nearly always adds glitter and crystals to his pieces so that they shimmer in and interact with sunlight.
Clet Abraham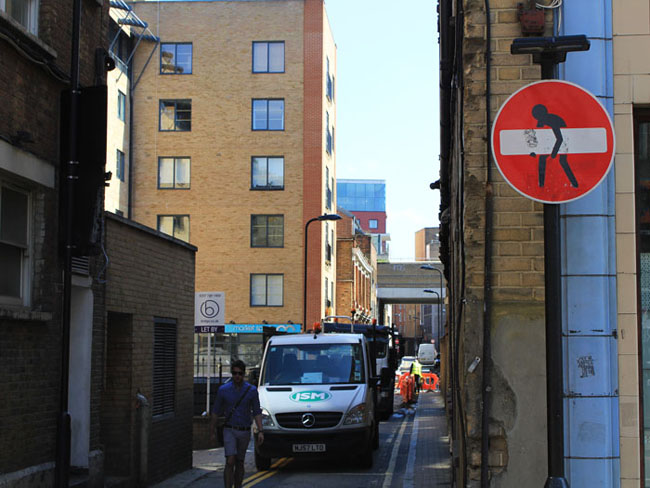 Born in France in 1966 Clet Abraham now lives and works in Florence, Italy and has done for over 20 years. Well known across Italy, Abraham's art centres on sign tampering. Of particular interest to Abraham are no entry signs which he continuously adapts in a variety of ways. His most well known image is that of a shadowy black figure making off with the white bar on the ubiquitous no entry street sign. Uncommonly for many street artists visiting London, Abraham has dispersed his work throughout the city and not just focussed on Shoreditch.
Conor Harrington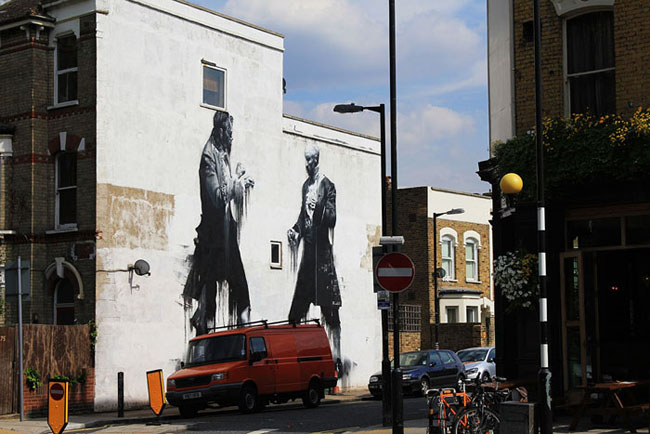 From Cork in Ireland, but now based in London, Harrington fuses graffiti and fine art techniques to produce huge frescos depicting Napoleonic era military figures and battle scenes. He reflects that he saw his first piece of graffiti in National Geographic magazine when he was 12 and never looked back, soon venturing out onto the streets of Cork to put up his first typographical work in October 1994 which was self admittedly awful. Harrington has painted all over the world but it is in London where the most examples of his work can be seen.
Dal East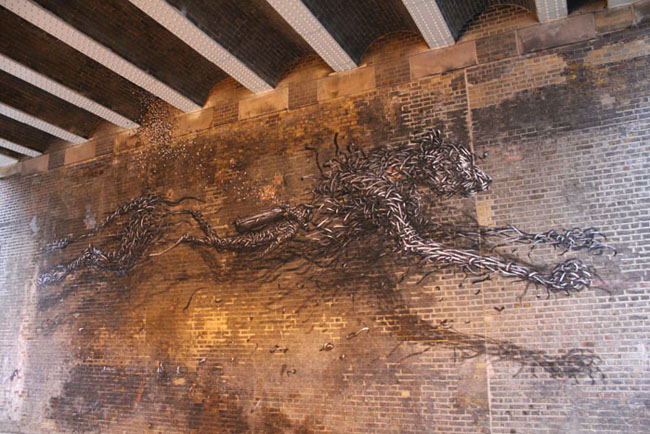 Born in China in 1984 and trained as a sculptor at New York University's Institute of Fine Arts, Du Yi aka DAL became immersed in street art in 2004. He is noted for his huge creatures entwined in wire-like garments. His pieces sometimes constructed as three-dimensional sculptures have been featured in art festivals and exhibitions in a range of places including China, South Africa, Germany and the United States.
Dscreet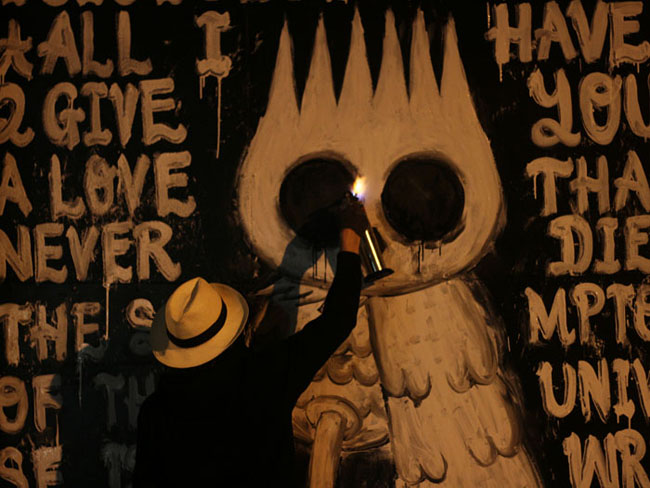 Dscreet is an Australian street artist whose signature owl characters have been a mainstay on the London street art scene for years. Transitioning from the graffiti scene, his artistic alter ego is inspired by cartoon and comic imagery. On a deeper level, he explores the owl as a symbol of perception that lends itself to multifarious interpretations in many different cultures worldwide.
EINE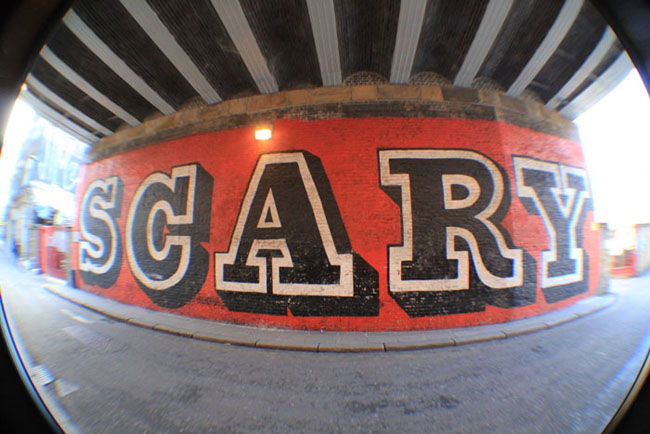 Born in 1970, EINE became an active member of the London street art by the early 90's. Initially focusing on fashioning graffiti pieces on trains and designing stickers, he soon began to experiment with an array of media and techniques including screenprinting and typography. While working for the screenprinting space Pictures on Walls (POW), he produced numerous prints for other artists, including Banksy and Faile. EINE has developed his own typographical style which consists of painting individual letters on shop shutters or bigger conceptualised words on walls. Well known pieces in East London have spelt the words "Scary", "Exciting", "Vandalism", "Change" and "Calculate". Perhaps his most famous work however is the entire alphabet of lower case shop shutters that graces Middlesex Street, located on the cusp of the City.
El Mac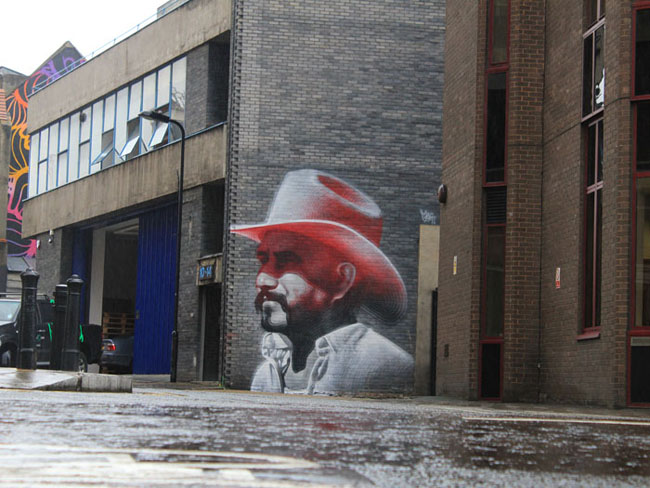 El Mac, born Manual MacGregor in 1980, is known for his huge photorealicstic aerosol murals. He has painted all over the world since being commissioned in 2003 by the Groeninge Museum in Brugge, Belgium to paint his interpretations of classic Flemish Primitive paintings in the museum's collection. El Mac was in the UK in the Summer of 2011 participating in the See No Evil Festival in Bristol. On his way back to L.A. via Heathrow and without pausing for breath and painting through the night, he put up a classic work.
Invader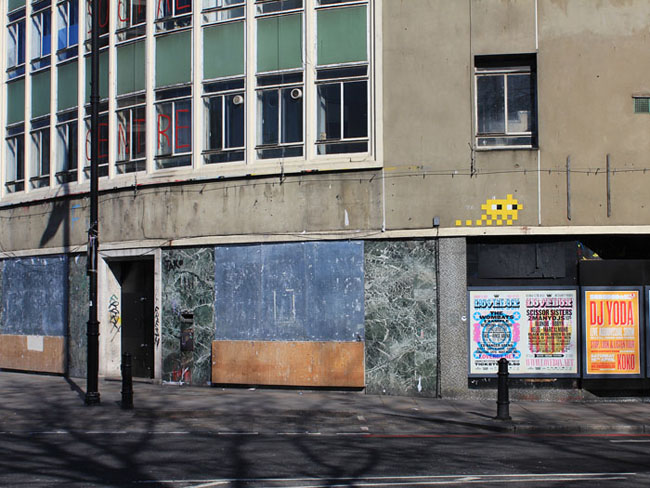 In 1998 an invasion began on the streets of Paris as waves of Invaders began appearing on the street. Invaders were soon to spread to the streets of over 40 other cities throughout the world. It all began in Paris in 1998, but since then waves and waves of Invaders have spread rapidly to cities all over the World from Bangkok to New York, Tokyo to Berlin and most recently, this Summer, Sao Paulo. Invader also recently sent a piece into space. As a result, London has not been spared. Invader's work centres around the increasing surveillance in today's urban environments and society as a whole. Invader seeks to countenance this developing trend by installing his own silent sentinels in cities to monitor its population. Invader doesn't make it easy for us to find him though and always places his Invaders in nooks and crannies, up high and down low – in places that only become obvious once you have discovered them.
Jimmy C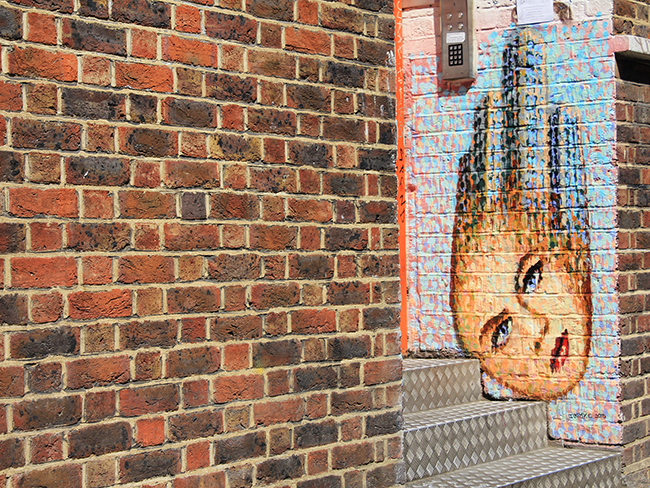 Jimmy C was drawn to the emerging Adelaide graffiti in the 1980s. Later he attended art school and focussed on oil paintings and the tradition of figurative painting. Then one day he returned to the source and picked up his spray cans. Fusing his dual backgrounds of graffiti and fine heart Jimmy C developed a more fluid and personal technique. Jimmy C is now based in London and has put up a number of street pieces in the past year. Jimmy C has two classic pieces found inside a doorway on Redchurch St which represent the weight of the city upon an individual and the degree to which we are all influenced by our environment.
Pablo Delgado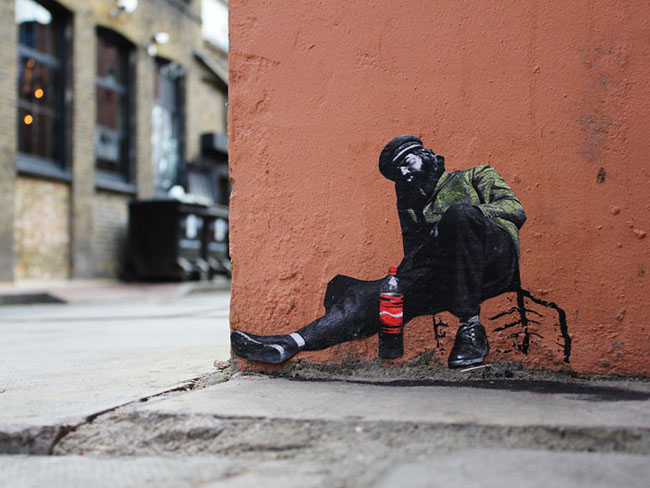 Originally from Mexico but living in London for the last three years, Pablo Delgado is well known for his miniature paste ups scenes that may be found all over East London. His work first started appearing in early 2011. Initially he pasted up tiny doorways on the walls around where he lived. Shortly after this he began putting up prostitutes in street corners complete with a shadow on the pavement. The next evolution of his work was to put up seemingly random scenes from the depths of his imagination.
Phlegm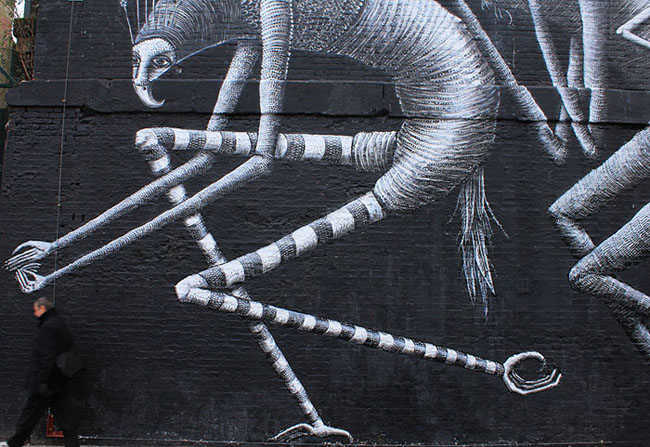 Phlegm is a Sheffield based muralist and artist who first developed his fantastical illustrations in self-published comics. His work now extends to the urban landscape, and can mostly be seen in run-down and disused spaces. Phlegm creates surreal illustrations to an untold story, weaving a visual narrative that explores the unreal through creatures from his imagination. His storybook-like imagery is half childlike, half menacing, set in built up cityscapes with castles, turrets and winding stairways.
REKA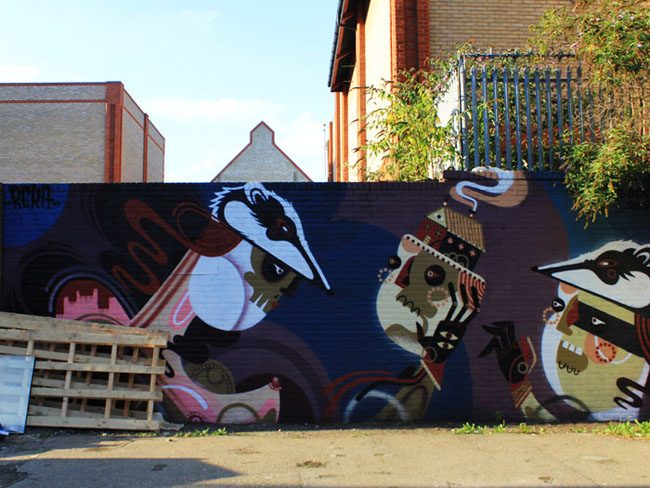 Growing up next to a major train line in Melbourne, Australia, Reka was introduced to the world of graffiti at an early age. He first hit the walls of his native city in the late 1990s. He gradually made the shift from graffiti into what is now known as street art. One of the original members of the famed Everfresh crew, Reka does large scale mural pieces in his signature surrealist style. Reka often passes through London and when he does gets walls up all over town, often in collaboration with his fellow Australian Dscreet.
ROA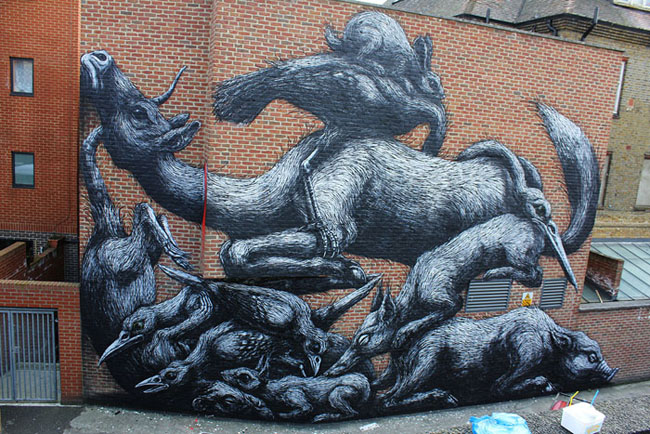 ROA is a legendary Belgian artist from Ghent, internationally acclaimed for his arresting and visceral murals of animals depicted in black and white giant black and white. ROA considers himself to be nomadic and travels the world and the animal kingdom itself. His murals illustrate creative biological research about animal species in their lost habitats all over the world. ROA has painted large scale murals in myriad cities throughout the globe on an unmatched scale.
RUN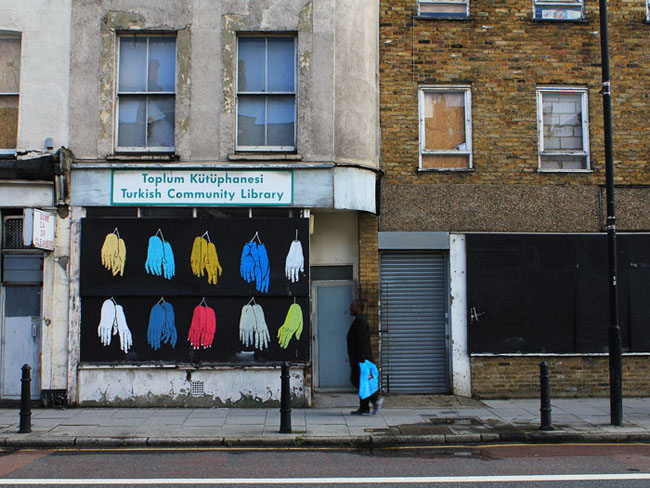 RUN is a London based Italian artist whose works can be seen adorning street corners from China to Senegal. His recognisable style shows a level of detail and complexity rarely seen in street art today, evidenced through his vivid rendering of interlocking hands and faces in bright, arresting colours. RUN is interested in street art as a language of communication, creating playful characters that speak to diverse audiences on multiple levels. The expansive scale of his works captivates the viewer, affecting a renaissance of muralism that reaches beyond the boundaries of street art.
Steve ESPO Powers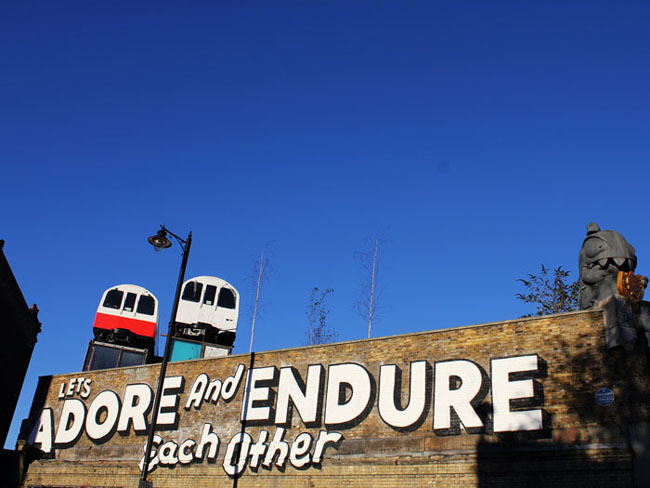 Born and raised in Philadelphia, Steve Powers aka ESPO, made his first mark in his native city at age 16 doing traditional graffiti. When he moved to New York City in 1994, he began painting his tag, ESPO, in boxy letters on shop shutters while posing as an employee of the "Exterior Surface Painting Outreach." He was soon garnering attention from the downtown art world and exhibiting work in galleries. A 2004 project that he developed in collaboration with Creative Time resulted in art work that revitalized Coney Island. In 2007 he had his first solo exhibition at the Institute of Contemporary Art in Philadelphia. ESPO became a Fulbright scholar that same year and went on to create public murals in Dublin and Belfast with local teens. This was followed by the project "Love Letter" in which he and other artists changed the façade of his birthplace and also cities around the world, London included. The love letter that he wrote to London in 2010 is there for all to see on Great Eastern Street.
Stik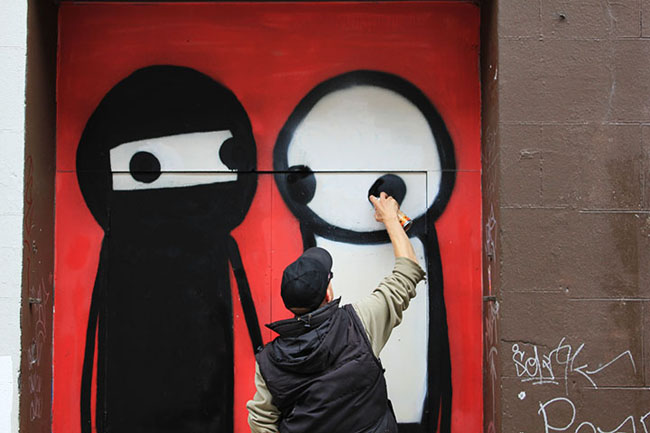 Stik is one of London's best known and most loved street artists. He is renowned for painting simple, androgynous stick figures which although simple nevertheless convey complex body language and emotion. Themes of human vulnerability are infused into Stik's work to reflect his own life story and experiences with homelessness. Initially Stik developed his simple style through the exigence of having to execute works illegally. Now, routinely invited to paint walls legally by the community in East London Stik maintains his minimal simplicity for aesthetic reasons. A notable recent project of Stik's was his recreation on the streets of Dulwich of a series of Old Master paintings from the permanent collection of Dulwich Picture Gallery. In the last year or so Stik has spread his wings internationally to paint in such places as Jordan, New York and Japan.
Thierry Noir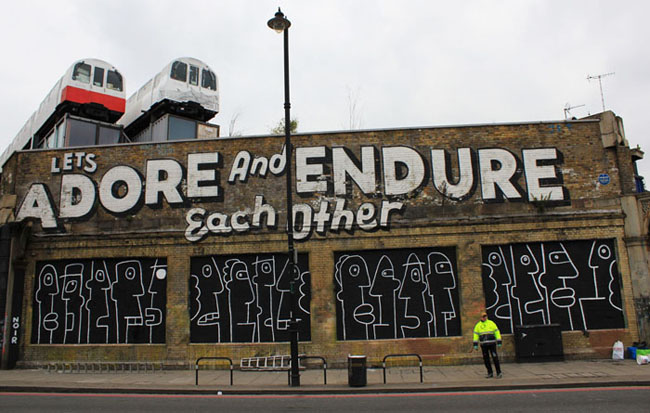 Thierry Noir was born in 1958 in Lyon, France, and came to Berlin in January 1982. In April 1984, Noir began to paint the Berlin Wall in order to perform one real revolutionary act: To paint the Berlin wall, to transform it, to make it ridiculous, and to help destroy it. In Berlin, Noir lived metres from the Wall – his vivid murals were both a personal response and a poignant political statement. Painting on the wall was absolutely forbidden; it was built 3 metres beyond the official border so the east-German soldiers were able to arrest any person standing near it. Despite their bright colours and playful nature, the murals leave a lingering sense of melancholy: As Noir says, "I did nothing but react to its sadness". Noir has visited London on occasion to paint the odd wall.