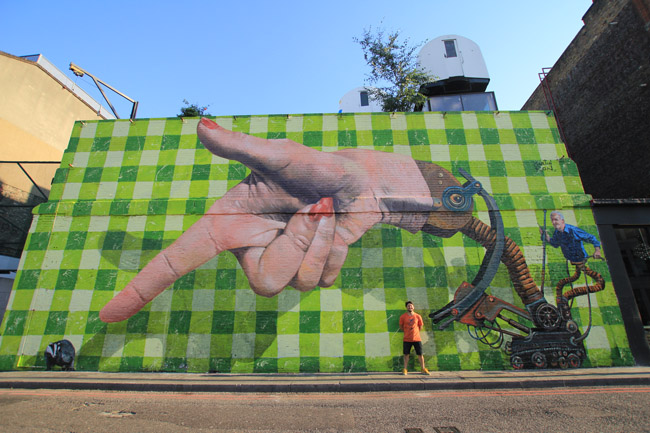 Martin Ron is one of the pre-eminent street artists in Argentina.  He paints hyper realistic surrealist imagery on a huge scale.  Upon invitation from Street Art London he travelled to London to participate in our Village Underground Wall Project and over the course of eight days painted a breathtaking mural.  Certainly a contender for one of the best ever pieces on this prestigious London wall.  We also talked a little to Ron to find out about his rationale for painting the piece he did. 
How did the project to paint this mural come about?
I came to London after being invited by Street Art London. It's an important mural project that gets together a lot of international artists who come to London to paint. It's an interesting project and it's exciting to paint the Village Underground Wall that is one of the best and biggest in Shoreditch, a neighbourhood where a lot of top international street artists have painted. Every few months different street artists from different parts of the world come here and paint the VU Wall one after the other. I am here in London in August with my girlfriend.
{ 3 comments }